Visually impaired Nitesh Sonawane did not let his disability come in the way of his musical dream.
In fact, he made it his greatest strength, he tells Rediff.com's Divya Nair.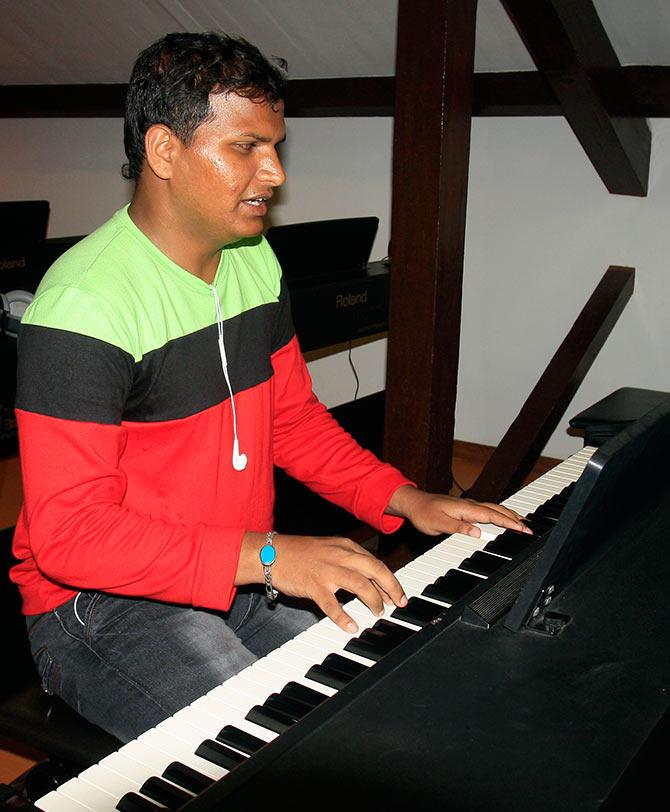 IMAGE: Nitesh Sonawane rehearses at the True School of Music. All Photographs: Satish Bodas/Rediff.com
Unlike most youngsters his age, Nitesh Sonawane, a 25-year-old pianist from Mumbai, isn't particularly picky about the colour of his shirt, trying the latest hairstyle or buying an expensive phone.
"I like to listen to all kinds of music," he says, about his passion in life.
When he has to step out for a music performance or attend his training at the True School of Music in Lower Parel, central Mumbai, where he is on a special scholarship, he parts his hair in a near perfect manner, without even looking into the mirror before stepping out of his home.
When he isn't performing or learning, he takes piano lessons for the kids at Happy Home and School for the Blind at Worli, also central Mumbai. "I like to keep myself busy," he adds.
It's a weekday when I meet him at the True School of Music. When he enters one of the studio rooms for the scheduled interaction, I open the door wide open for him.
He doesn't notice me at all. He just walks in and I close the door after him.
As he settles down and adjusts his seat, I notice that he's wearing a multi-coloured t-shirt. A pair of white coloured earphones dangle loosely from the inside of his shirt.
He tucks the walking aid neatly into his bagpack and runs his fingers over the piano like a pro, which he is. I notice that he doesn't fumble one bit. And then he punches some keys, turns his ears closer, not once, responding to the five people in the room waiting for him, including me.
And then he clears his throat attempting to say something. I use the opportunity to introduce myself, the photographer and videographer. He says he needs some time to rehearse before he can play us "something nice."
All of us sit down and watch his able fingers glide through the black and white keys with proficiency that comes only from years of regular practice.
Aside from the fact that it's a sound locked room, and even the slightest of whisper could be distracting, not once, did I bat an eyelid or breathe heavily. The deftness with which he played in those 20 minutes, it was hard to tell that Nitesh was visually impaired and could not see anything that lay in front of him.
At the end of his tiny performance, Nitesh Sonawane, the boy with a 'gift of ear' sat down to share his gradual and tireless journey of how he found life's meaning in music.
Please click on the video below to watch Nitesh perform Tu Hi Re on the piano. Video: Reuben NV/Rediff.com
Early days
Being visually impaired, he says, was just one part of his disability. The greater struggle was to develop his self confidence to face the world.
"Until the age of six, I never used to go out and play. My parents would urge me to step out, but I was shy."
To help him, the parents would get him toys that could produce sounds.
"Table, glass, plate, kahi pe bhi baja leta tha," he confesses (I'd play on any surface).
First piano
Nitesh vividly remembers how his dad surprised him on his seventh birthday with a gift that would change his life.
"I do not belong to a rich family. My mother is a housewife and my father drives an autorickshaw. I was staying at the Happy Home hostel at that time. Every Friday I'd come home and return on Sunday."
"It was my birthday when my father gifted me a piano. It may have cost Rs 2,000 and he must have saved a lot for it. I jumped with joy, I was happy," he says.
Over the years, Nitesh moved to playing on the harmonium and keyboards, but he still treasures his first piano.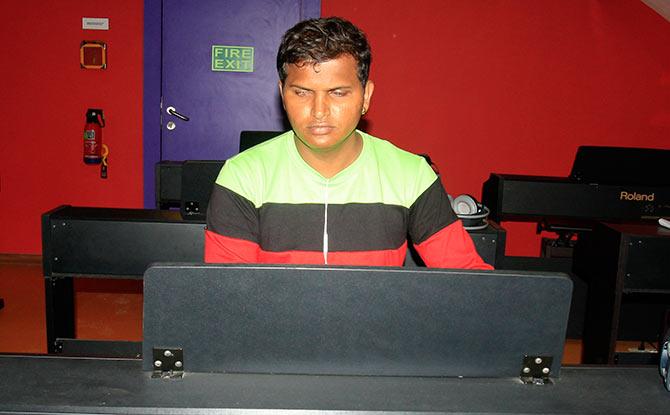 >
IMAGE: Nitesh dreams to work with composer A R Rahman some day.
The 'gift of ear'
Although Nitesh had a keen interest in music since childhood, his greatest struggle was to find a teacher.
"All the teachers I went to would ask me, 'How would you know what notes I am playing?' I used to tell them, 'You play anything, I'll listen to it, remember the tune and play that back to you'."
"Today, at TSM, we have a subject called 'ear training'; it's my favourite subject."
The struggle, the support, the success
He particularly mentions the support he received from one of his early mentors.
"One of my good friends was a teacher at the Happy Home and School for the Blind. Ms Shireen Irani. She was also visually impaired inspired and supported me a lot. She'd recommend me to listen to new music and tunes which helped broaden my knowledge."
Nitesh was in Class 7 when he was introduced to choir music and the next year, he got hooked to the piano.
After clearing Class 10, Nitesh realised that he wanted to train professionally. "I was looking for a good trainer. I visited some teachers and they asked me 'Can you read notes?'"

"I tried to convince them that I can listen and learn, but they found it challenging to take me as a student."
"It's not their fault," he explains, in the same vein "they've never met or trained visually impaired students before."
In 2015, Zubin Balaporia of the music group Indus Creed met him at Happy Home and was amazed at his tireless effort at perfecting notes. "Zubinji not only introduced me to jazz music, he also recommended me to join the True School of Music so I could take professional training."
Nitesh is equally grateful to his parents, particularly his father.
"I travel alone for gigs, so my father comes with me. He carries my instruments and helps me set them up as well. They are happy with my music. My father would always tell me, whatever you feel is good for you, please follow it."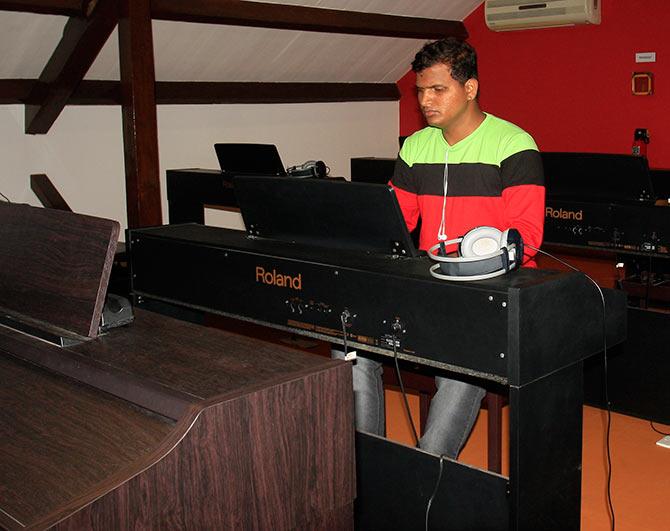 IMAGE: Nitesh studied at a special school and scored 72 per cent in Class 10 and 65 per cent in Class 12.
First salary
"Some years ago, I had auditioned for a band of visually impaired artists. They used to do Bollywood gigs. They liked me and asked me to perform with them at Nallasopara (a township near Mumbai). I think I earned Rs 600," says Nitesh.
Today, Nitesh is part of Udaan, a band of visually impaired artistes like him that performs live Bollywood music in the city. But he personally loves jazz music and has already performed twice at Blue Frog, where top musicians perform, in Mumbai.
His secret to success
"I never bother about the crowd. I keep only one thing in mind: First I'll play my best; the audience will clap if they like it."
His face goes blank when he mentions the disparity in his audience. "When I play for a normal audience, the first thing (I am told), most people notice is that I cannot see. I am blind. True music lovers notice only my music, my talent."
Inspiration
Nitesh has grown up listening to Hindustani classical music and credits his inspiration to legends like R D Burman.
In his teens, he got introduced to A R Rahman and soon got hooked.
"I admire Oscar Peterson, Davis Miles. Among classical (pianists) I like Yanni."
"My favourite vocalist is Shankar Mahadevan," he says and shares an incident that warmed him.
"In 2015, I had the privilege to work with him in one of the shows. Some months later, when he came to TSM, he saw me and said, "I know him, he plays really well." I was happy to know that the person I admire the most remembers my music."
Future plans
"I don't think of music as a commercial thing where I can play and make money out of it. I like it, so am pursuing it."
"I want to become a good live pianist and play to a packed auditorium some day. I want people to come and listen to me play."
Life learnings
"There will be instances in your life when people will not accept you. Don't be scared of your disability, believe in yourself, then success will be yours."
What many of us may term as a disability, Nitesh says has been his greatest strength.
"Music is for the ears, and I have a good ear for it. Isn't that a gift?" he asks.
Dare I disagree!