Ratul Narain -- the entrepreneur behind Bempu -- tells Rediff.com's Shobha Warrier that despite the challenges and frustrations, he is living his dream.
Ratul Narain was born and brought up in America.
As a child he travelled the world.
He studied at an Ivy League college like Stanford.
He worked for an organisation like Johnson & Johnson.
And he gave it all up to move to India and reduce infant mortality, especially in rural areas, by putting his skills as a biomechanical engineer with expertise in economics and cultural anthropology to the best possible use.
Narain, 32, tells Rediff.com how his incredible journey began with the question: What do you want to do 10 years from now?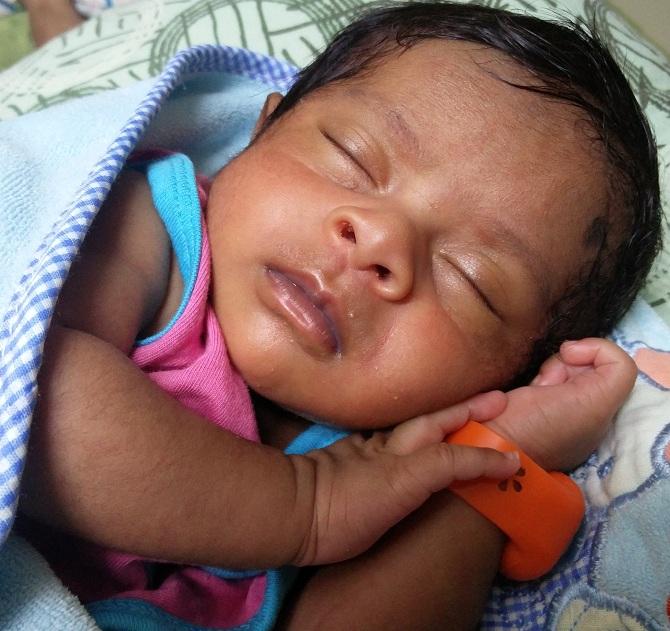 IMAGE: Ratul Narain spent a year in the field working with hospitals in rural and urban areas to understand why so many babies were dying in India.
This idea became the foundation of Bempu. Photographs: Kind courtesy Bempu
Travels with my father
One of the earliest influences in my life was my travels with my father to various countries.
Though I grew up in the United States, because my father worked for the World Bank, I was fortunate to have travelled to many poor and developing countries in Africa and the Middle East. And, of course, we came to India quite often.
What left a deep impression in my mind from those travels was the huge disparity.
What I saw in the US was abundance of everything while in these countries, I saw many things wanting.
I still remember the boy who played football with me when I visited my grandmother in Delhi. He was the son of the presswallah.
When I saw the small room he stayed in, which only had a sheet as the roof, I thought of my grandmother's house in Delhi and my house in the US.
We were of the same age, we played together, but our lives were so different.
I couldn't understand why there was so much disparity between two kids of same age. It disturbed me to see such disparity.
I felt after all the exposure I had I shouldn't waste the education I got in the US. The same goes about not wasting food.
Even while studying at Stanford, though I did biomechanical engineering because of my interest in biology and economics, I took a lot of classes in cultural anthropology, which helped me understand different cultures and different economic regions.
That life-altering vision statement
After my graduation, I took up a job with Johnson & Johnson.
The turning point in my life happened two months after I joined the firm.
My boss asked me to write a vision statement on what I wanted to do 10 years from then.
I wrote a one-page vision statement saying I would like to lead a team developing medical technologies to improve the lives of people in poor countries.
This was at the back of my mind while I was studying at Stanford too, but I wanted to do many things, and I was not exactly sure where the focus should be.
When I was asked to write that vision statement, it became a lot clearer to me.
I knew there was a gap in the developing world, and I wanted to focus on filling the gap, so that I could improve the lives of people.
I was always interested in economics, science and medicine. I also knew that health is linked to happiness and productivity.
Now that I have been working on affordable health in India, I am realising how importance economics is for better health. It is all related.
Luckily, my bosses at Johnson & Johnson were very accommodative.
My decision needed me to have some level of leadership, technical knowledge and customer research and international exposure.
They saw to it that I gained these skills while I worked with them for seven years in various countries.
I was allowed to research global health issues; they also gave me training in developing medical products.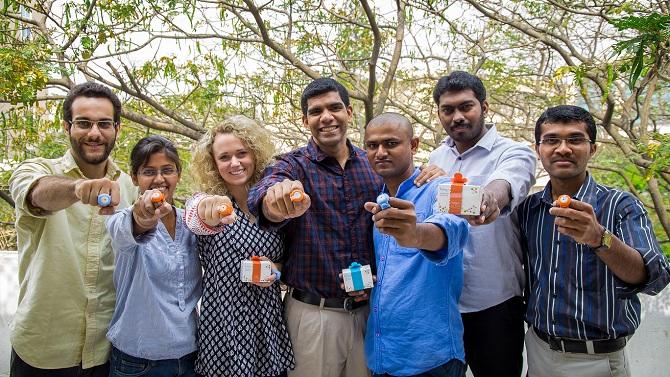 IMAGE: Ratul Narain, centre, with Team Bempu. Narain was able to build his team after he won his first grants -- from the Gates Foundation and the Canadian government -- in 2014.
Social enterprise and India
In 2012, I got an opportunity to associate with Embrace -- a social enterprise started out of Stanford, but based in Bengaluru -- which made low cost infant warmers for the Indian market. That was how I reached India.
The one year I worked with Embrace was inspiring and it helped me understand how a start-up works in India.
It also gave me the confidence that I could be an entrepreneur one day.
When I first started working, I had no plans to be an entrepreneur. I wanted to develop health solutions for the developing world.
While working with Johnson & Johnson, I realised that there was a gap in healthcare in poorer countries that the large companies were not going to fill.
I also realised that if I wanted to solve those problems, it could be done only through entrepreneurship.
A baby turned blue as the family ate mithai
After a year with Embrace, I spent one year in the field -- working in the high- and low-income government and private hospitals in Rae Bareli and Amethi in Uttar Pradesh, Delhi, Bengaluru, Tumkur, Shimoga and other rural areas in Karnataka.
I went around with a notebook in hand, researching why so many babies were dying in India.
This idea became the foundation of our start up, Bempu.
It was a shocking experience for me to go around rural hospitals in India.
The level of healthcare is so different in the rural parts of India, while both the good and bad hospitals in the US offered similar kind of service.
I still remember I was doing the research in a government hospital and there were 30 to 40 parents with their new born babies in one room.
And there was this four-hour-old baby, and the family was passing the baby and a box of mithai around to all the people assembled there.
No nurse was watching this and the parents were not educated enough to understand that such a small baby was susceptible to infections.
They didn't have the baby covered and to our shock, we found that the baby was turning blue.
When we measured the body temperature of the baby, she was freezing cold. The baby was suffering from hypothermia.
We had to educate them about the need to cover the babies, or else they might even die of cold.
They were simply not aware of all this.
And it was summer, not winter. The normal temperature for a human body is 37ºCelsius. A baby may weigh 2 kg, and even on a hot day of 30 to 32ºC, the body temperature of the babies could drop.
When they are hypothermic, many complications may arise; it may cause to burn off all the sugar in the body.
Low sugar in the body can cause brain damage and organ failure.
When the body starts using up the fat stored... They will also start building acid in their body and acid causes them to be unable to breathe.
I also found that one in three babies born in India weighs clinically low, while in the US or the UK, only 1 in 12 babies are born with low birth weight.
Babies with low birth weight become hypothermic very easily and it will result in hypoglycaemia, hypoxia and they will not gain weight as they grow older.
In the US, babies with low birth weight are kept in the hospitals under observation. They also give extra training to the parents so that the babies do not become hypothermic.
In India, it is not uncommon to send a 1 kg baby home when s/he should have been kept in the hospital.
Since the hospitals are full and there are not enough incubators, they send the babies home early.
At home, when these babies are not properly kept warm, they get cold which results in growth retardation, organ failure, etc. They also attract various kinds of infection.
I realised this was a grave issue that needed urgent attention.
I asked myself, how can I prevent these babies from getting cold and dying due to complications?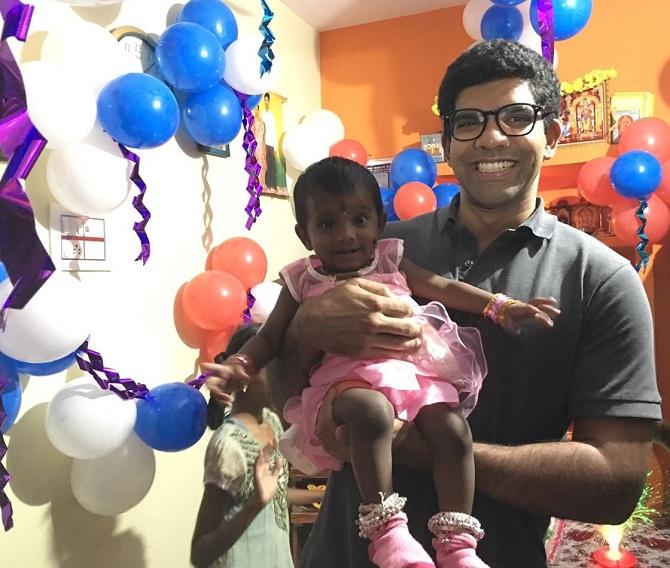 IMAGE: The defining moment for Bempu came in October 2015 when it saved a baby's life. She is Ritiksha.
And last October, Ratul Narain attended her first birthday.
A complicated process, a simple answer
Once I found the problem that needed our attention, I discussed a solution that could help the parents with many doctors.
One of the ideas was a bracelet that could be tied to the underweight baby's wrist (under 2.5 kg).
We wanted it be a very simple-to-use device for an uneducated mother. It just warns the mother before any complications happen.
If the baby's temperature is normal, the bracelet shows a blue light and if the baby is hypothermic, the light turns red and sounds an alarm.
The mother can then immediately warm the baby before any complications develop.
We decided not to have any display -- just the two lights -- as the population we work with find it difficult to understand complicated things.
We also designed it in such a way that the battery would last for 30 days and the mother need not worry about changing the battery.
Another challenge we had while designing the bracelet was usually the normal temperature is measured under the arm pit of the baby while this bracelet is tied around the wrist.
We designed it in such a way that we could measure the temperature accurately at the wrist.
Once the idea was concretised, I had a couple of volunteers to help me with the design.
We won our first grants from the Gates Foundation and the Canadian government in 2014 (which were also the first grants they applied for). I built our team of a designer and an engineer only after I got the grant.
Why Bempu?
We called the device the Baby Temperature Monitoring Band, which was quite a long and boring name.
When I asked my little cousin sister to help me find a name, she started saying, 'Why don't you call it a Baby Temperate or a Bempo or a Bempu?' I liked the name Bempu.
It took us a year to develop the product after a lot of clinical studies.
First, we created quite a few prototypes and tested them in the hospitals we worked with in Bengaluru.
By August 2015, we had around 27 hospitals using our device for feedback.
The defining moment was in October 2015 when one baby who went home with the device on her wrist developed hypothermia.
At night, the alarm went off, and the mother tried to warm the baby holding her close to her body. That is usually enough to warm the baby.
But the mother couldn't warm the baby enough and she took the baby to the hospital first thing in the morning.
The doctor was able to diagnose an infection in the baby early and save her. Infections can cause hypothermia in small babies.
That was the first case of our success; Bempu saved the baby's life. She is Ritiksha.
It was a wonderful feeling that the device we had invented could save a baby's life. Last October, we went for her first birthday.
The product has been in the market for a year.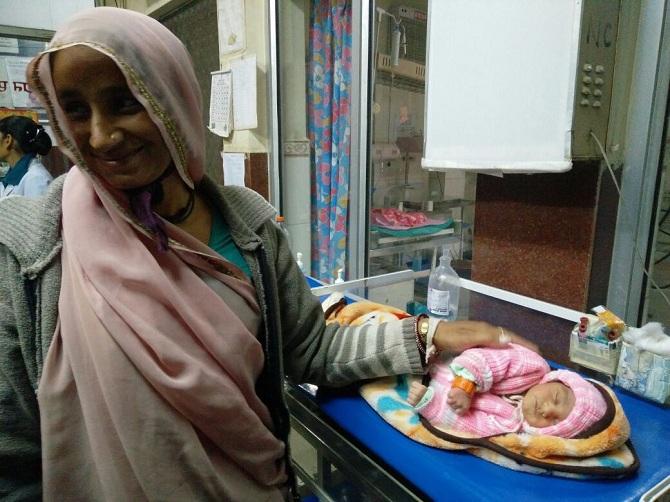 IMAGE: Narain and his team wanted Bempu be a very simple-to-use device for an uneducated mother.
They are applying that same principle to their next products: Apne Boot and Care Cradle.
Working with governments
Today, 2,000 babies are using the Bempu, which is priced at Rs 1,850.
We work with the National Health Mission to procure the device for government hospitals so that the hospitals can distribute the device to premature and small babies for free.
We also work with the Rajasthan, Madhya Pradesh and Gujarat state governments.
We did a study on 250 babies in Rajasthan in partnership with the NHM.
We are working directly with the Gujarat government.
We will start working with the MP government and UNICEF on a 400-baby pilot programme.
We have partners like UNICEF, Wish Foundation, etc that help us work with these state governments and they have been quite receptive and forward looking about this.
With limited resources, we are focusing on these states. But we are looking forward to similar responses from other states also, so that we can help improve infant mortality.
It takes a lot of budget and time to work with governments; pilot projects first, then recording and showing them the results.
Even then, you are not sure whether they will procure the kit. That is why we look for partners to work with different state governments.
Though we can produce 15,000 units a month, we are not producing at that level; it's just 5,000 this month.
We also work with high-end private hospitals, but our priority is to work with government hospitals in the rural areas.
Other than Bempu, we are developing two more products: Apne Boot and Care Cradle.
The nervous system may not be well developed in new born babies, so sometimes their brain does not trigger them to breathe.
We have made a shoe made of sensors that detects when they stop breathing and stimulates the foot to send signals to the brain to automatically start breathing before any injury happens.
We have named it Apne Boot and have won an award from USAID and Canada.
The idea for Care Cradle came when we found that 6 per cent of the babies sent home die at home.
What we are developing is a cradle that can remotely monitor the baby and send the information to the doctor or someone at the hospital to review the condition of the baby.
If the doctors see that the condition of the baby is deteriorating, someone from the hospital can go and check her.
Care Cradle also got an award and funding to develop the prototype.
Doing the dream job
I definitely miss the US and my family, but I enjoy working here in a field that gives me a lot of satisfaction and challenges.
It can be frustrating at times, but I have a great team of 14 people and we keep ourselves motivated during such times.
Our dream is to improve the health of children under 5 years of age in rural areas.
There are a lot more gaps that exist, and we want to address all the issues through various products.
It has been quite rewarding when we hear about lives being saved and babies getting better health outcomes.
I am fortunate to have got this opportunity, and I am grateful for it. I know there is a lot more for me to do.
This is my dream job, and this is what I wrote I would be doing 10 years from now.
Not many people in the world get to do their dream job. So, I don't want to waste such an opportunity.
FASCINATING START-UP features in the RELATED LINKS below.