'All I knew was that if I did not beg, I won't get food to eat.'
Jayavel was rescued from begging and through his hard work and determination has now won a scholarship to complete his engineering in Italy, for which he is looking for funding.
Jayavel's story is the stuff of movie scripts.
Just that his reality is more hard hitting than fiction, discovers Rediff.com's Divya Nair.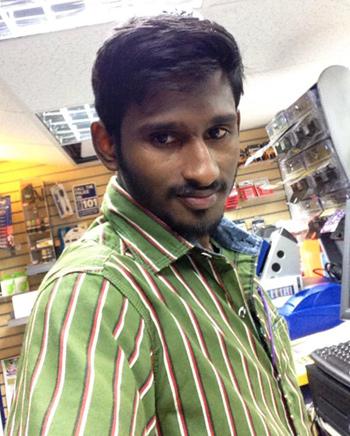 Jayavel, the fourth among five children (he has three elder sisters and one younger brother) was not born poor. His father was a farmer and the family lived in Nellore.
When the crop failed because of bad weather, the family lost all its earnings and was forced to relocate to a slum near Kilpauk in Chennai.
Since the father died early, the mother and children were forced to beg so that they could survive.
"When I was young, I was unaware of life, education or what my future will be. All I knew was that if I did not beg, I won't get food to eat.
"There were about fifty families in my area who felt the same way. We had no education or a proper home to live in. We'd beg at traffic signals, on the roads and beaches; wherever we could.
"At the end of the day, we'd manage a maximum of Rs 100 to 200 which was used to buy food for the family," the 22 year old tells Rediff.com over the telephone from Chennai.
Jayavel would have easily become a statistic to be counted among the city's poor had it not been for an NGO to have spotted and rescued him.
In 1999, Uma and Muthuraman from the Suyam Charitable Trust visited the Kilpauk slum to find out what forced people there to beg.
"Initially, some people in my community did not trust the NGO, so we broke their camera equipment. Most of us did not value education or knowledge at that time. It took them (the NGO members) a lot of effort to win our trust," Jayavel recalls.
In 2003, Jayavel, aged 7, was among the first batch of three children from his slum to join the Siragu Montessori School run by Suyam in Avadi, Chennai.
"When I came out dressed in the uniform ready to go to school, people in my area started looking at me seriously. Looking at me, some more families came forward. They also wanted to put their children in school. It felt great."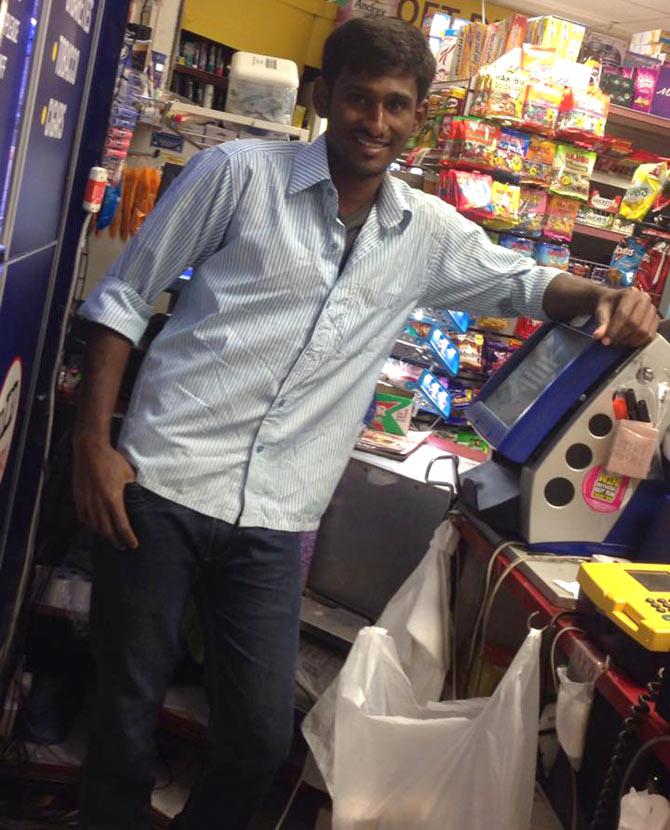 IMAGE: During his tenure in the UK, Jayavel worked part-time at the Victoria Premier Stores in Wrexham City. This photograph was shot in 2014. All images: Kind courtesy Jayavel
In school, Maths was his favourite subject. He could calculate numbers fast and loved playing with numbers.
Some years after joining the school, Jayavel's family stopped begging.
"My sisters got married and my younger brother was studying in the same school with me. During weekends, my brother and I would sell books, toys and similar stuff at traffic signals and on beaches. During the summer, we'd sell mats, fans and car cooling accessories."
'When people read my story, they should feel inspired to chase success.'
In 2010, Jayavel appeared for his Class 10 IGCSE exam through Cambridge University Examinations, UK.
"The fee was too high, but Uma ma'am dreamed to provide us international exposure and was willing to do everything it takes. She paid Rs 35,000 (Rs 7,000 per subject for five subjects). I scored 53 per cent and cleared the examination."
After Class 10, Jayavel stopped working so he could focus on his studies.
He applied for higher education through the National Institute of Open Schooling and appeared for the Class 11 and 12 examination through the Velammal Matriculation School, Surapet, funding for which was provided by Velmurugan, CEO, Velammal Education Trust.
Jayavel cleared the Class 12 exam with 75 per cent marks.
In 2013, Jayavel applied to the Glyndwr University, Wrexham, UK, and got selected on merit. A donor guaranteed Rs 16 lakh (Rs 1.6 million) for his UK visa.
For two years, he pursued automobile engineering, specialising in car performance technology at the university.
"The course cost Rs 17 lakh, for which I took an education loan, collateral for which was arranged through Suyam," he says.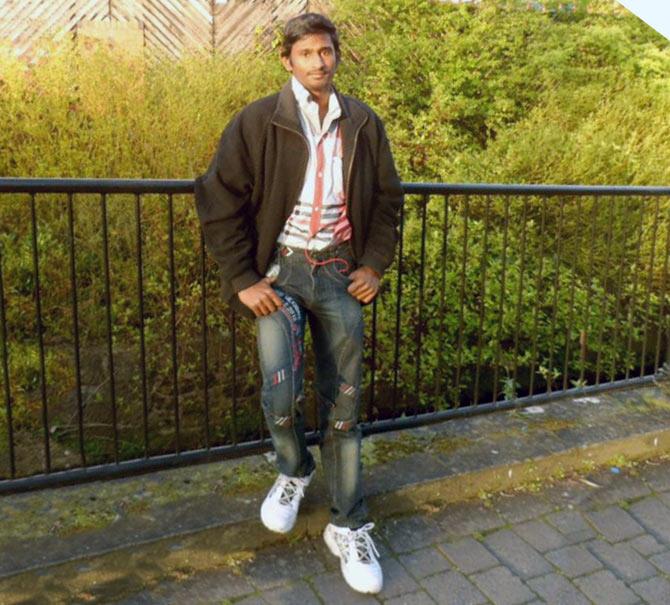 IMAGE: Jayavel at Parkside in Wrexham city.
Coping with his new life was challenging.
"I was in a new place with new people. My English was just manageable, the professors and students at the university spoke really fast and with an accent. Sometimes I would not understand a single sentence and stare blankly. Thankfully, each course was registered online. So I used to visit the library and download the notes; then take a printout for reference. I would read the notes all day and plan my studies accordingly."
'I want to use my education to serve society. I know what it means to be poor.'
"I took the help of multiple resources online to improve my English and communication skills. Towards my second year, I became much more confident. I can now talk to people without fear."
IMAGE: Jayavel attends a practical session as part of his academic training at Glyndwr University.
For his third year of engineering, Jayavel is among ten students who have been offered a fully funded scholarship to study at the Politecnico di Torino in Italy.
While a donor has offered to pay for his air ticket, the challenge is to find a way for him to declare Rs 8 lakh in his account before he can apply for a visa to Italy.
'We must believe in and contribute to humanity, that is the only thing that can save the country.'
"The visa will cost an additional Rs 20,000. I have an outstanding loan and nothing significant that I can mortgage against."
"My mother is 60 and lives in a hut on the roadside in Kodambakkam. My brother quit studying so he could take care of her and the family. I am thankful to people at Suyam who have funded my education so far and are still helping me. We are all running pillar to post, calling up donors and people we know who can come forward to help," he says.
After completing engineering, Jayavel wants to appear for the civil services examination so he can become an IAS officer.
"I want to use my education to serve society. I know what it means to be poor, so I want to reduce poverty. I want to build homes for the poor and set a shining example for kids through my success story."
"Some years ago, it was Uma ma'am's dream. She is my inspiration and now her dream is also my dream. When people read my story, they should feel inspired to chase success," he says.
"I believe only in hard work. I also appeal to people to not divide or judge humans on the basis of caste, colour and religion. Don't judge a poor person because you had one bad experience. We must believe in and contribute to humanity, that is the only thing that can save the country."
"People in good positions should have the mentality to help in whatever little way they can; it might change someone's life."
Dear Readers, Jayavel's academic term in Italy is due to commence in October 2016. If you would like to contribute in any way, kindly drop a message at muthuram@suyam.org along with your NAME, LOCATION and contact details.
You may also donate to the Suyam Charitable Trust; details as follows:

Account No. 603101272985
ICICI Bank, Sowcarpet Branch
IFSC Code : ICIC0006031