Vaani Kapoor shows you how to be the perfect bridesmaid with her Brides Today cover.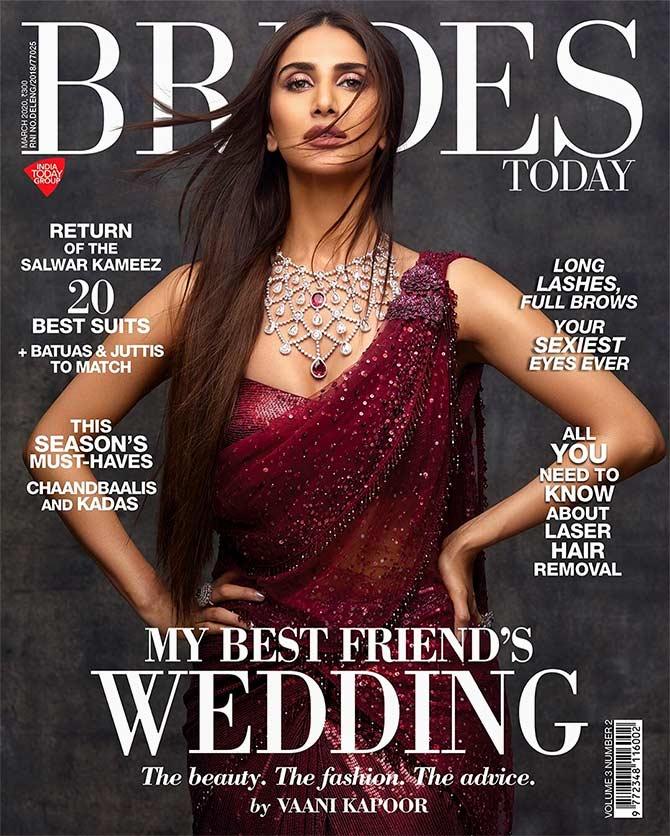 A wedding day is not just about the bride and the groom. It is also about the bridesmaid and Vaani Kapoor shows you how to be the bridesmaid every girl wants by her side.
Sizzling in fusion wear on the cover of Brides Today, the actor paints a stunning pic as she serves some serious style goals.
Dressed in a blouse, skirt and dupatta by designer Tarun Tahiliani, she completed the look with a gorgeous diamond choker.
For her second look, Vaani stunned in a Falguni Shane Peacock silver embellished choli and matching lehenga.
With her hair worn in an unkempt mess, she styled her look with an emerald choker.
Sharing a letter for a new bride in the mag's Instagram post Vaani wrote: 'Dear bride, You are at the cusp of a new and exhilarating journey, one that promises to be exciting, challenging, and delightful in equal measure!
'And the one person who has been standing right next to you, ever since you decided to tread this path has been your best friend.
'Whether it's planning the festivities or holding your hand in those moments of self-doubt -- she's been there, steadfast, like a rock.
'On your big day, you will naturally be preoccupied. Tense, even, at times. She will be the one to rub off that lipstick smear on your chin and straighten your sari's pleats.
'Get you that glass of champagne and crack a silly joke to ward off those jitters. Who better than her to know just how exactly you are feeling? 'In the midst of all the hullabaloo, don't forget to take a moment to appreciate her efforts. Seeing you beginning this new journey will be an equally emotional moment for her.
'Give her a warm hug, squeeze her hand, and gift her a little something just to show how thankful you are. 'It's true, she will always love you. And she couldn't be happier for you. Love, Vaani Kapoor.'
Scroll down to take a look at some of the actor's mesmerising looks from the mag photo shoot.