Here's a model, who loves football, biking, kick-boxing, plays drums, and looks hot not only on the ramp but off it too, says Rediff.com's Rajesh Karkera.
IMAGE: Imlibenla Wati is a perfect combination of beauty with brains! All Photographs: Rajesh Karkera
A stunner and at the same time, a quiet and demure girl, I mistook Imlibenla to be just another visitor at the Lakme Fashion Week!
She turned out to be the first Runner Up in the Miss India Elite contest in 2015 and also Miss Nagaland.
In fact, this shy girl from Nagaland did not let us in on this secret.
"She is the first beauty pageant title holder from Nagaland to have won a national title pageant too to represent the country at an international pageant in South Korea," her friend butted in.
Starting up
Imlibenla was 17 when she won the Miss Nagaland title in 2012 as part of the annual Hornbill festival. She'd received a cash reward of Rs 1 lakh at the time.
Debut at Lakme
"This is my first time at Lakme," confessed Imlibenla, who will be walking for designers from Assam tomorrow.
"I am here for the fittings today and maybe I can... ummm how do I say, get to watch a show," added the reticent girl.
Bombay blues
"I love Bombay. I am still a bit scared to talk to people, but I am trying. So far so good," she said opening up a bit.
Style check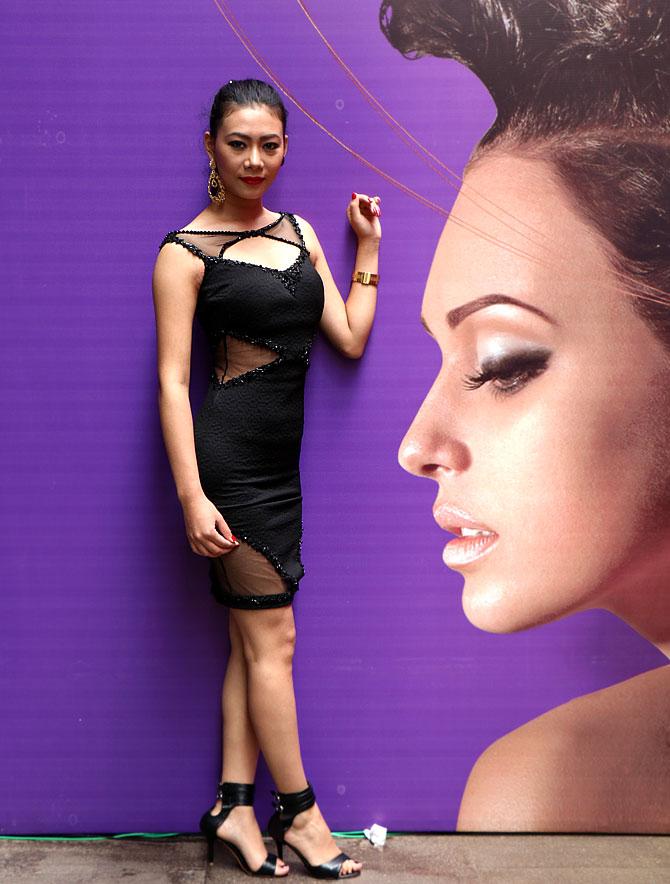 IMAGE: When she's not walking the ramp or modelling for a brand, Imlibenla supports various social causes involving kids and women.

She was wearing Ramokla Pongen's fitted black dress.
"This is from one of her best summer collection and she's a local designer... very famous in Nagaland," Imlibenla insisted.
Fashion sense
"Fashion is some thing that you wear and carry it yourself.
"Whatever you are wearing, and if you feel good about it, that is the feeling that makes it fashionable. That feeling is what makes fashion out of what you wear."
Lakme Fashion Week Winter/Festive 2016: Full Coverage
Check out trendy outfits and accessories on Rediff Shopping!