Suzanne Baker, 18 is perhaps one of the youngest models at Lakme Fashion Week this season.
The Guwahati-born girl is clearly excited and tells Rediff.com's Rajesh Karkera how she landed her big break.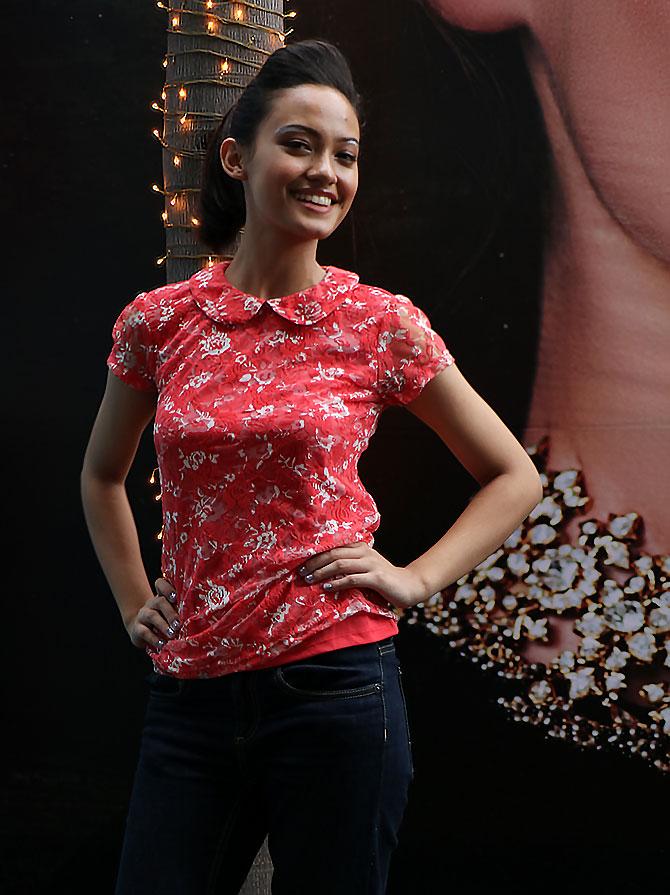 How does it feel to be at Lakme?
Happy happy happy. I was so excited to walk for Wendell Rodricks' this time.
When we were walking, I felt an adrenaline rush. My palms were sweaty. I was happy and pumped up.
And after the show ended, I was like 'It ended so fast; it should've lasted longer.'
It was so different from all the shows I've done before in Guwahati. It was nice and memorable experience. I'm really glad.
Have you modelled before?
I've done modelling before ... But this is my big break.
I started out four months ago in a contest in Guwahati. At the Guwahati Medical College where there was a contest 'Synchisis'. I won that and after that I got shows from Vivanta Taj.
After that, I got to know about Lakme auditions which I got through. Right now, I am very happy.
How do you stay fit?
I make it a point to drink lots of water and always remove make up from my face before going to bed. I do some regular exercises... Pilates and all.
How did your parents react to your career decision?
My parents were very supportive. They told me to do what I want to. They were very proud of me when I got here. My whole family -- my uncle, dad, mom, sister, everyone is supporting me.
In fact my sister and my brother are all coming to see me on the ramp tomorrow.
How did you spend your first salary?
I spent it on food. I like food. I'm a big foodie you know... So that's what I did and the rest I just saved it.
Your favourite designer...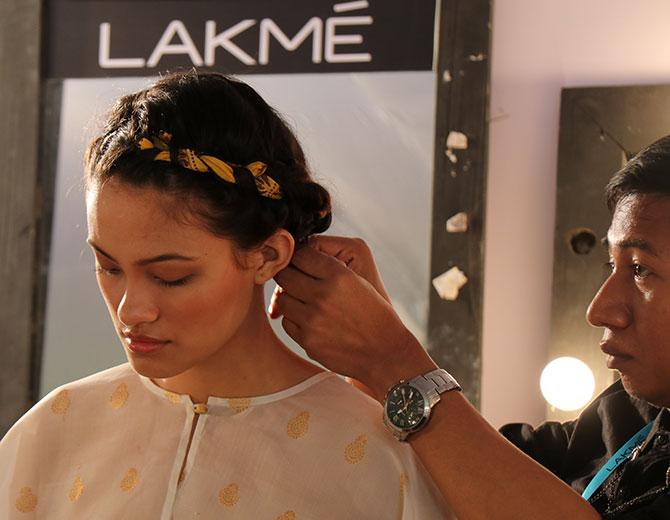 IMAGE: Suzanne gets her hair done prior to a show at the ongoing Lakme Fashion Week in Mumbai.; Photographs: Rajsh Karkera/Rediff.com
Manish Malhotra -- I walked for his show and I was so star struck. I was like WOW Manish Malhotra! I was so glad to be walking for him.
The model you admire the most...
I look up to each and every model here because they are very confident on stage. When I look at them, I want to have that confidence they radiate on the ramp.
The fact they are so natural in their poses amazes me. That confident attitude. I look up to that.
How safe is Guwahati?
The place I stay in Guwahati is very safe for women. People are very nice, else I couldn't have come here. Actually I spent my formative years in Chennai and then moved back to Guwahati in 2012. So I've mostly found it to be very safe for girls.
And Mumbai?
It's my first time in Bombay. I've been put up in Bandra. Bombay is also safe and friendly.
Aspiring models should...
Never give up. Always be positive. It attracts good people towards you and they like you more.
Have you ever faced any kind of discrimination?
Neither me or my friends, we haven't faced racism. Maybe because I'm nice and I see the world around me as nice.
Lakme Fashion Week Winter/Festive 2016: Full Coverage
Check out sarees and accessories on Rediff Shopping!