'I have been away from fashion weeks for some time now because I am not really keen on the whole buzz. It gets too hectic for me.'
'I have always been very clear about how I want to portray my label. My customer base has been very quiet and shy like me, so it all comes together.'
Goan designer Savio Jon, who will be showcasing his latest collection at the ongoing Lakme Fashion Week, doesn't like too much personal attention and lets his creativity walk the talk.
In a quick chat with Rediff.com's Anita Aikara, he speaks about his collection, why he has been avoiding fashion weeks and the fashion mistakes Indian women make.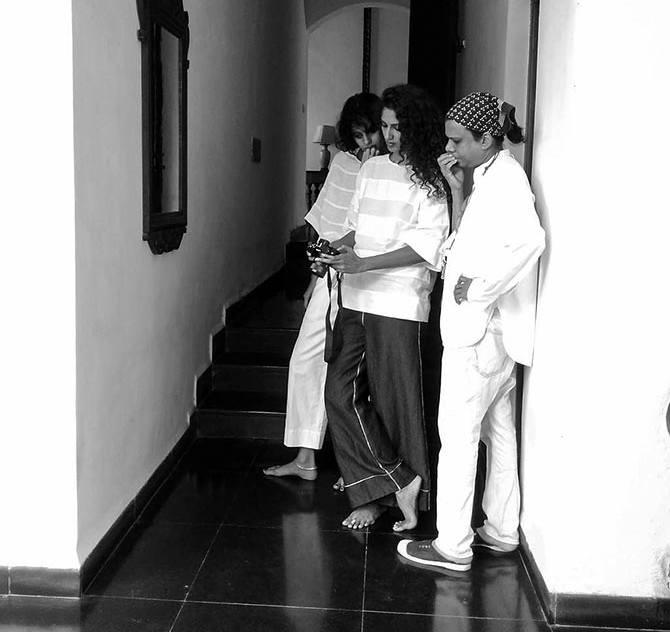 IMAGE: Savio Jon, the perfectionist, extreme right, isn't easy to convince.
Photograph: Kind courtesy Winona Fernandes/Instagram
Goa-based designer Savio Jon is not a regular at fashion weeks.
He likes to keep to himself, and unlike other designers who leave no stone unturned to talk about their work, Savio lets his work do all the talking for him.
Quiz him about his collection and he insists that you call it a 'wardrobe' instead!
A perfectionist in the true sense of the word, Savio Jon believes in pushing the boundaries of fashion to create something refreshingly new and out-of-the-box.
For example, he is very particular about how the fabric is cut. In fact, HE cuts every piece of his collection!
Over the years, Savio Jon has created a style of his own -- one that his customers swear by. And his latest collection, to be showcased on February 4, is an ode to a free-spirited traveller.
It's been quite some time that we saw you at Lakme...
I have not been there for many seasons.
I am a very spring-summer kind of resort designer. It was just a matter of let's do it.
I got invited for it and I felt I could give it a shot.
I have been away from fashion weeks for some time now because I am not really keen on the whole buzz. It gets too hectic for me.
It was a conscious decision to stay away from the fashion week.
With me I have always been very clear about how I want to portray my label. My customer base has been very quiet and shy like me, so it all comes together.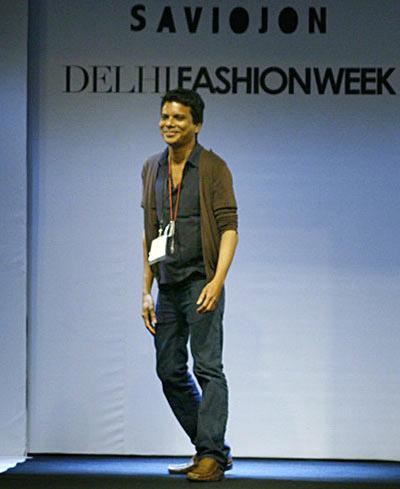 IMAGE: Savio made a rare appearance at a fashion week in Delhi in 2009.
Photograph: Rediff Archives
Tell us about your collection
First of all it's not a collection; it's a wardrobe. It's about the clothes someone would want in their wardrobe.
There are a couple of staple pieces. It is about a person who is travelling; she has been collecting things throughout the years.
It's an evolved person actually; much more grownup and not trend based.
It's very realistic.
For me, the clothes are the coming together of colour, cut, texture and that single odd detail.
The collection focuses on wardrobe pieces as opposed to a continuous collection.
It is representative of movement, between distance, space and time, as strands of hay, vintage buttons and trimmings are sourced from hidden corners and markets.
There is a sense of spontaneity and playfulness. All this happens in the most effortless way.
This collection did take considerable time and effort and I hope that the hard work pays off.
What do you think about the new crop of designers?
There's amazing amount of great talent right now in the industry.
I also think it's nice because they are so exposed to quality and they have so much information online to work with.
IMAGE: Sheetal Mallar and Lakshmi Menon in Savio Jon's creations.
Photograph: Kind courtesy Savio Jon/Instagram
What trends will we get to see in 2017?
I think the emphasis will be on how a garment falls, how it is cut and its finish.
What do you think about fashion in India?
Indian women make a lot of fashion mistakes! They keep sporting logos all the time.
Wearing one designer from head to toe is the most common thing.
They are afraid to experiment with colours too, and when they do so, they tend to go overboard.
Your advice for young designers
It is very important to work on your craft. It takes endless hours but it is worth the effort.
They need to understand how things can progress and that is something you'll understand when you invest that time on your craft.