Rediff.com's Rajesh Karkera recounts the brief moments of interaction and conversation he had with the international celebrity.
Her responses to him -- candid and engaging.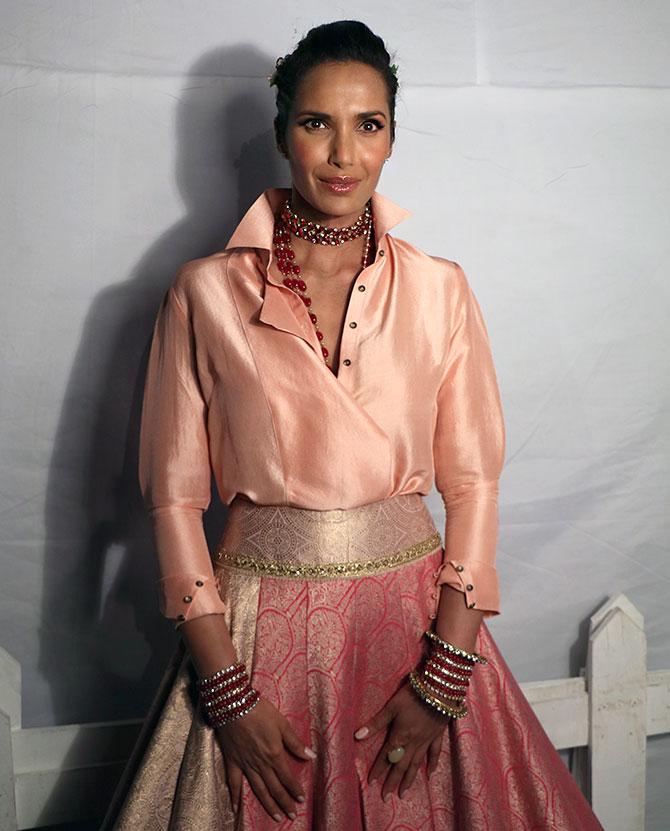 Standing in the hustle-bustle of Lakme Fashion Week's dimly-lit backstage, during the crazy pre-show rush, I spotted a pair of eyes staring blankly into space.
"Is that Padma Lakshmi?!" I thought to myself.
I had hoped to get a spectacular picture of her. Here she was up close.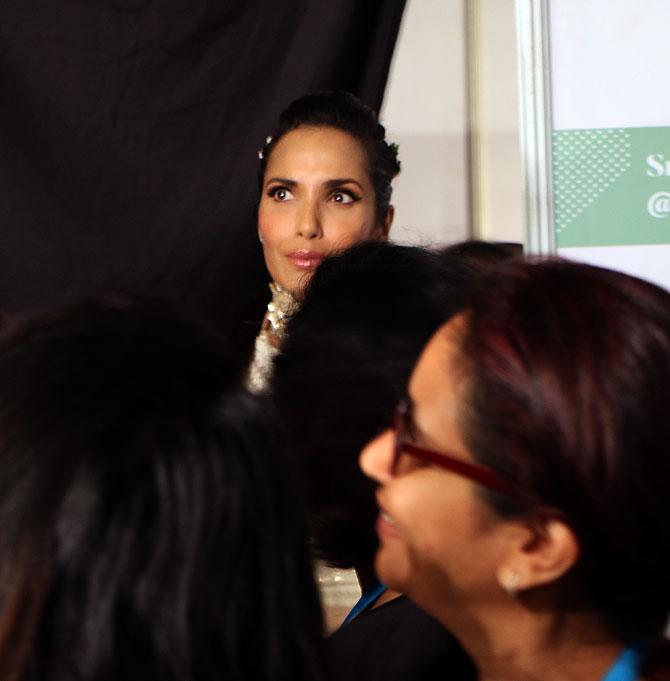 IMAGE: 'Is that Padma Lakshmi?!' I thought to myself.
All photographs: Rajesh Karkera/Rediff.com
Could I summon up the courage to talk to her, without even any questions prepared?
I, nevertheless, made my way through the crowds of models, makeup artists and journos.
Suddenly, those eloquent eyes focused on me.
Whew! Hers is a strong gaze, you feel like she is looking beyond your eyes into your soul/mind.
I knew I couldn't open my mouth fukat mein (for no particular reason) and say something dumb like 'you look really beautiful'.
Padma Lakshmi was all smiles even in the busy backstage area.
She is mesmerising. Her stare. The lovely Tarun Tahiliani outfit she had on. And the lack of airs with which she was standing there, with everyone else, not even acting like a model and celebrity.
I pushed myself to rustle up a few questions before she started walking for the show.
She obliged, even though she had to be out on the ramp in the next few minutes. Halfway through our chat, she was rushed out for her walk by the ramp choreographer -- I am sure he must've been really mad at me though he didn't show it.
My chat with Lakshmi continued in a hurried, stop-and-start fashion, after her show, as she walked to the press conference area and it ended with a wonderful reply from Padma Lakshmi to my last question.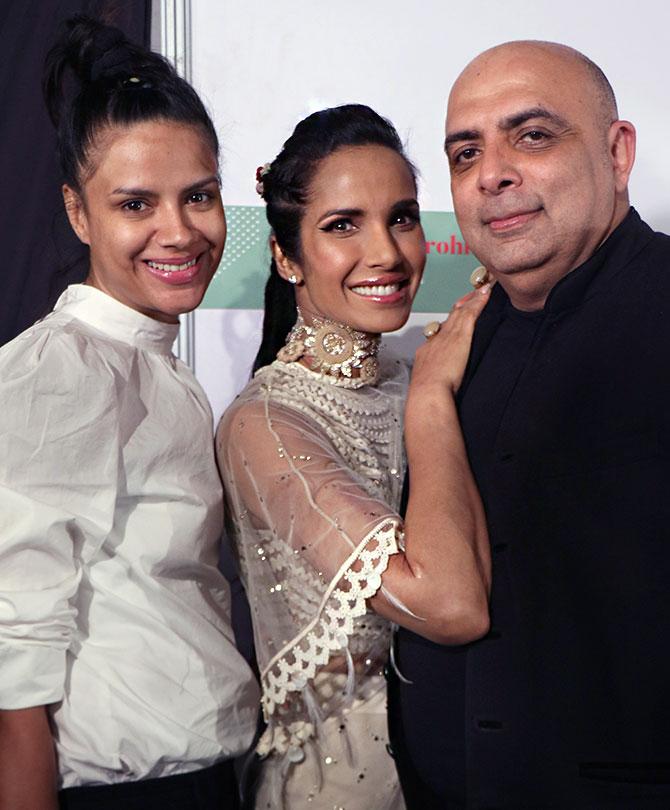 Padma Lakshmi, centre with Tarun Tahiliani, right and a former model who is now part of the designer's team.
What's it like being at Mumbai's Lakme Fashion Week? (My question backstage)
It's beautiful to be here. It's lovely to walk for Tarun. He's been an old friend.
Great to be walking at Lakme. I have never walked for Lakme before. I am really honoured to walk for Tarun. Especially honoured that I could open the show, as well as close (it). I can't think of a better designer to walk for.
He is the perfect synthesis of Eastern traditional handicrafts along with a very modern and wearable aesthetic. It's also… bridges the gap. He is a really interesting designer. He is the embodiment of what a global designer should be.
If you're somebody like me. who travels to different countries, you don't want to dress in one way in one country and another way in another country. He has things that mix and match beautifully with Western fashion. I would be honoured to wear him on the red carpet anywhere.
I had never walked at Lakme Fashion week before. So to do that, at this point of my career, and to do that for such an amazing iconic designer -- who really defines what the best of Indian fashion is, has been and will become in the next decade or two -- is truly an honour.
Beyond how talented he is, Tarun is also a really nice person. He's fun to hang out with. And we have known each other for years. I don't see him that often. But whenever I do, it's like we never ever left each other's side. When you have people who are so talented, but fun to work with as well, it's truly inspiring.
I'm just very happy to be here. I'm glad I didn't fall!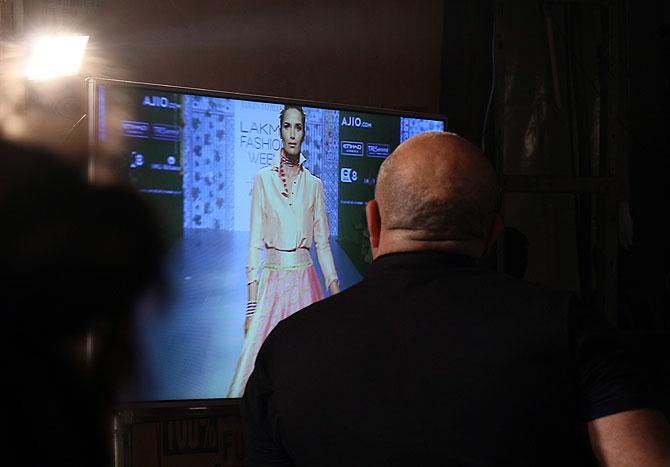 The designer admiring his muse on the runway.
Tarun loved her attitude of walking on the ramp where she throws her hands around while walking -- 'as if she is walking on the streets of New York,' he says.
What did you feel about the outfits you wore today? (My question halfway to the press conf while walking)
The salmon pink is one of my favourite colours.
I personally tend to mix and match. Obviously, I don't wear ghagras with a ten metre diameter every day!! :) (Laughs).
If I was wearing one of his beautiful heavier ghagras, I would probably wear it very low on the hip and I would wear it in New York or Paris or wherever I was. I would wear it with probably a little T-shirt on top, to break it up a little bit.
There aren't that many occasions (when) I have (had) to wear a full traditional thing like today. I felt incredible in that first outfit I wore on the ramp! Like a Mughal bride going down the runway. I don't think I looked that beautiful at my own wedding!
Also that garment that I wore was very light, which is very important. You want a woman to have something which is very grand. But you also want her to feel like herself. I certainly felt like that in this first outfit.
There was no attitude, she stood there along with everyone else backstage, waiting for her turn.
What's the best Tarun's outfit you have? (My question at the press conference)
I feel the beautiful thing about Tarun's clothes is that not only are they modern but also timeless.
I know that he does two shows a year and he probably wants you to focus on what's in his stores now, but I have to tell you: There are pictures of me online in a beautiful maroon outfit. Very transparent (laughs). But very beautiful. I still love that.
That outfit is like 15 years old or something! It's still timeless... (Actor) Halle Berry wore a similar dress when she won the Oscar. It shows he is always thinking ahead. His outfits really stand the test of time.
What would be your favourite Indian outfit? (My question at the press conference)
The sari is a beautiful garment.
There are a million ways to drape a sari. (Another) thing I love about Tarun is that he makes it really easy, for people like me, who don't wear saris every day, by pre-draping them. Otherwise I end up using like 45 safety pins keep it on me and it kills the fabric!
But I love a good ghagra. I love really low-waisted ghagras with nothing but some beautiful heavy payals and being barefoot. To me that rustic look is just so feminine. It's like old temple paintings!
Watching the action on the runway on the screen placed backstage.
What's it like being back in India after so long? (My question at the press conference)
Great to be here. I was just at the Kala Ghoda Festival (south Mumbai) and I gave the inaugural talk there. It's been really wonderful.
Whenever I come to India, I don't work. I just wind up spending time with my family. I missed having a grown up life here in India (being) independent.
To go around the country and travel with my two books has been quite moving. Great to have feedback from people who have read it.
I wanted Indians to like the Memoir (Love, Loss, and What We Ate: A Memoir). It is very important for me that it resonated with everyday Indians and my peers in this country...
I'm visiting four more cities. My last event will be in Chenai on Valentines day.
How different do you find it in India in contrast to the paparazzi culture of New York? (At the press conference; not my question)
Here in India people are very respectful. I can move freely. People here, most of the time, ask if they can take a picture.
In New York, it is pretty unbearable. I have paparazzi parked outside my door, my very door. It actually stops me from walking my daughter to school as often as I would like.
It's got so bad that we have actually had some of our actresses go and lobby Congress to make laws. Especially for our children.
I want Krishna (her daughter) to have a normal life. When she grows up she (might) want to be in the limelight... Then that would be HER choice.
I even try not to show her face directly when I put up a picture of us on online.
It's a little hard especially to shield your family from, them (paparazzi) because I have signed up to be in the public eye. Those close to me are very private people and they haven't. And so far my family's been really supportive.
I don't have it nearly as bad as you know many A-list people who are in the limelight. I just have a TV show on food. But I somehow manage to get way more attention then I should from my career (laughs). But if you're somebody really like a movie star, like Nicole (Kidman) or someone, it can be really, really obnoxious.
I've had friends in that situation. It's not pleasant at all. It's become a little bit dangerous!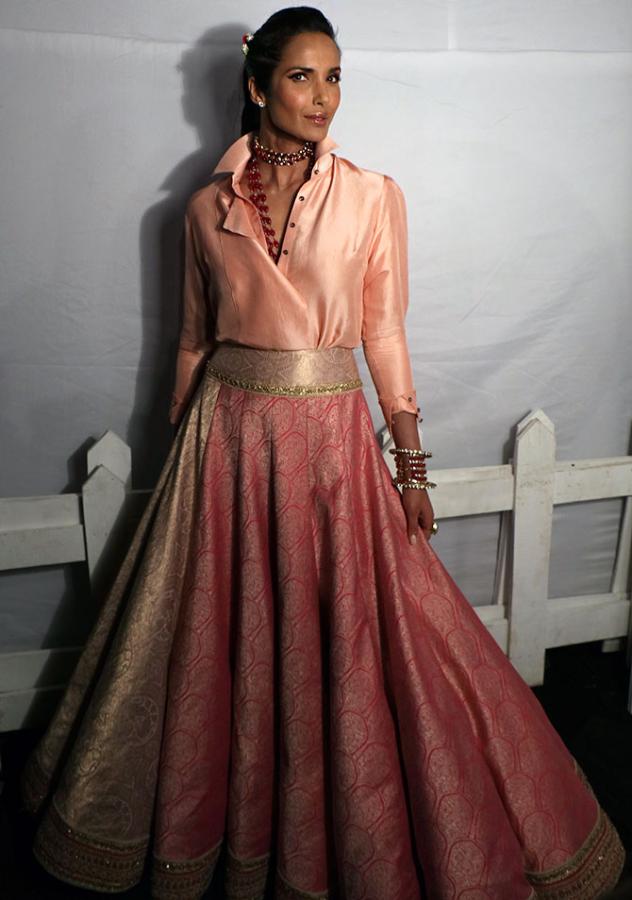 Back stage, at the end of the show, she obliged not only the photographers but also posed with the models and the crew who wanted pictures with her.
Best part of being Padma Lakshmi? (My last question at the press conference)
The best part of being me is that I get to be Krishna's mom. It's really the best thing that has ever happened to me.
Every day is a joy and is a new discovery. The good thing about having a child is that you get to experience all of the simple pleasures of life -- whether it's ice cream or sand between your toes, like a child.
It really makes you appreciate those things.
It has also given me a greater sense of humour, because I don't sweat the small stuff any more.
I don't really don't care (about) gaining five pounds or you know if the book didn't sell x amount of copies, because at the end of the day I am not going to remember that. I am going to remember my (duels) in the sand with Krishna.