"We as Indians are too emotional and also melodramatic. So everyone just waits to pounce on someone and put the blame on him or her," model Shweta Dolli speaks with Tista Sengupta/Rediff.com about the Indian modelling industry, what she likes about it and, of course, about her favourite cricketer and how he is setting an example for Indian youth.
Photograph: Rajesh Karkera/Rediff.com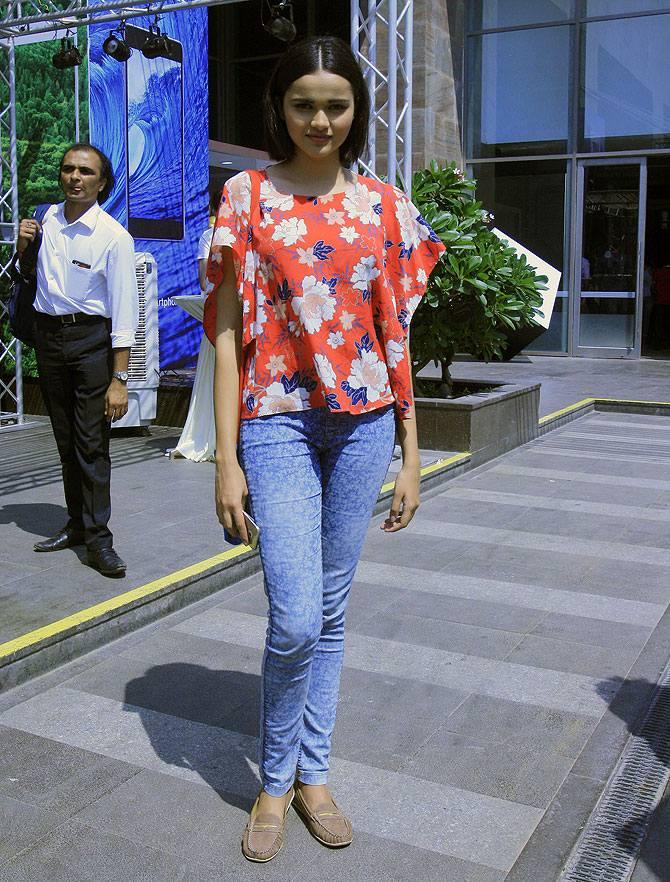 How do you prepare yourself -- mentally and physically -- before the fashion week starts?
I try to go back to my parents' place in Pune and relax there, if I am lucky enough to get two or three days off from work before the fashion week kicks off.
Just one day before the shows start, I put my clothes -- which I would be wearing off the ramp -- in place. During the fashion week, there's just no time to think. We just get up, rush to the venue and come back really late.
Your fitness regime...
I go to the gym everyday for at least an hour. But there are days when I have to miss out on it because of work. I indulge in yoga and functional training.
When I am in Pune, I go swimming, play squash and also go for golf with my father.
Your beauty secret...
It's quite simple. I have day and night creams that I apply without fail.
I also make sure that I get rid of all the make-up once I am home.
Drink lots of water and eat fruits.
I don't change my beauty hacks before the fashion week. You wouldn't want anything to go wrong before the shows.
Is there a particular diet that you follow during fashion weeks? What do you eat during fashion weeks?
For breakfast I have fruits. I eat banana everyday. I think it's a myth that having bananas make you put on weight. I don't think that has happened for me.
I usually eat light lunch and during dinner I tend to get tempted to have desserts.
I have a lot of black coffee without sugar when I am walking at fashion weeks.
For how many designers are you walking for in this season?
I am doing 17 shows this season. I did Manish Malhotra's show last evening. I will be walking for Rohit Bal, Monisha Jai Singh, Surendri, Heumn by Pranav Mishra, Shyma Shetty, Rajesh Pratap Singh and Rahul Mishra to name a few.
Which is the show that you have always looked forward to walk for and why?
I have always looked forward to Manish Malhotra and Sabyasachi's show. The opening and the finale are always grand and I eagerly wait for them.
What are the good things that you have come across in so many years of your modeling career?
The fashion industry is really safe. Women dominate this industry. Women get paid more than men.
We are taken care off well and we receive a lot of respect. And that's a good thing.
It is a tough industry but you need to be stable in your mind. You should be ambitious not over-ambitious. I think the movie Fashion ruined it for models.
Tell us about your first job/modelling assignment...
My first job was at Lakme Fashion Week three years back when I was a new face on this platform.
Aspiring models should...
... have a very balanced mind. You should know what you want to do from the very beginning. You want to pose in a sari or in a bikini, that's completely up to you. Make that choice and stand by it. No one will ever judge you because you said a 'no' for something.
Your plans after the fashion week...
I have a few shows lined up, but it's not right after LFW.
I think I will be off work for a day or two and I am just going to sleep on these days.
The movie Ki & Ka (starring Kareena Kapoor Khan and Arjun kapoor) is based on house husbands. What do you think about it?
I think the society needs to get used to this concept. It's very cool.
If a woman brings in the money, I think it's absolutely fine. If men do household chores, they shouldn't look down on it.
T20 World Cup is on. Your favourite cricketer...
I am obviously supporting India, and I like Virat Kohli. And I really loved MS Dhoni's performance against Bangladesh.
Your message to your favourite cricketers...
Keep performing well. It's fun to watch you both play.
Virat Kohli stood up for Anushka Sharma on social media as he shut people who criticised her. Your comments...
After their break-up, what he did was extremely mature. We as Indians are too emotional and also melodramatic. So everyone just waits to pounce on someone and put the blame on him or her. Men should take him as a role model.
Don't Miss our Special Coverage of Lakme Fashion Week Summer/Resort 2016