The 22-feet tall eco-friendly idol is made entirely of clay.
Text: Anita Aikara/Rediff.com; Photograph: Satish Bodas/Rediff.com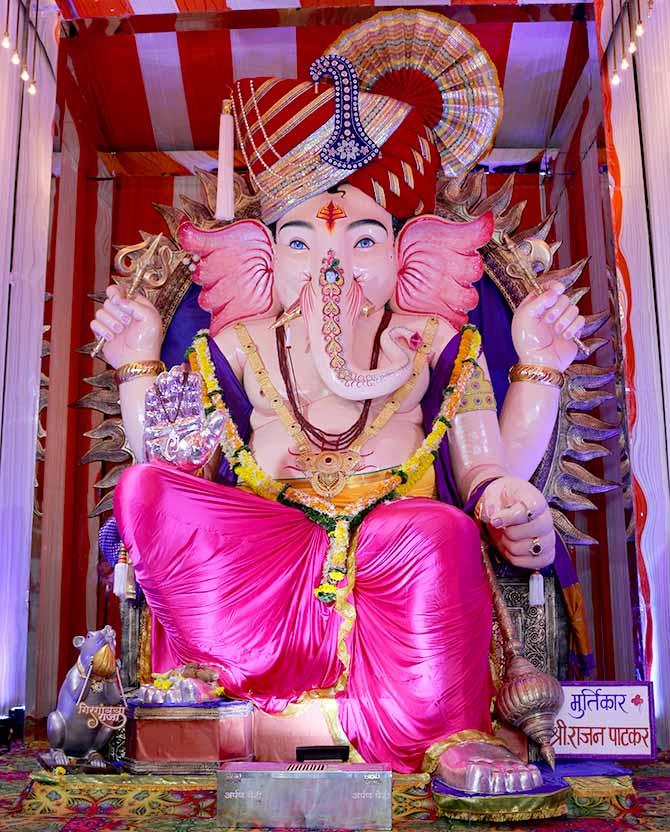 Over the years, the focus of Mumbai's Girgaoncha Raja has been to keep its Ganeshas eco-friendly.
This year, the organisers hope to send a strong message to people who have been using idols made of plaster of paris.
"Girgaoncha Raja was established in 1928. At that time the idol was just 8 feet tall. Today it stands at 22 feet," says Ganesh Mahadev Lingayat from the mandal.
"Since 1928 till date, the moorti is made of clay. It weighs around 4,500 kg," he adds.
"The message we hope to send across to people is that if we can have an eco-friendly idol, so can you.
"If all mandals across Mumbai try and reduce the height of their Ganeshas, and start using clay idols instead of plaster of paris, it will be good for Mother Nature."
"This year, keeping in mind the plastic ban, our mandal has opened a plastic collection centre at the Ganpati pandal. Visitors can deposit their plastic bags here and get cotton bags in return," he explains.
"From having an eco-friendly Ganesha, we hope to move towards an eco-friendly system."
According to him, the pheta (traditional turban) placed on the Girgaoncha Raja's head is around 5.5 feet tall and its width is around 7 feet.
"If you take a closer look at its trunk, you'll notice there is an impression of Lord Krishna. That is a tradition we have been following over the years," he reveals.
"The idol's feet and one hand are made of silver. The moorti also has gold-plated bangles on both hands and a necklace, which is used every year."