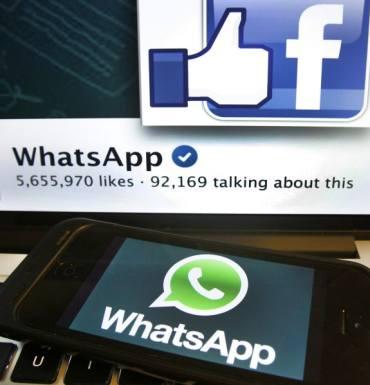 And how you can get out of it...
It took some time coming, but it is finally here. The popular messenger service WhatsApp has made changes to its user policy, and will be now sharing the phone numbers of its billion plus user base with its parent company Facebook.
WhatsApp claims that it will not sell the phone numbers to advertisers, nor will it ever publicly publish the phone numbers out in the open.
This move is a significant development from its long-held stance of protecting the privacy of its massive user base from any quarters.
It is relevant to note that this is the first revision of the privacy policy and the terms of service since 2012 by WhatsApp, which was purchased by Facebook in 2014.
According to WhatsApp spokesperson: "We want to explore ways for you to communicate with businesses that matter to you too, while still giving you an experience without third-party banner ads and spam.
"Whether it's hearing from your bank about a potentially fraudulent transaction, or getting notified by an airline about a delayed flight, many of us get this information elsewhere, including in text messages and phone calls."
WhatsApp has assured the users that apart from not making the contact details public, it will also not be bombarding the messenger service with advertisements and that it remains committed to a non-spammy experience.
'It is still not clear whether there will be marketing messages sent to the users as chats.'
As per the WhatsApp blog, "By coordinating more with Facebook, we'll be able to do things like track basic metrics about how often people use our services and better fight spam on WhatsApp. And by connecting your phone number with Facebook's systems, Facebook can offer better friend suggestions and show you more relevant ads if you have an account with them."
Making use of the Facebook's programme "Custom Audiences", it will now be possible to bring up more targetted ads to the users on Facebook.
For example, when a fresh user signs up for a service (say, foodpanda) with the same number as that of his/her WhatsApp number, the advertisement (about foodpanda's services) will be seen on Facebook as WhatsApp has already shared your number with its parent company.
In case, you click on this ad and buy something, Facebook can share a part of that revenue from foodpanda, in case the two companies have signed up such a revenue-sharing agreement.
This is made possible as the business holder creates an advertisement, and can upload a list of contacts (on Facebook's servers) of the customers while doing so. Based on this supplied list, the Facebook advertisement goes through to the target audience. The contact list is stored after hashing it into a series of codes to protect the user information being exposed to even Facebook.
WhatsApp plans to fight spam by tighter integration, and the sharing programme is a step in this direction. The spokesperson said that if a person has the Facebook app and WhatsApp app installed on the same device, even with different phone numbers (in case of DUAL SIM phones), by using the device identifier, Facebook will now be able to map the two in the background using the basic device information.
Despite all the claims, the concerns raised by privacy advocates when WhatsApp was acquired by Facebook, have become relevant once again. Thankfully, there are at least two ways for the users to opt out of this programme.
However, the window for this action remains a mere 30 day time period.
Method 1:
Starting August 25, users will start noticing the prompts for the latest version of WhatsApp with the updated 'Terms and Conditions'.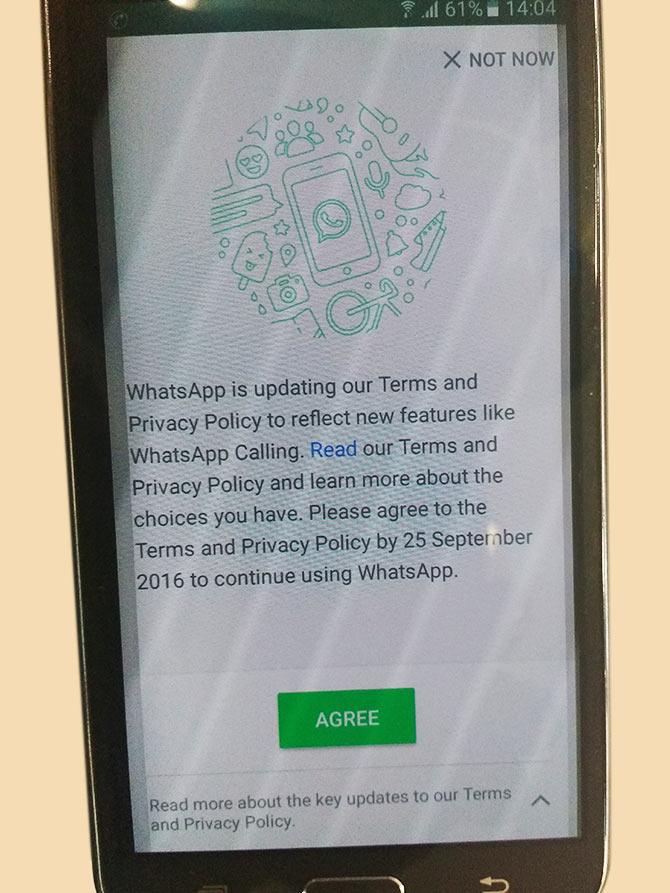 After updating the app, the users SHOULD NOT tap/click on the "Agree" button immediately, but rather should scroll down and uncheck the box which ensures WhatsApp will not share your phone number with Facebook.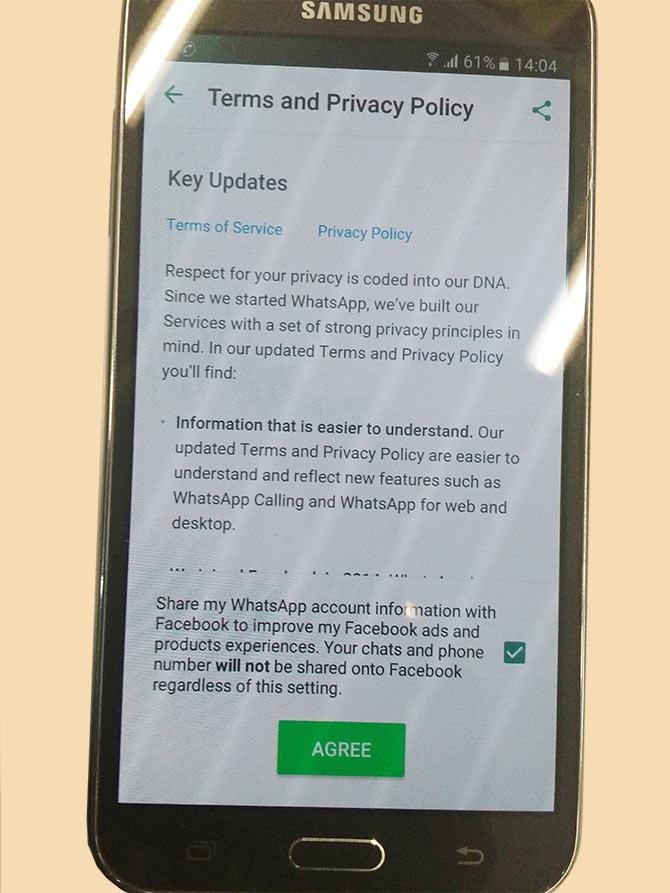 The somewhat hidden option naturally will add up to further the confusion and uneasiness of the consumers. Thank God for the end to end encryption still being present!
Method 2:
Even if the users have accidentally tapped on the "Agree" button, there still is a way to undo the action.
Users can accomplish this by navigating to Settings > Account.
There, the users can locate the all new "Share my account" option.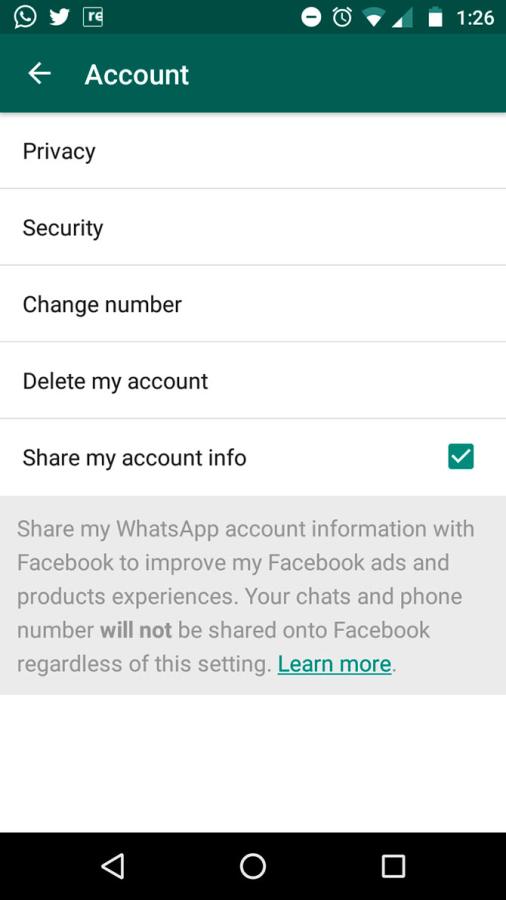 By unchecking the box above, one can successfully opt out of the sharing programme.
After you uncheck the box, you will be prompted with 'CANCEL' and 'DON'T SHARE' option.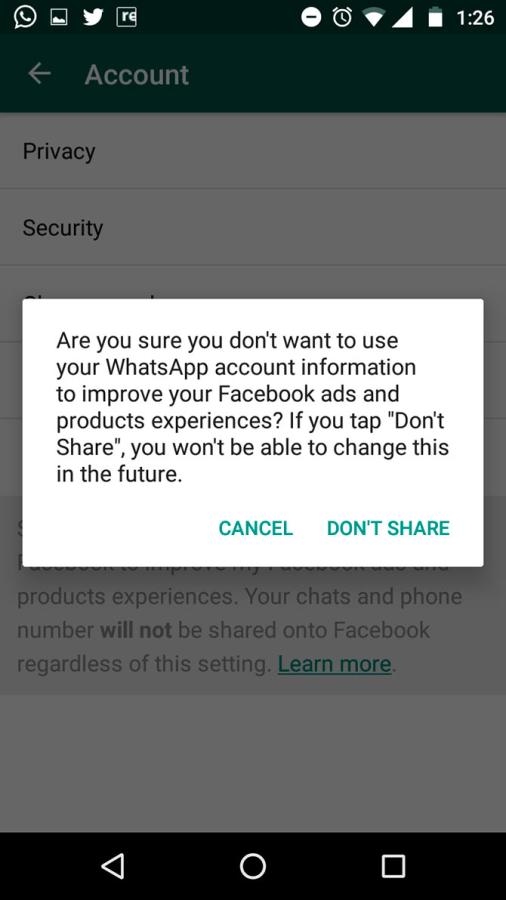 Click on the 'DON'T SHARE' and you will permanently get rid of WhatsApp's and Facebook's roundabout way of intruding your privacy.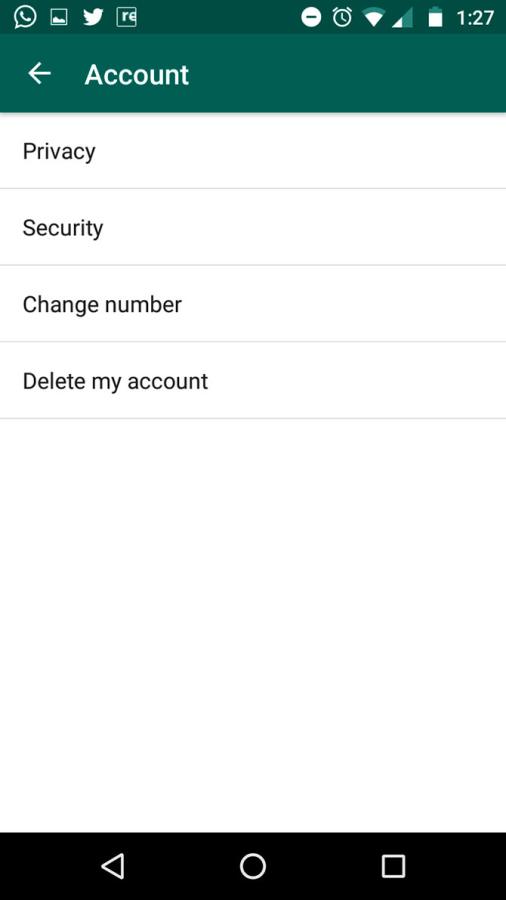 And, you shall -- in case you don't like unnecessary ads intruding your privacy -- live happily ever after.
PS:
Please check out the language used in the prompt when you click on the 'DON'T SHARE' button :-P
It says, and we copy the text as is: Are you sure you don't want to use your WhatsApp account information to improve your Facebook ads and product experiences?
These guys are under the impression that users BEGGED WhatsApp and Facebook 'to improve your Facebook ads and product experiences'.
What Chutzpah! ;-)