Food blogger Vishaka Rautela shares recipes to spice up your chai time.
Why head to a restaurant when you can dish up delicious tea-time cakes at home?
Try these recipes that your kids will surely love :)
Eggless Swedish Chocolate Toscatarta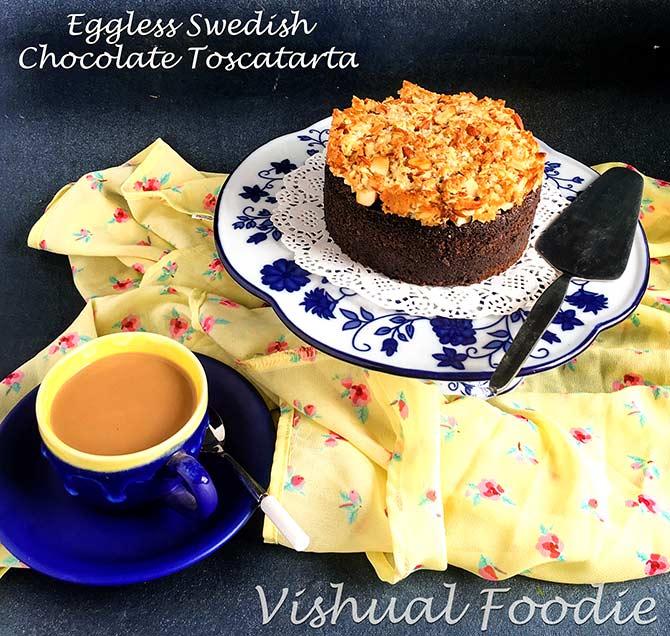 Recipe by Anuja Sule from Simple Baking's Happy Bakes
Ingredients:
195 gm all purpose flour
200 gm caster sugar
25 gm cocoa powder, sifted
1 tsp baking powder
1 tsp baking soda
75 gm butter, melted
1 cup (240 ml) warm water
1 tbsp lemon juice (or vinegar)
1 tsp vanilla extract or essence
For the topping:
50 gm butter
100 gm almond flakes
50 gm caster sugar
2 tsp all purpose flour
3 tbsp Amul cream
1 tsp vanilla extract or essence
Method:
Preheat oven to 175°C. Butter and line with parchment paper, an 8-inch round cake tin.
In a bowl, stir together the flour, sugar, sifted cocoa powder, baking powder and baking soda.
Add the melted butter, water, lemon juice/vinegar and vanilla extract. With a fork or whisk, mix all the ingredients together until well-blended.
Spoon the batter into the prepared cake tin and bake for around 20-25 minutes. Insert a skewer into the centre. If the cake comes out moist but not totally clean, it will still need another 10 minutes of cooking. Increase the heat to 200°C.
Just before the 25 minutes are up, make the topping. Place the butter in a saucepan over medium heat. When it has melted, add the remaining ingredients and bring to the boil, allowing the mixture to bubble away for one minute.
After the cake has been cooking for 25-30 minutes, remove it from the oven, and spoon the almond mixture evenly over the top.
Place it back in the oven and bake for about 10-15 minutes or until the topping is golden.
Leave to cool in the tin for 10-15 minutes. Carefully remove from tin and place on a wire rack to cool completely.
---
Nutella Squares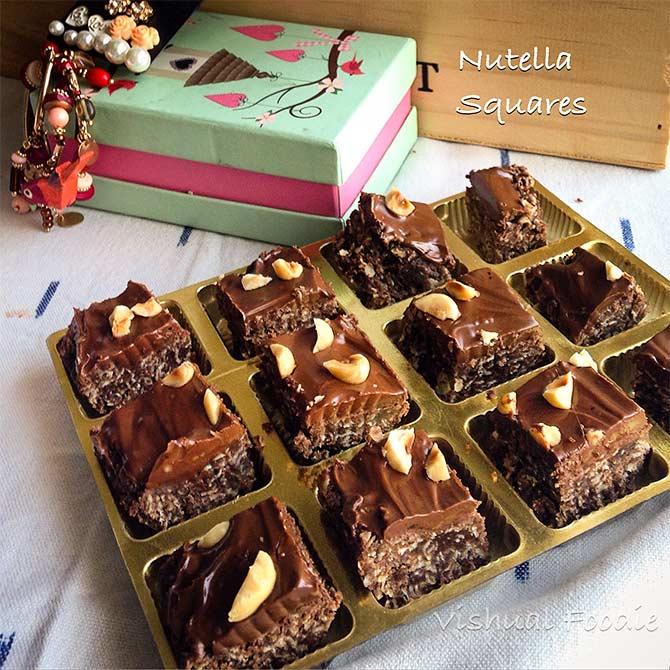 Recipe by pastry chef Pooja Dhingra
Vishaka writes, "I had bought Pooja Dhingra's The Big Book of Treats a while back, but had never attempted to bake anything from it.
"Recently I got to taste her renowned sea salt macaroons and cupcakes, they sure lived up to their reputation.
"So I picked up her book, drooled over each post, and finally zeroed in on the Nutella squares."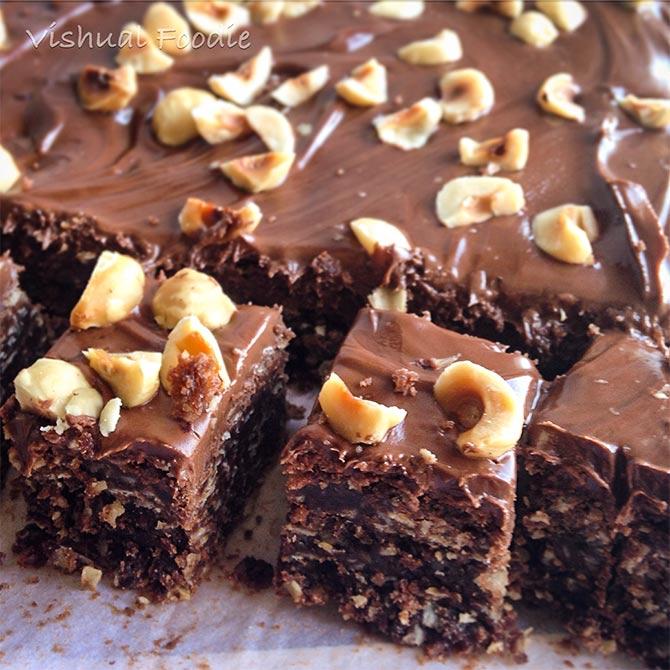 Ingredients:
75 gm dark chocolate
125 gm butter
50 gm brown sugar
100 gm all purpose flour
75 gm oats
400 gm Nutella
100 gm chopped roasted hazelnuts
Method:
Melt chopped chocolate and butter in a double boiler.
Add brown sugar and whisk till it mixes together perfectly.
Fold in the flour with a spatula. Throw in the oats and mix.
Preheat the oven to 180°C and line a tin with parchment paper.
Bake for 15-20 minutes. Once cool, apply a generous coat of Nutella on top. You can then garnish with chopped roasted hazelnuts.
---
Dear readers, do you have interesting recipes to share?
E-mail your recipes to getahead@rediff.co.in (subject: Recipe) along with your NAME, AGE, LOCATION.
Also please provide a photograph and a brief description of the recipe (its history, significance etc), if possible.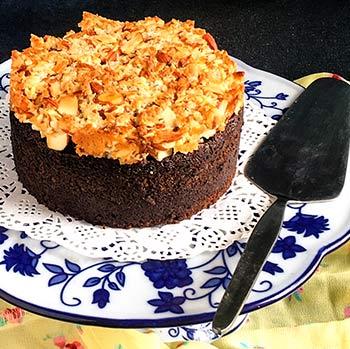 All photographs: Kind courtesy Vishaka Rautela