We'd asked you, dear readers, to share your recipes of the dishes that were on Barack and Michelle Obama's plates.
Here, Anjan Baishya tells us how to make Mustard Fish Curry and Saffron Rice.
First up is the recipe of Mustard Fish Curry.
To make this curry, choice of fish is very important.
Rediff reader Anjan Baishya recommends using hilsa.
Here's the recipe: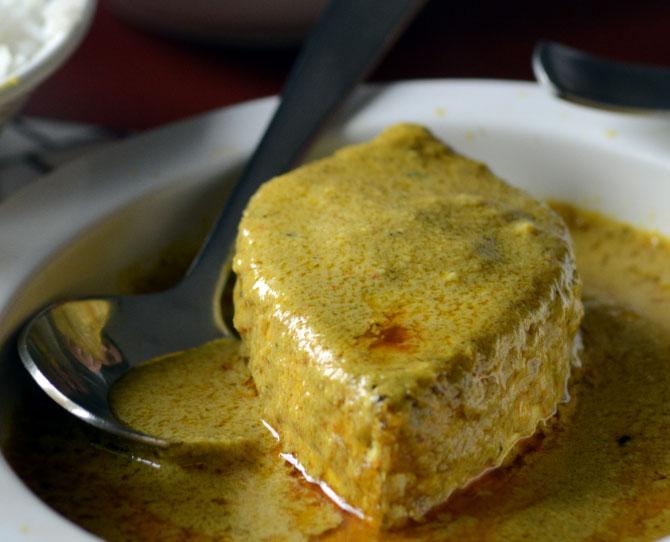 Ingredients
1 kg hilsa (Greater the size, better the taste)
100 gm mustard seed
7-10 garlic clove
10 gm ginger
Salt as required
3-4 long green chillies
50 ml mustard oil
Method
Cut the fish in desired pieces and set it aside.
Grind mustard seeds along with garlic, ginger and salt to a fine paste.
Add some water and raw mustard oil to it.
Take a small saucepan -- just enough to fit in your pressure cooker -- and grease the container with raw mustard oil.
Put a layer of mustard paste at the base of the container and place the hilsa pieces on it.
Coat all the pieces thoroughly with the rest of the mustard paste.
Slice the long green chillies length wise and place it over the pieces face down. Pour 1-2 ml raw mustard oil and cover the container.
Pour some water in the pressure cooker ensuring that half the container is under water.
If the container floats, put a heavy weight on the lid of the container to keep it in place.
Shut the pressure cooker and cook up to one whistle.
Your dish is now ready to eat.
Photograph: Kirti Poddar/Creative Commons
---
Saffron Rice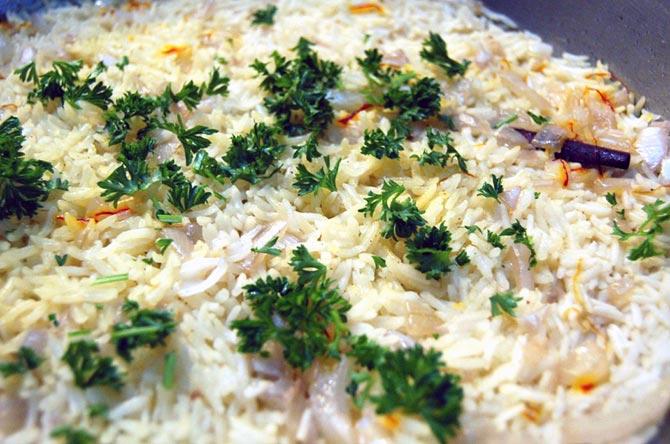 Ingredients
500 gm basmati rice
3 gm saffron
1-2 gm garam masala (whole)
Handful of fresh coriander (unchopped)
4 large onion (finely chopped)
1-2 gm sugar
50 gm milk powder
Aluminium foil
Oil/ghee for cooking and greasing
Method
Wash the rice and keep it soaked in water for about 10 to 15 minutes. Drain and keep aside.
Boil two to three cups of water and add garam masala and coriander to it.
When you get the desired aroma, add rice and salt and bring it to a boil.
When the rice is almost cooked, discard the water and keep aside.
In a separate kadhai, fry the onions till they are crispy. Add some sugar to it. Drain and keep aside.
Take a another container and grease the base and sides with oil or ghee.
Add a layer of rice followed by a layer of onion. Repeat with the remaining rice.
In the meantime, boil one cup water and mix the milk powder without forming any lumps.
Add saffron and stir well till you get the desired colour.
Pour this above the rice and pour some refined oil above the rice.
Cover the lid with an aluminium foil so that the heat does not escape.
Simmer and cook for about 10 to 15 minutes.
Switch off the flame and wait for another 10 to 15 minutes.
Remove the aluminium foil and slowly mix the rice. Serve hot.
Photograph: nadja robot/Creative Commons
ALSO SEE
Want to share your favourite recipe?
Simply e-mail your recipes to getahead@rediff.co.in (subject line: My Fav Recipe) with your name, hometown and any interesting details about the origin of the recipe, along with a photograph of the recipe, if possible.
We'll publish the best preparations right here on Rediff.com and India Abroad.
Loved this recipe? Click here for more interesting recipes and food features!