Rediff Reader Reshma Aslam shares some appetising vegetarian soup recipes for the season. Don't forget to share yours too!
ALSO SEE
Slurp! Three non-veg soup recipes
Soups are healthy and nourishing.
These vegetarian recipes are sure to please you all.
Tamatar ka Shorba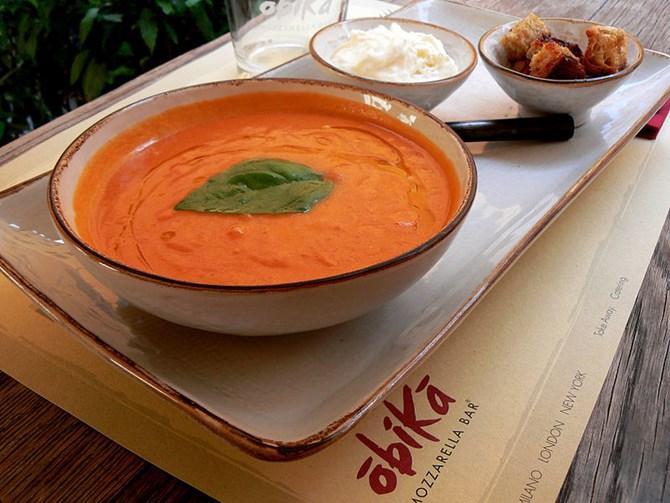 Photograph: SirNico/Creative Commons
Ingredients
5 large tomatoes (puree)
1/2 tsp turmeric powder
1/2 tsp red chilly powder
1/2 tsp garam masala powder
1 tsp cumin seeds
Few curry leaves
1 tbsp butter
1/4 cup fresh coriander leaves chopped
1 tsp ginger garlic paste
Salt to taste
Method
Heat a pan and add a bit of butter. Add ginger garlic paste and fry well.
Add tomato puree and allow it to boil.
Add turmeric powder, chilli powder, garam masala and salt. Let it simmer for about 15 to 20 minutes.
Heat a small pan and add the remaining butter.
When hot, add cumin seeds.
When they pop, add curry leaves.
Turn off the gas and add this tadka to the tomato shorba.
Add chopped coriander leaves.
Serve hot.
---
Winter Vegetable Soup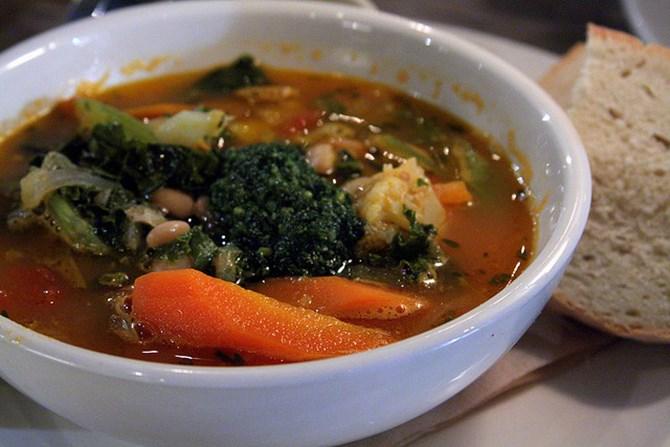 Photograph: Larry/Creative Commons
Ingredients
1/2 cup cauliflower (floweret)
1/2 cup carrots chopped
1/4 cup cabbage
1/4 cup green peas
1 potato
1/4 cup French bean
1/4 cup broccoli
2 tomatoes (chopped)
2 small onions
6 flakes garlic (chopped)
1/2 tbsp butter
Salt as per taste
Method
In a vessel and place all the vegetables except garlic. Bring it to a boil.
When the vegetables become tender, turn off the gas and allow it to cool.
Blend them well in mixer till it turns into a fine puree.
Take another pan, heat some butter and add chopped garlic. Heat it till it turns brown.
Add vegetable puree in it and let it simmer for some time.
Add a dash of pepper.
Serve hot.
---
Cream of Spinach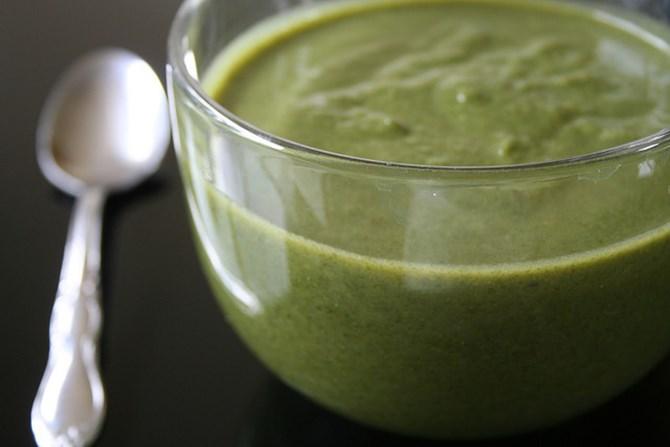 Photograph: Danube66/Creative Commons
Ingredients
1 bunch spinach
2 small onions (chopped)
1 tsp black pepper powder
1 to 2 bay leaves
6 garlic flakes (chopped)
1 cup milk
3 to 4 cups water
1/2 tbsp oil
Salt to taste
Method
Wash and chop the spinach well.
Heat some oil in a pan.
Add chopped garlic.
When the garlic turns slightly golden in colour, add onions and fry well.
When the onions turn pink in colour, add bay leaves and salt.
Add chopped spinach, water and cook it for about 5 minutes.
Turn off the gas and keep the spinach aside to cool.
Remove the bay leaves.
Blend the spinach in a mixer to make it into a puree.
In a thick bottom pan, heat the spinach puree.
When it starts to bubble, add pepper powder and cook for a minute.
Add milk and simmer for around five minutes.
Serve hot.
Note: All images used for representation purposes only.
ALSO SEE
Slurp! Three non-veg soup recipes
Recipes: 10 hearty winter soups
You can send us your favourite recipes too. Write in to us at getahead@rediff.co.in (subject: Favourite recipes) with your name, hometown and any interesting details about the origin of the recipe, along with a photograph if possible. We'll publish the best preparations right here on Rediff.com and in India Abroad.