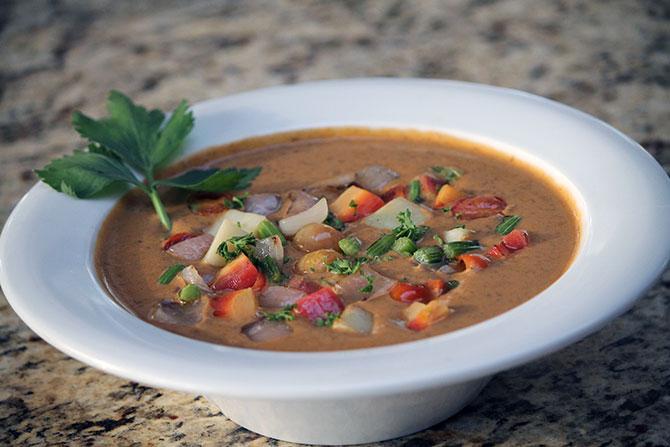 Beat the winter chill with these soups!
Bubbling, rich and bursting with flavours, made from varied ingredients, aromatic soups are undoubtedly the most comforting aspect of winter.
There are plenty of options when it comes to winter soups -- you can opt for a bowl of hearty creamy soup, clear soup or one with meat, sea food or veggies.
But one must include seasonal vegetables, herbs and spices to the soup, as these ingredients nourish the body, giving it the requisite warmth and immunity for the season.
Add to this a crusty bread slice or some pasta and it makes for a complete meal.
Paya soup on a chilly winter night is great, as meat stock gives heat to the body, but who wants to stick to routine soups?
Mini Ribeiro picks her ten personal favourites across India.
1. Creamed Walnut and Coconut Soup, Chili Dark Chocolate Mousse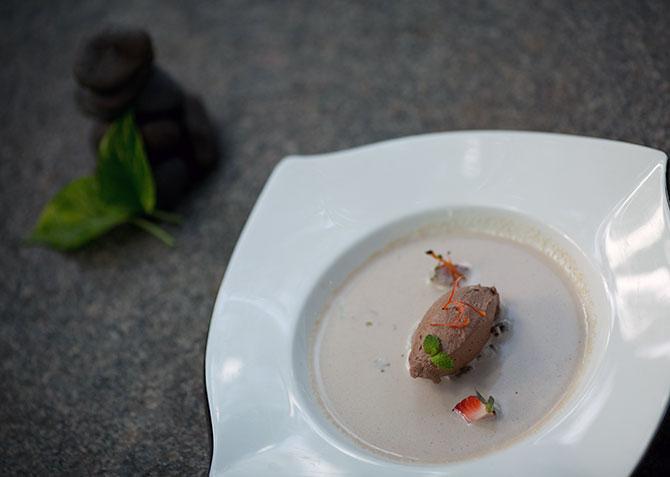 Photograph: Courtesy Taj Coromandel, Chennai
Mini's take: "It is only in winter that one can indulge in guiltless pleasure and gorge on foods high in calories. For me, nuts are a must inclusion. I love them abundantly in my diet and this soup at Taj Coromandel, Chennai, is perfect, as Chef Atish has used walnuts, in a versatile manner. Add to that, the twist given by the dark chocolate mousse. Even though served cold, the nutty, sweet and spicy flavours of this soup, naturally put a smile on my face. It is one of the most unique soups I have tasted."
Recipe by Atish Ramachandran, Executive Sous Chef, Taj Coromandel, Chennai
Ingredients
100 gm walnut (toasted)
50 ml cream
100 ml coconut milk
30 gm castor sugar
50 gm dark chocolate
5 gm fresh Thai chili
20 ml whipped cream
1 gm sea salt
20 gm strawberries
Method
Blend the walnut into a fine paste, mix in cream and coconut milk. Bring to a soup consistency. Adjust the sweetness as per required. Keep it in fridge for cooling. Reserve few walnuts for garnish.
Melt the dark chocolate and fold along the whipped cream, sea salt and chopped Thai chili. Keep inside the fridge, allow to set.
In a plate make a quenelle of dark chocolate and pour chilled walnut soup around. The crushed walnuts along with the coconut kernel give an additional bite to the dish.
Garnish with julienne of Thai red chili and mint sprig.
2. Horse Gram and Winter Vegetable Soup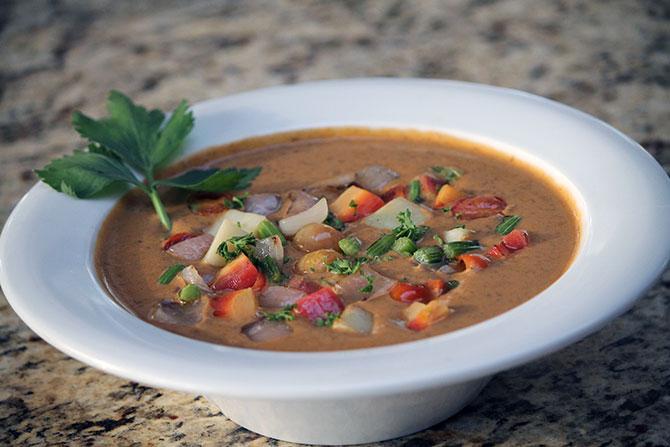 Photograph: Courtesy Courtyard by Marriott, Pune, Chakan
Mini's take: "There is nothing like a soup made with fresh, seasonal produce. And this winter soup at Courtyard by Marriott, Pune, Chakan, with horse gram and winter veggies, is all that and more. Taste plus health, quite literally. No wonder it figures, high on my list."
Recipe by Girish Kumar TV, Director F&B, Courtyard by Marriott, Pune, Chakan
Ingredients
1 cup diced onion
3 garlic cloves, minced
1 tsp chopped ginger
2 cup diced turnip
2 cup diced peeled potato
1/2 cup diced celery
1/2 cup diced carrot
2 cup fresh diced cherry tomatoes
2 cup vegetable stock
1 cup boiled horse gram
1 tsp cracked pepper
1/2 tbsp chopped parsley
3 tbsp oil

Salt for seasoning
Method
Heat oil in a pan, add minced garlic and ginger and saute for 2 minutes.
Now add onion, turnip, potato, celery, carrot and saute for a minute.
Add vegetable stock to it and allow it to cook slowly.
Once the vegetables are cooked 3/4th, add the cherry tomatoes.
Now blend the horse gram with its own stock and mix it gently to the soup.
Add cracked pepper and salt as required, check for seasoning.
Garnish with chopped parsley and serve hot.
3. Butternut Pumpkin Soup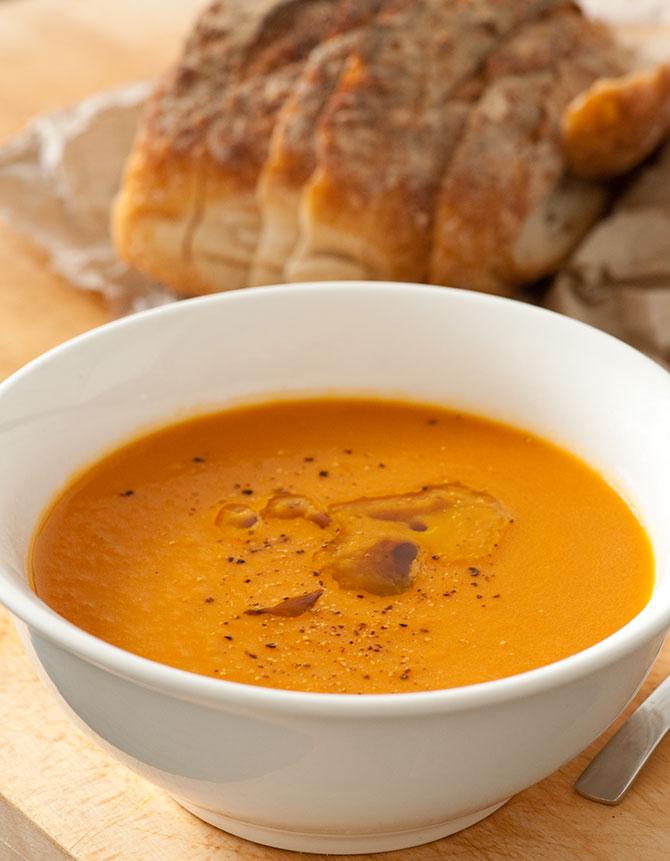 '
*Photograph: Courtesy Jules/Creative Commons
Mini's take: "This off-the-beaten-track soup at Hyatt Regency Kolkata is a winner all the way with seasonal ingredients. What elevates the flavour quotient here is the unique manner in which a bit of parmesan and mascarpone have been whisked in, just before serving. That cheesy flavour, teases the taste buds and the creamy texture of the butternut pumpkin, blends in smoothly. No one can complain that this soup is vegetarian!"
Recipe by Executive Chef Vikram Ganpule, Hyatt Regency Kolkata
Ingredients
1000 gm butternut pumpkin (use red pumpkin if butternut not available)
5 gm thyme
80 gm butter
50 gm cheese Parmesan
15 ml olive oil
5 flakes garlic (peeled and sliced thin)
30 gm onion (sliced)
100 gm Mascarpone cheese
5 gm garlic chopped
1 litre vegetable stock
Salt to taste
STEP 1
Cut the butternut with skin into wedges.
Now de-seed the pumpkin.
Marinate with salt, olive oil, garlic and thyme.
STEP 2
Roast it in oven for 18-20 minutes 180°C.
Cool and take out the pulp with the help of spoon.
STEP 3
Heat a pan and add olive oil, chopped garlic and sliced onion, then sautéed till transparent.
Add 75 per cent of the vegetable stock and simmer for 5 minutes.
Then add pulp of butternut and cook it for about 5 minutes.
Keep aside for cooling, then puree.
STEP 4
Heat a pot, add the puree of butternut.
Adjust consistency with vegetable stock as desired -- should coat back of spoon yet flow off it smoothly -- then whisk in grated Parmesan cheese, soft butter.
Whisk in Mascarpone, check seasoning and adjust if required.
Drizzle with Truffle oil or roasted almond slivers or croutons and warm bread roll.
4. Thukpa
Photograph: Courtesy Chef Saransh Goila
"I subscribe to Chef Saransh Goila's suggestion of making soups more appetising by adding fresh herbs. I enjoy aromatic soups any day. 'Try pairing star anise and cinnamon with winter ingredients, it adds a nice touch of spice to the soup,' he recently told me. And then I tasted the Thukpa made by him and succumbed. There can be nothing more filling and enjoyable than this soup in winter."
Recipe by Chef Saransh Goila
Ingredients
1 tsp mustard oil
2 spring onions, finely chopped
3 green garlic (whole)
3 to 4 garlic cloves, finely chopped or crushed
2 tomatoes, finely chopped
1 tsp cumin powder
1/2 tsp garam masala powder
1 teaspoon freshly pounded black pepper
1 cup spinach, roughly chopped
2 medium radish, chopped
A small bunch of chopped coriander leaves
Juice from one lemon
Salt to taste
For the hand-rolled noodles (paape)
2 cups whole wheat flour
1 egg (optional)
Salt and water to knead
Method
Add the wheat flour, a pinch of salt into a large mixing bowl.
Add little water at a time to make a firm and smooth dough.
Cover the dough and let it rest for 10 minutes.
Knead once again and divide the dough into 3 large portions.
Roll each portion into very thin rounds, tossing on flour to prevent it from sticking.
Cut the rolled portions into strips to make noodles and keep it aside.
The next step is to make the Thukpa in a single pot.
In a large sauce pan, heat the mustard oil on medium heat. Add the onions and garlic and saute until you can smell the aromas coming through and the onions are translucent.
Once the onions are translucent, add the chopped tomatoes and cook them on low to medium heat until they become soft and mushy. Add cumin powder, garam masala and pepper.
Give it a stir.
Add the chopped spinach and radish and saute for a couple of minutes until it gets combined into the masala. Cover the pan and simmer for 2 to 4 minutes on low heat, until the radish and spinach get cooked through.
To this add 3 cups of water and bring the Thukpa to a brisk boil.
Once it comes to a brisk boil, add the cut wheat strips (paapes) into the boiling Thukpa. Continue to boil the thukpa for 3 to 4 minutes. You notice the wheat strips start rising to the top.
Finally add the salt and lemon juice to taste and give it a stir. Turn off the heat. Stir in the freshly chopped coriander leaves and serve it hot.
5. Shan Tofu Soup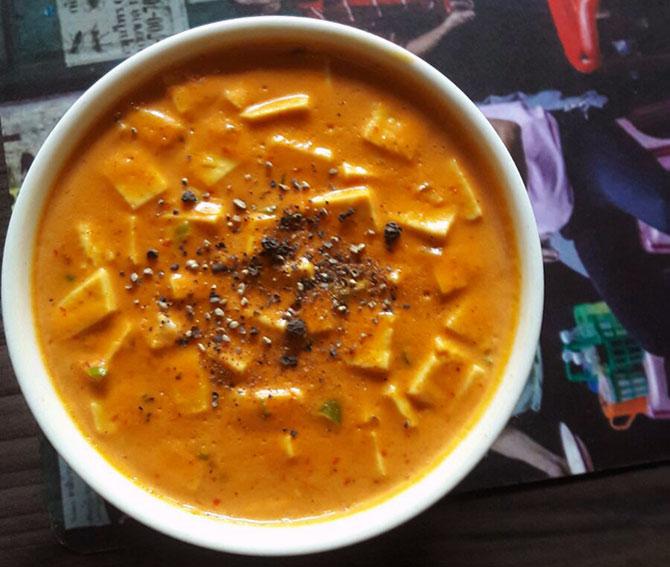 Photograph: Courtesy 38 Bangkok Street, Mumbai
Mini's take: "Soups with noodles or vermicelli are my weakness and when these are part of a flavourful broth, even more so. This soup from the Shan areas of Burma and northern Thailand fits the bill. It is warming, and with the inclusion of rice vermicelli noodles there is an added texture and bulk, which is perfect for the winter season. No one makes it better than 38, Bangkok Street, Mumbai."
Recipe by Chef Birendra Singh, 38 Bangkok Street, Mumbai
Ingredients
1 and 1/2 cup chickpea flour
2 and 1/2 tsp salt
2 tsp turmeric
1 tbsp red chilli paste
1 cup diced tofu
8 cup water (or more as needed)
1 cup chopped assorted vegetables
Optional toppings and condiments
1/4 cup shallot oil or garlic oil
2 tbsp red chilli oil
1/4 cup chilli and garlic sauce
1 tsp crushed black pepper
Method
Combine the chickpea flour and salt, turmeric, red chilli paste in a medium bowl and add 2 cups of the water. Whisk well to blend and remove any lumps, or pass through a sieve. Set aside.
Bring the remaining 6 cups water to a boil in a large pan, and then lower the heat to medium. Whisk the chickpea mixture one last time, and then stir continuously as you slowly add the mixture to the boiling water.
The liquid will start to foam at first as the impurities rise to the top, but do not worry about this.
Lower the heat to medium and continue to cook, stirring to ensure that the mixture does not stick to the bottom of the pot.
After about five minutes the mixture will be smooth and silky. It will be well thickened.
Reduce the heat to low and continue stirring for another couple of minutes. If you are not going to serve it immediately cover well to prevent a skin forming, leave to cool.
Put out diced tofu and any or all of the suggested toppings and condiments, as you choose.
Serve your delicious Shan Tofu Soup with a sprinkle of crushed black pepper.
6. Bier Suppe (Beer Soup)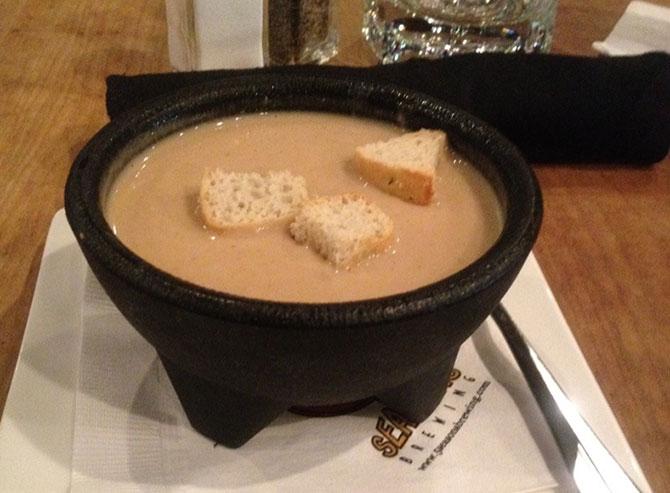 *Photograph: Courtesy Tatiana Mik/Creative Commons
Mini's take: "This soup at The Deltin Daman struck me as one which achieves the right balance between taste and nutrition. A popular German soup, this one is innovation at its best and exudes the much needed warmth and flavour in winter."
Recipe by Executive Chef Mayur Ramachandran, The Deltin Daman
Ingredients
1 and 1/2 tbsp flour
3 and 1/2 tbsp butter
1 litre beer
1 small piece of cinnamon
Sugar to taste
2 egg yolks
1/2 cup + 1/2 tbsp milk
Toasted white (French) bread
Method
Open the beer and let it get flat; at least two hours.
Brown the flour in the butter, then add beer.
Add cinnamon and sugar and bring to a boil.
Whisk together the egg yolk and milk and stir into the hot (but no longer boiling) beer.
Strain and serve with toasted slices of bread.
7. Pepper Rasam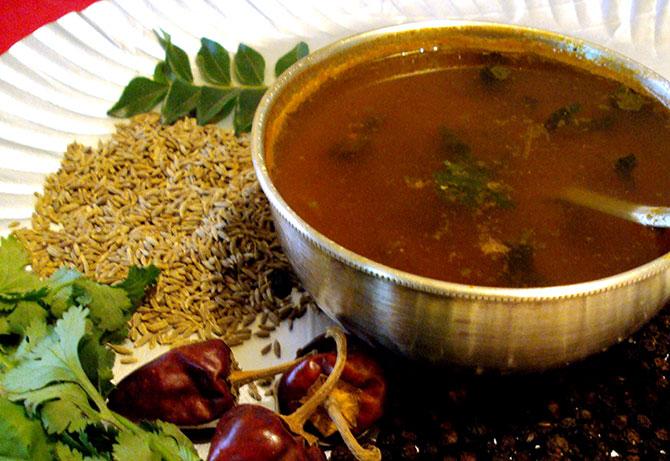 Photograph: Courtesy Le Meridien, Kochi
Mini's take: "The spice in this Pepper Rasam at Le Meridien Kochi helps in digestion and soothes your senses and therefore is a perfect soup for winter. This apart, I love this hot desi soup for its tangy and spicy flavours. It actually clears my throat."
Recipe by Ajay Khanna, Executive Sous Chef, Le Meridien, Kochi
Ingredients
100 gm tomato
50 gm tamarind
1 tsp whole black pepper
1 tsp cumin seeds
2 cloves of garlic
2 gm turmeric powder
1 gm coriander leaves
750 ml water
10 gm ghee
2 gm mustard seeds
1 gm curry leaves
2 gm red chilly whole
Few curry leaves
Salt to taste
Seasoning
Method
Soak the tamarind in a cup of warm water, extract its juice and throw away the pulp. Grind cumin seeds, pepper and garlic for a few seconds in a mixer.
Take a cup of tamarind extract, add chopped tomatoes, turmeric powder, crushed pepper, cumin, garlic, salt and curry leaves. Boil them together.
Once it starts boiling, keep the flame low and let it simmer for 10-15 minutes or until the raw smell of the tamarind goes off.
Heat a tsp of ghee and add mustard seeds to it. When it begins to splutter, add the red chilli, curry leaves and pour it over the rasam.
8. Tom Yam Soup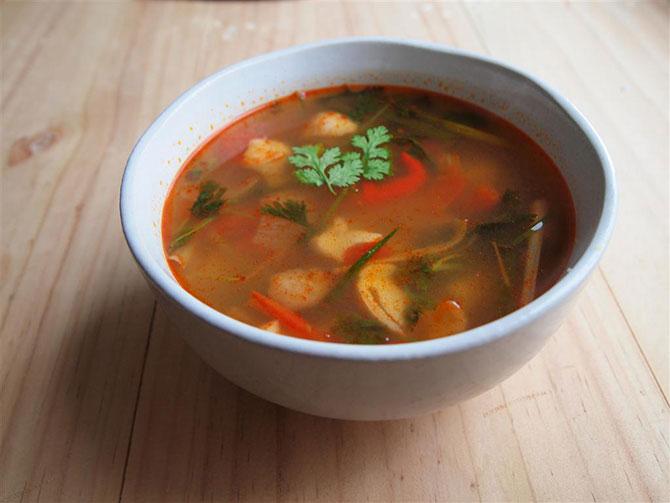 Photograph: Courtesy Hyatt Regency, Delhi
Mini's take: "Who can ever resist a spicy Tom Yam soup on a cold winter night? I can never tire of this delectable Thai soup. One can add veggies, sea food or chicken to this. I enjoy mine with prawns the most. Chef Rohilla does a neat one at Hyatt Regency Delhi, well-balanced, spicy and appetising."
Recipe by Chef Amit Kumar Rohilla, Hyatt Regency, Delhi
Ingredients
2 300 ml tubs of chicken stock
2 tbsp nam pla (Thai fish sauce)
Few fat, raw peeled prawns
1 lime
1 hot red chilli
1 spring onion
4 sprigs of coriander
Method
Bring the chicken stock to the boil and squeeze in both limes.
Slice the chilli and spring onion and add them too, along with the fish sauce.
Stir in the prawns, if you are using them, and as soon as they are pink and opaque, take off the heat.
Rip in the coriander leaves and serve.
9. Root Vegetable Soup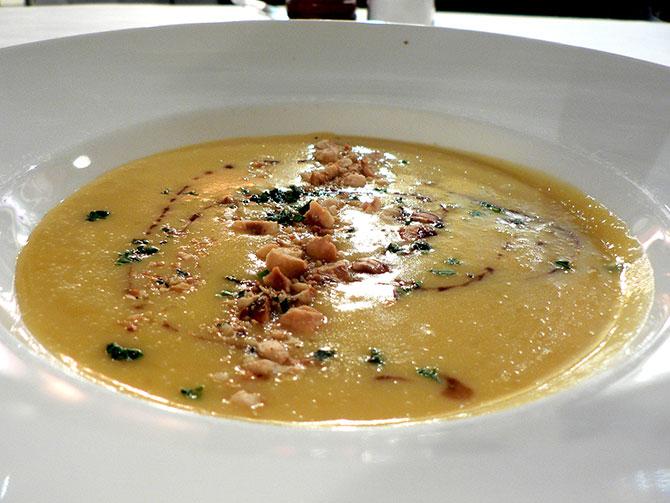 *Photograph: Courtesy stu_spivack/Creative Commons
Mini's take: "This soup is a medley of root vegetables. Crunchy, flavourful and nourishing. A bowl of this can be the perfect meal in winter. Chef Balvinder recommends roasting the veggies in an oven and that imparts a unique flavour and aroma, which enhances the appeal of this soup."
Recipe by Chef Balvinder Lubana, Executive Sous Chef, Four Points by Sheraton, Ahmedabad
Ingredients
3 parsnip, peeled
3 carrots, peeled
1 celery root, peeled
2 turnips
1 sweet potato, peeled
1 butter squash, peeled
20 ml olive oil
3 tbsp butter
1/2 sweet onion, diced
Ground black pepper to taste
Salt to taste
Method
Preheat an oven to 220°C.
Combine parsnips, carrots, celery root, turnips, sweet potato and butternut squash in a large roasting pan.
Drizzle with olive oil, and season with 1 teaspoon of salt and 1/2 teaspoon of pepper. Toss vegetables to evenly distribute seasonings.
Roast in the preheated oven until the vegetables are easily pierced with a fork, 30 to 45 minutes, stirring every 15 minutes.
Meanwhile, melt the butter in a large pot over medium heat. Stir in the celery and onion; cook and stir until the onion has softened and turned translucent, about 5 minutes.
Pour in the vegetable broth and bring to a simmer, uncovered.
Stir in the roasted vegetables and continue simmering for 10 minutes.
Puree the soup using an immersion blender.
Stir in the half and half, and season with salt and pepper, if necessary. If the soup becomes too thick, add more vegetable broth.
10. Orange and Carrot soup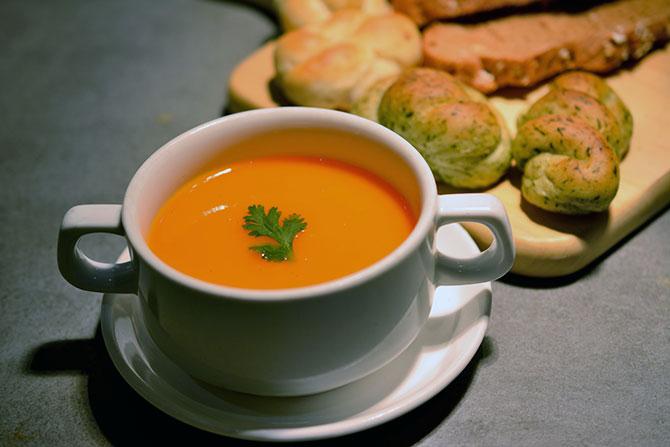 Photograph: Courtesy Hotel Sea Princess, Juhu, Mumbai
Mini's take: "Last but not the least is this light and healthy soup. It is sweet and tangy with a unique combination of carrots and oranges that tingles my taste buds and I relish it immensely. Extremely light, it is a comforting soup nevertheless."
Recipe by Chef Manish Natwarlal Surati, Jeon, Hotel Sea Princess, Juhu, Mumbai
Ingredients

1 fresh orange
150 gm carrot
5 ml olive oil
10 gm onion, chopped
10 gm garlic, chopped
15 gm fresh fennel
Method
Heat oil, add the chopped garlic and onions and saute them.
Add sliced carrot and partially cook it.
Puree the mixture. Add fresh fennel. Cool.
Add 30 ml of fresh orange juice. Heat before serving and garnish with fresh shaved fennel.
*Images used for representational purpose only.