It is clear that wineries with good facilities for visitors will gain significantly both in image as well as in commercial terms, says Bengaluru-based wine consultant Alok Chandra.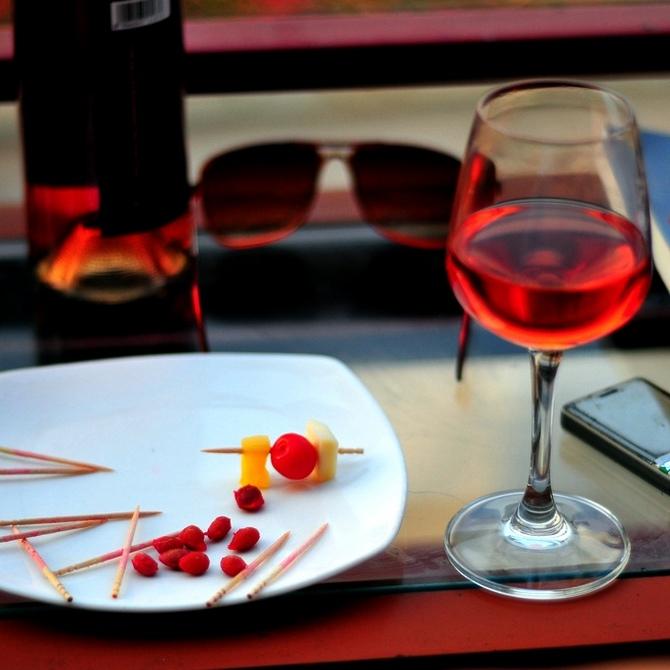 This past week, I drove nearly 750 km Mumbai-to-Mumbai over four days to visit 15 wineries around Nashik city in Maharashtra.
I tasted nearly 100 wines in a bid to understand what is happening with the wine industry there and how the quality of the wines has changed since I last visited in August 2012.
There are 39 wineries in the Nashik district, of which 29 are operating and 10 are lying closed -- not surprising why Nashik is sometimes called 'The Wine Capital of India'.
Of course, little of the wine produced here is actually consumed locally, but that will change over time -- and if the number of tipplers who throng Sula's tasting room is any indication, that's already happening.
A number of the wineries have visitor centres or will offer their wines to taste and/or buy inside the premises.
This is aided by the innovative licensing rule in the state that provide each winery with a bar and a retail licence (along with the wine production and bottling licences) -- so there's no need to route the wines through a distributor or wholesaler, one can quaff or buy them at the winery itself.
There are three distinct winery clusters in and around Nashik worth visiting.
Igatpuri/Mukhne Dam:
About 25 km short of Nashik, I head left at Wadivare on the Avarli road to visit Grover Zampa (formerly Vallee du Cin) and Vallonne Vineyards, both of which have some vineyards and also buy from growers.
Vallonne overlooks the Mukhne Dam reservoir, will have a visitor centre and rooms quite soon, and is well worth the trouble of visiting.
Its Rose and Reserve reds are quite terrific.
Zampa's visitor centre has a very nice ambience, and again its reds (the La Reserve, and Chene - a Shiraz/Tempranillo blend) are very good indeed.
Dindori:
North of Nashik is where the region's best wine grapes are being grown, in the Dindori-Pimpalgaon-Vani triangle.
There are three wineries here that could be covered in a single day: Charosa, Chateau D'Ori, and Chandon.
The Nine Hills winery also lies here, en route to the distant Charosa, but is currently not open to visitors.
Charosa is a huge winery spread across 250 acres, with a unique place for visitors on the top of a ridge where smartly-furnished containers can accommodate up to 12 people. Its wines are drawing accolades from all over - particularly the Reserve Tempranillo and the Reserve Cabernet-Shiraz (yes, I admit to preferring reds over whites!).
Chateau D'Ori has a unique architecture, makes only estate-grown wines, and has some simply amazing red wines. Unfortunately, their labels are not well known even in Mumbai.
Right next door is the world-class Domaine Chandon winery, set on 25 acres of land. The wines have already been launched in key cities and its visitor centre is set to open in April.
Gangapur:
Around 20 minutes from Nashik is what's getting to be known as 'Wine Street': a two-kilometre stretch on the banks of the Gangapur Lake with Sula, York and Somanda wineries, all in one row.
Sula requires no introduction: started in 1999 by Rajiv Samant, it's now India's largest wine company with total sales forecast at about 800,000 cases in 2014-15.
The winery has a visitor centre capable of hosting over 300 people at a time, the fine-dining restaurant Soleil by La Plage (an iconic French restaurant in Goa), and the annual SulaFest, which is being held this year on February 8 and 9 and is expected to draw some 15,000 visitors.
York is a boutique winery that also produces wines on contract (this is where the first Chandon wines were produced) and has a lovely visitor centre and tasting room.
Last (but not least) is the Soma/Somanda winery, which has three cottages and a tasting room inside the winery.
It's clear to me that wineries with good facilities for visitors gain significantly both in image as well as in commercial terms.
This is the way forward for small units that have limited distribution and don't want to be dependant on the retail trade for business. Wine 'tourism' will grow significantly in the years to come -- here's wishing stakeholders all the best.
Photograph: George Mathew/Creative Commons