Rediff reader Urmimala Banerjee shares this special fish recipe made without using any water.
Here's how to make Kosha Maach: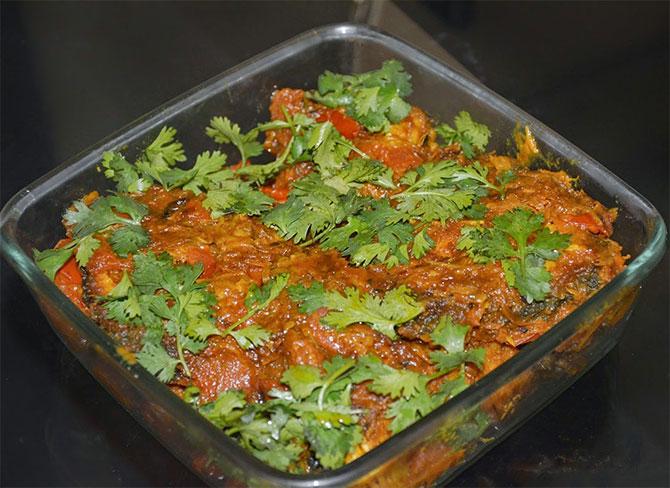 Ingredients
Katla Machh: 4 to 6 big pieces (preferably gada'r piece)
Mustard oil as per requirement
4 to 5 onions, thinly sliced
5 medium sized tomatoes, thinly sliced
10 to 12 cloves of garlic, crushed
2 inch long ginger, ground to a paste
6 green chillies
Turmeric powder, as per taste
Salt and sugar, as per taste
Coriander leaves (optional)
Method
Rub turmeric powder and salt over the fish slices. Marinate for at least 15 minutes. Heat mustard oil in a kadai and fry the fish pieces one or two at a time.
Fry till both side turn golden brown. Keep aside.
For the gravy, heat mustard oil in another kadai. Add onions. Fry till golden brown.
Add garlic and ginger. Stir till oil starts to separate.
Add tomatoes, turmeric powder, salt and sugar per taste. Keep stirring.
Finally add the split green chillies. Add little oil if required but no water.
Then carefully place the fried fish pieces into the kadai.
Cover with lid and let it simmer for 5 minutes or so.
Gently turn over the fish piece. Cover with lid and let it simmer for another 5 minutes.
Once done garnish with coriander leaves and serve hot with steam rice.
Photograph: Urmimala Banerjee
Liked this recipe? Click here for more interesting recipes and food features!
Want to share your favourite recipe? Simply e-mail your recipes to getahead@rediff.co.in (subject line: My Fav Recipe) with your name, hometown and any interesting details about the origin of the recipe, along with a photograph of the recipe, if possible. We'll publish the best preparations right here on Rediff.com.