Beauty pageants involve diets and long rigorous workouts.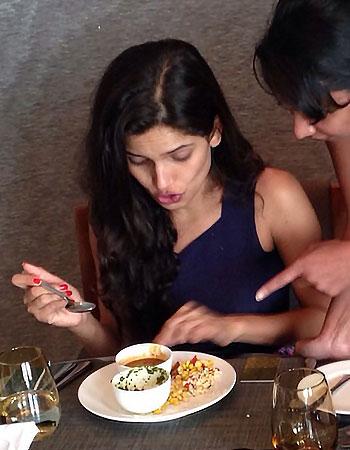 Dr Muffazal Lakdawala, founder of Center of Obesity and Diabetes Support, with his team, Jason Johal and Carlyne Remedios worked with the 15 Miss Diva 2014 contestants and whipped them into shape for the big day.
So while fitness trainer Jason Johal made the girls sweat it out in the gym, Carlyne Remedios, a senior nutritionist with the centre, worked closely with Chef Paul Kinny, the director of culinary at Mumbai's Palladium Hotel and tossed up a mean but healthy feast.
And so here we have four lip-smacking but healthy recipes created especially for the 15 models just for you! Read on:
---
We start with:
Spicy and tangy Scrambled Tofu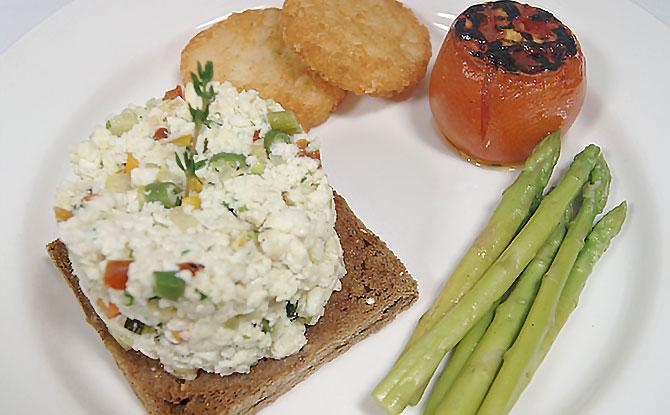 Ingredients
1 cup crumbled tofu
1 small onion chopped
3-4 Garlic cloves chopped
Dash of freshly-ground black pepper
Salt to taste
Chopped veggies (optional)
1 tbsp olive oil
Method
Heat oil in a frying pan
Add chopped onion and garlic to the oil and the veggies (if you are using them).
Add the egg whites/tofu/paneer.
Mix well.
Add pepper and salt.
Serve hot with a Whole grain toast. (Alternatively, you can serve with hash brown and boiled asparagus.)
---
Ragi Uttapam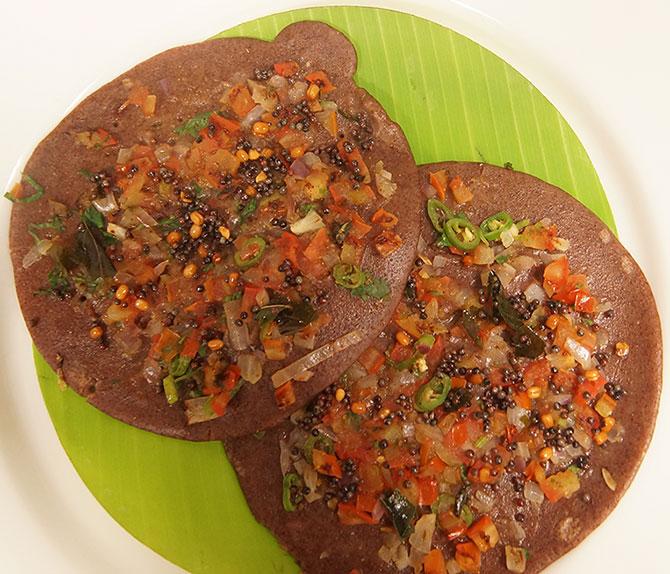 Ingredients
1/2 cup ragi (nachni / red millet) flour
1/4 cup rice flour
1/2 finely chopped onions
1 tsp chopped coriander
1/4 cup low fat curds
1/2 finely chopped green chilli
Salt to taste
1/2 tsp oil for tempering and cooking
1/4 tsp mustard seeds
1/4 tsp cumin seeds
2-3 pc curry leaves
A pinch asafoetida
Method
Mix the red millet flour, rice flour, onions, coriander, curds, green chillies, salt and water in a bowl and mix well to make a batter of pouring consistency. Keep aside to ferment for 2 hours.
For the tempering, heat 1 tsp of oil in a small non-stick pan and add the mustard seeds and cumin seeds.
When the seeds crackle, add the curry leaves and asafoetida and sauté on a few seconds.
Pour this tempering over the batter and mix well.
Pour a spoonful of the batter onto the pan each and cook them on both the sides using 1/4 tsp of oil.
Nutritional value
Energy: 125Kcal
Protien: 4gm
Carbohydrates:25gm
Fats: 3gm
---
Chicken Kathi Roll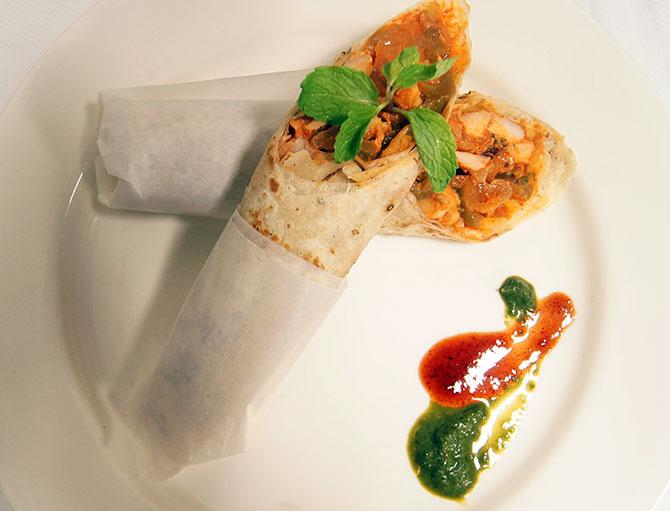 Ingredients
1 whole wheat flour roti
75 gm Boneless chicken breasts
1/2 inch piece Ginger
1-2 cloves Garlic
1 Green chili chopped
Salt to taste
1/2 tsp Cumin powder
1/2 tsp Chaat masala
1/2 medium-sized Onion sliced
1/2 medium-sized Carrot cut into thick strips
1 tsp Oil
1 tsp Green chutney
1/2 tsp Fresh coriander leaves chopped
Method
Grind ginger, garlic and green chillies into a paste and marinate the chicken cubes in it for an hour.
Heat oil in a pan and saute chicken cubes till done.
Add cumin powder, chaat masala and check seasoning.
Mix sliced onions and carrot strips.
To make kathi rolls, head ½ tsp of oil on a tawa and lightly heat the rotis.
Smear each roti with 1 tsp of green chutney, place six to eight pieces of cooked chicken and sprinkle with green chillies and coriander leaves.
Spread a spoonful of onion and carrot mixture on the roti and sprinkle salt.
Roll the roti tightly over the stuffing and serve.
Nutritional value
Energy: 145Kcal
Protein: 14gm
Carbohydrates: 15gm
Fats: 5gm
---
Oats Soya Milk Pancakes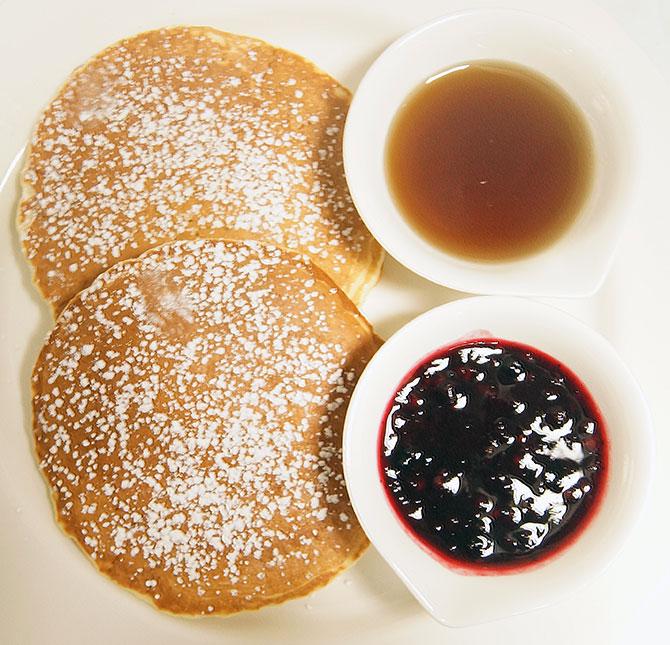 Ingredients
(Makes two mini pancakes)
1/2 cup all purpose flour
1/2 cup rolled oats
1 tsp honey
1/4 tsp cinnamon
Salt to taste
1/4 tsp baking powder
1/4 tsp baking soda
1/2 tsp Canola oil
1 tsp lemon juice (or vinegar)
About 1/2 cups soy milk
Method
Put 1 tsp of lemon juice (or vinegar) in 1/2 cup measure and fill cup with soy milk. Set aside.
Measure all of the dry ingredients into a bowl and mix together with a spoon.
Pour in the oil, and the soured soy milk. Stir until just mixed. If not thin enough for pancake batter, stir in up to 1/4 cup more of soy milk (or water).
Make the pancakes on the nonstick pan.
Nutritional value
Energy: 150Kcal
Proteins: 7gm
Carbohydrates: 25gm
Fat: 3gm
Image courtesy: Palladium Hotel, Mumbai
---
Also See
Reader Invite
Do you have an healthy food recipe that you'd like to share with us?
Simply write in to getahead@rediff.co.in (subject line: 'Healthy recipes') with your name and home-town, along with a photograph of the dish.
We will publish the best ones right here on Rediff.com and India Abroad.