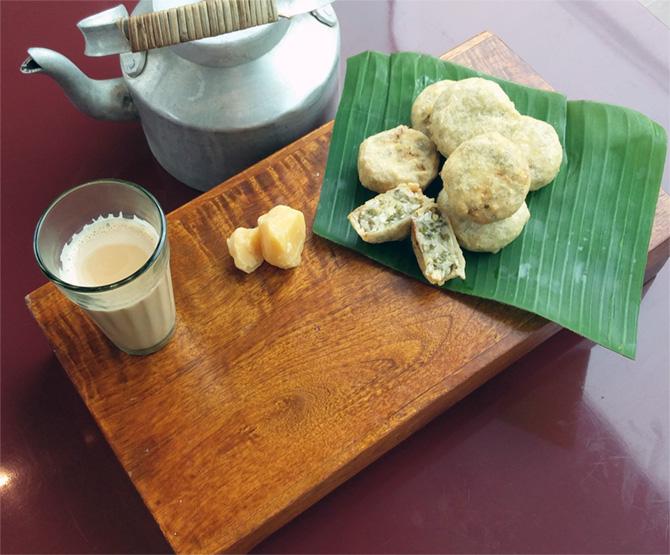 Wondering how to spice up your chai time? Mini Ribeiro brings you recipes of ideal tea-time snacks.
ALSO SEE: The 10 best places to have chai
No evening is complete without a cup of warm chai and some delicious snacks.
We bring you five tasty chai-time recipes.
Try it out at home and let us know how well you fared.
Chilli Bhajji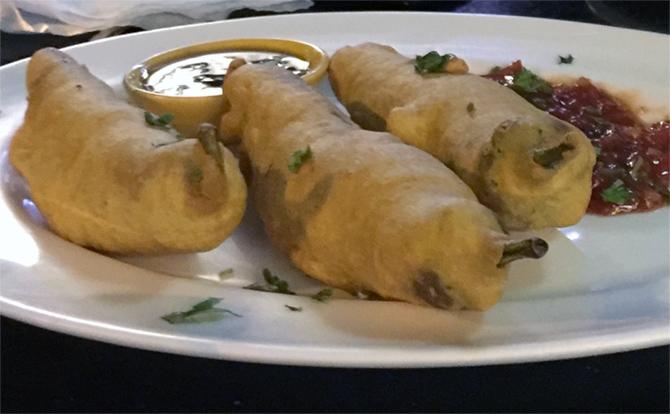 Recipe: Courtesy Infinitea, Bengaluru
Ingredients
40 gm boiled and mashed potatoes
1 cup gram flour or besan
40 gm cottage cheese
20 gm cream cheese (optional)
5 gm onions finely chopped
4 chillies
Oil
Oregano
Salt to taste
Method
Mix potatoes (boiled and mashed) with mashed cottage cheese.
Season with salt and dry oregano.
Add finely chopped onions. If you have cream cheese handy, add it as it makes for a lovely addition.
Slit 4 chillies carefully down the middle and remove the seeds. Leave a few seeds in if you want it to be more spicier.
Pour some water into a cup of gram four. Keep whisking until you are happy with the consistency.
Keep adding water but take care not to make the batter runny. Season with salt.
Heat some oil for deep frying. Dip the stuffed chillies in the batter and then fry until golden.
Eat hot. You can pair it with a cup of masala tea.
Podi Idli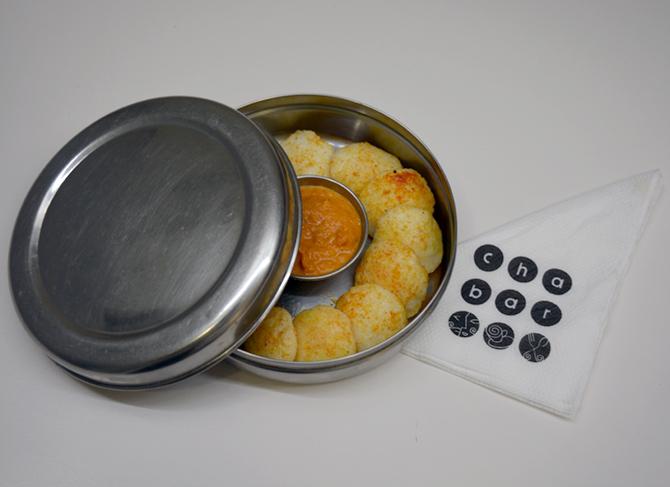 Recipe: Courtesy Cha Bar, Delhi
Ingredients
300 gm urad (washed)
100 gm idli rice
1 spoon ghee
1 pinch mustard seeds
5-6 curry leaves
A pinch of salt
Podi masala
100 gm coriander seeds
100 gm dry red chilli
20 gm cumin seeds
20 gm fennel seeds
10 gm black pepper corn
15 gm Bengal gram
5 gm asafoetida
1 inch cinnamon stick
3 cloves cloves
30 gm turmeric powder
Method
For idli
Soak the rice and lentil separately for four hours. Wash it nicely.
Grind the lentil into a fine paste.
Then grind the rice a bit coarsely. Mix both together, add salt and keep it for fermentation.
Apply little oil on idli mould and place this mix gently into the mould.
Steam it for around 15 minutes. Take it out from steamer.
For podi masala
Boil all the above ingredients together and make it a fine powder.
Take a spoon of ghee in a pan and heat. Then crackle mustard seeds and curry leaves.
Add 16 idlis and podi masala. Add a pinch of salt if required.
Toss it all together and serve.
Sugiyan (a popular tea-time snack from Kerala)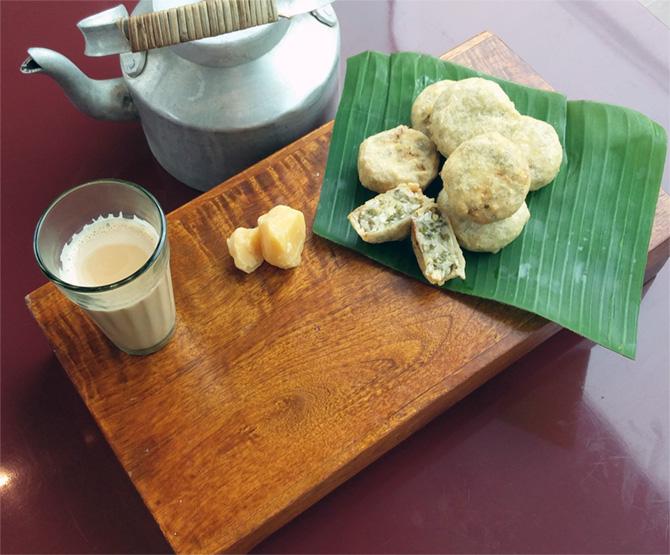 Recipe: Courtesy, Executive Chef, Suresh Thampy, Courtyard by Marriott, Mumbai International Airport
Ingredients
250 gm moong dal
100 gm grated coconut
30 gm palm jaggery
50 gm refined flour
250 gm rice flour
4-5 cardamoms
Salt to taste
Method
Soak moong dal in a vessel for about 5 to 6 hours.
Cook the moong dal in the pressure cooker for 2 whistles (if you keep it for more than 2 whistles, the moong dal will get overcooked).
Make sure the water is not too much and the moong after cooking should be thick in consistency.
Prepare a dry mixture of moong dal, grated coconut, powdered cardamom and grated palm jaggery. Divide into small portions and make it into a pattie. Keep aside
Make a thick batter of rice flour, refined flour and salt by mixing little water.
Dip the pattie in the batter and make sure you get a uniform coating.
Deep fry till the coating is golden brown. Serve hot with tea.
Smoked Tea Pizza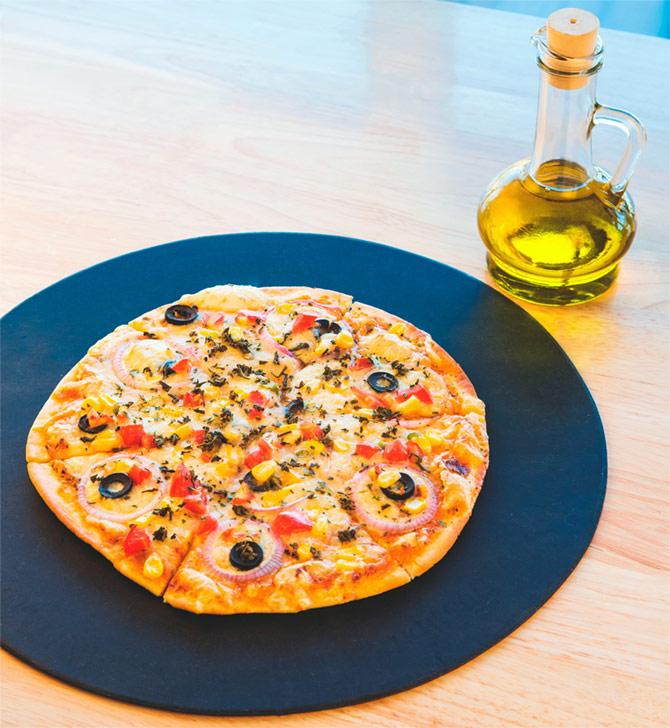 Recipe: Courtesy Tea Trails, Mumbai
Ingredients
1 thin crust whole wheat pizza base
3 red tomatoes
20 gm chopped onion
15 gm chopped garlic
1 small garni (bouquet) Darjeeling black tea
10 ml olive oil
5 gm salt
2 gm crushed black pepper
10 gm basil
5 gm oregano
75 gm Mozarella cheese
2 gm Lapsang Souchong
Method
Blanch and de-seed the tomatoes. Chop and keep aside.
In a pan, heat oil and add the chopped garlic and chopped onion.
When the onion softens, add the chopped de-seeded tomatoes.
Saute for a while and add stock/water. Add the tea garni. Simmer for one hour.
Remove the tea garni, season and cook further for a sauce like consistency.
Take a thin crust pizza base and fork on it for a better hold.
Spread the pizza sauce, uniformly on the pizza
Sprinkle the Mozarella cheese on top of sauce uniformly.
Top it up with shreds of Basil and leaves of Lapsang Souchong.
Place it in an oven pre-heated at 200 degrees for 10 minutes.
Take out and serve.
Roti Helicopter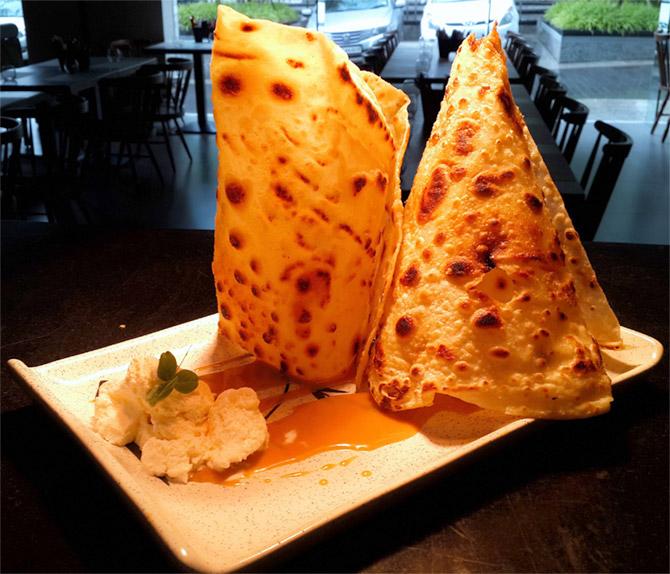 Recipe: Courtesy NRI, Mumbai
Ingredients
70 gm naan dough
2 gm sugar
1gm salt
20 gm kaya (coconut jam)
50 gm vanilla ice cream
For coconut jam
4 eggs
150 gm coconut cream
200 ml coconut milk
200 gm Demerara sugar
3 Pandan leaves
10 gm corn flour
50 gm castor sugar
Method
Whisk the egg with the Demerera sugar, coconut cream and coconut milk.
Strain the mixture.
Set up a double boiler.
Caramelise castor sugar and add into the bowl on the double boiler.
Slowly add the egg mixture and continuously mix using a spatula, make sure the egg doesn't curdle.
Add knotted pandan leaves and cook on the double boiler stirring constantly for 20 minutes till the mixture thickens slightly.
Make a slurry (semi-liquid mixture) of corn flour and add to the mixture. Cook for another two minutes.
Take it off the flame and transfer to another container.
Let it cool.
For the roti
Take naan dough and roll it out paper thin; apply lots of oil on it.
Place the flattened dough on a hot griddle.
Cook on each side till cooked and sprinkle a mixture of salt and sugar on one side.
Cut the roti in half on the griddle and roll into two cones.
Finish on a plate with a drizzle of kaya and a scoop of vanilla ice cream.
Garnish with a mint sprig.