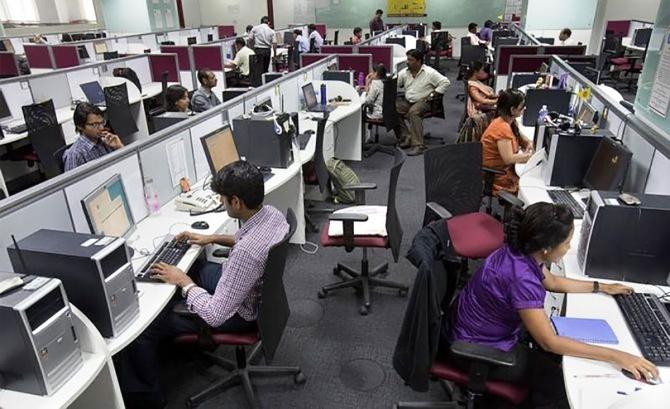 How many times have you had to give up on a good job offer simply because you couldn't comply with the '90 days' notice period in your current organisation?
According to IT professional Nikesh Jain, who has previously worked with Oracle, SAP, Yahoo and AOL, serving '90 days of notice period in the IT and ITes industry is cruel and creating a situation of bondage labour in India.'
The 47-year-old professional from Bengaluru with over two decades of work experience recently filed a petition on Change.Org (external link), requesting Union IT Minister Ravi Shankar Prasad to reduce the 90 day notice period in the IT and ITes sector to 30 days.
'I personally know of many cases where people were not even getting interview calls because of their long notice period. They had to resign without having any offer in hand just to make themselves eligible for interviews. Imagine the stress and anxiety these people would go through,' Nikesh mentions in his Change.Org petition, which has so far garnered about 40,000 signatures and has been viewed by over 2.1 million people across the world since it was posted this month.
'It is also causing huge productivity loss for the industry because when people are checked out how can they focus on work for 90 long days?' he added in his post.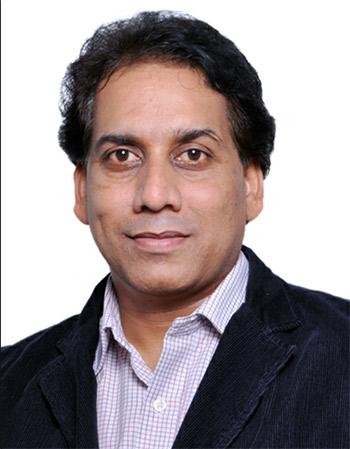 In a chat with Divya Nair/Rediff.com, Nikesh Jain, pictured left, reveals how his petition will benefit at least 4 million IT professionals and job seekers in India and help companies, especially start-ups, hire faster and enable smoother transition.
What inspired you to file this petition?
I have been doing a lot of hiring for over 10 years now across levels. I have worked with companies like Oracle, SAP and start-ups and hired people at A, B, C and D levels.
Over the years, speaking to so many professionals, I realised that people accept multiple offers.
And 40 per cent of these professionals end up declining the offers. So, basically, people will accept the offer, and 7 days prior to joining, they fail to show up or respond. Why?
1. Because they found a better offer or
2. They were unable to leave their current organisation because of the 90 days notice period.
When this hired employee is unable to join, the whole project he was expected to work on, goes for a toss or gets delayed
In 90 days, people get time to shop around.
When I have 5 offers, I go to the sixth person. All the time, energy spent goes down the drain.
How did people react to your post?
A lot of people approached me on LinkedIn after reading the post.
I also spoke to people who wanted to quit their jobs, but no one wanted to talk to/hire these professionals because they had to wait 90 days to join a new company. So there are people who have lost job opportunity simply because of the 90 day notice period.
On the other hand, there are people who are posting their profiles on leading job sites but most of them are lying. They reduce the notice period to 20-30 days so employers can get in touch with them.
Once they get the job, they begin to panic. People call me and say: I lied, now what do I do?
No one realises that people with 90 days waiting period are shopping around which naturally increases the cost of hiring.
Imagine someone who has been offered 12 lakhs (per annum) looks for a deal at Rs 16 lakhs and eventually join a firm that offers him 20 lakhs. It is good for him, but imagine the amount of time, hard work and money spent trying to hire him by the previous companies. They are going to be a loss.
In start-ups this is challenging. The biggest challenge for a start-up is to build a strong team and to make this team deliver results in a year.
If you are not able to form a team in the first six months, how will you deliver results?
In one of the start-ups I worked in Bangalore, I was asked to build a team. Simply because of the 90 days notice period, I wasn't able to build the team and India ended up giving the project to the Czech Republic.
The US office said they can't wait so long and we lost the opportunity.
So who benefits from the 90-day notice period?
Sometime in 2008, big service-based companies made it 90 days because of the billing convenience.
For example, when I work with a service-based company for a client based in the US, they are charging $5,000 a month per employee. So when I quit in 30 days, they lose that billing amount.
That's why they have a longer notice period so it allows organisations to complete a billing cycle and find a replacement so billing does not get impacted.
But it doesn't really help anyone. People are still quitting and want to quit and move on for better opportunities.
When it comes to notice periods, what is the global scene like?
We (India) primarily work with the US, which has an at-will policy. So if you want to quit the job or the company, you simply walk in, submit your resignation and walk out.
You are not bound to serve a notice period.
Almost 80 per cent of our work is outsourced by companies in the US, which follows the same policy. Yet, we have seen people giving 15 to 20 days notice period which is mutually decided by the employee and the employer or whatever it takes to enable a smooth transition.
But you can't compare this with Europe or the UK.
In Germany, if I have to work after 5.30 pm, I have to take permission from the manager. Their labour laws are very different.
Similarly, if I have to shut an office based in London, it might take six months to a year.
Ideally, it shouldn't be the case. The notice period should be mutually decided by the employee and the employer.
It can be anything between 15 days to 30 days.
In your opinion, what can employers do to retain their best employees?
Employers will have to come up with out of the box ideas to make them stay.
Give them good work, a work friendly environment, challenging projects and recognition for work.
Companies like Oracle and SAP take care of their employees really well.
But you have to also understand that people who like/want to quit will eventually quit.
Your message to people who are struggling to crack a job/interview in the pandemic.
Stay put. Trust me, this is just a phase. I've seen this twice in my career. We've survived then, we'll survive again now.
My advice: Upskill yourself.
Be deep, not shallow. Whatever you already know, learn it better, deeper, surface knowledge won't help.
User Interface and Artificial Intelligence are key areas that will dominate hiring across sectors in the next few years.
Polish your skills and be updated with the latest technology.
So in a few months when the market is up and running, you'll be the first to get the job.