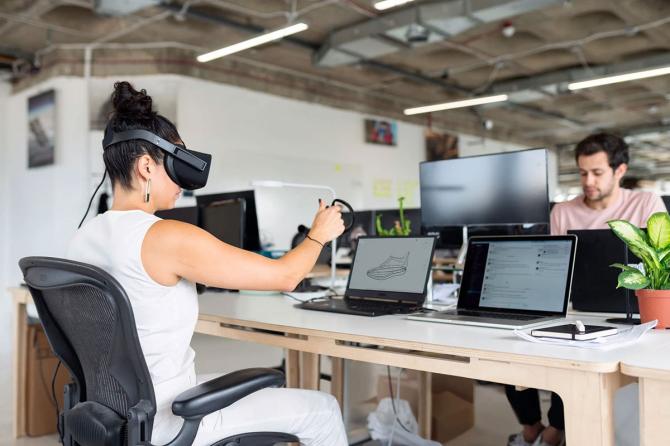 As the dark clouds of a global recession and economic turmoil loom over the world, the future of work will inevitably revolve around ever-advancing technology.
Almost every facet of human life, and nearly every major industry -- entertainment, education, banking and finance, manufacturing -- has fully or partially transitioned to accommodate a business model that is driven by cutting-edge technology.
With over 120 million jobs lost in India since the onset of the pandemic, it is imperative that young aspirants consider career options that will guarantee job security -- roles that are centred around technology.
>Without a doubt, automation and digitisation will be instrumental in shaping the future of work.
Tech-based jobs are flourishing, with scores of job opportunities that require technical skills up for grabs.
With that in mind, below are 11 tech-based specialisations to consider that will guarantee jobs for budding professionals long after we move on from the pandemic:
1. Cloud computing engineer/Software developer/Analyst
It is no surprise that cloud computing and software development have become cornerstones of the new world order.
For more than 2 decades, India's IT industry has been the main driver of the country's economic progress, and cloud computing and software development have been its core elements recently.
Given the current scenario in which almost every business, regardless of sector, is switching to cloud-based operations, it's a no-brainer that cloud computing is here to stay.
For budding professionals, cloud computing and software development jobs are certainly worth serious consideration. These jobs present prosperous career paths that offer swift growth.
2. Cybersecurity analyst
As the world increasingly turns towards online technology, there have also been rising cases of online security breaches.
From FinTech to education, businesses across verticals have been facing cybersecurity issues such as ransomware attacks and hacking, resulting in a strong demand for cybersecurity experts.
According to Cybersecurity Ventures, there will be around 3.5 million unfilled cybersecurity jobs worldwide in the next couple of years, making the role of a cybersecurity analyst highly sought-after.
3. Risk analyst
Businesses require qualified and highly skilled professionals who can anticipate and analyse potential risks to a company and offer comprehensive, long-lasting solutions across all operational aspects.
This more or less makes the career of a risk analyst recession-proof and provides the profession with a unique ability to withstand any crisis.
For up-and-coming professionals, the role of a risk analyst certainly offers a stable career with more scope to grow.
4. Artificial Intelligence specialist/engineer
Over the past five years, AI has been a base for technology to thrive and progress further. From navigation systems to entertainment choices, AI is present in almost every aspect of our lives these days.
An AI specialist is therefore a critical resource for every business in any scenario, and there is a profound demand for the role.
5. Machine Learning specialist
Machine Learning (ML), along with AI, has taken the world by storm and businesses are now harnessing its full potential.
Machine learning specialists are in high demand currently as companies are banking on their expertise to reinvent their business models in the midst of the pandemic.
Educational platforms are seeing a steep rise in enrolments for courses in AI and ML, and it is expected that a career as a machine learning specialist will offer impressive prospects in the future.
6. Data Scientist/Analyst
In today's rapidly changing world, data is considered the key to business success.
An unimaginable amount of data is being generated every minute across the world, and companies require professionals who can analyse and decrypt the data being produced.
According to recent figures, the demand for Data Scientists went up by 32% in 2019, and this demand will only increase in the post-pandemic world.
The interest in Data Science and Analysis has become stronger than ever during the past 6 months, making it a highly sustainable career in the long run.
7. IoT Specialist
By now, it is clear that technology is a sector that remains largely unaffected by the COVID-19 crisis, regardless of how the dynamics of the global economy have been altered.
One of the primary focus areas of the tech sector is IoT (Internet of Things).
There is now a concerted interest from both businesses and students in IoT-based solutions, with the pandemic creating numerous opportunities for professionals in the field.
Roles in IoT architecture and analysis are set to witness a boom in the coming years.
8. RPA Developer/Automation Engineer
Robotic Process Automation (RPA) has taken centre stage in the corporate world recently and is one of the fastest-growing technologies today.
To offer an overview, RPA has assisted businesses in increasing operational efficiency and maintaining business continuity even during the pandemic, helping them optimise costs to a large extent.
With automation being the new way forward, highly skilled RPA Developers are now being chased by many organizations, opening new doors for professional aspirants and offering stable careers that can withstand a crisis.
9. Digital Banking/FinTech Software Specialist/ Developer
The advent of FinTech, as well as digital payment and lending, has turned the BFSI industry into a hotbed of lucrative employment opportunities.
The pandemic has blurred the lines between banks and FinTech solution providers, and has accelerated the adoption of digital payments, thus creating countless job openings for Digital Banking and FinTech Software Specialists.
Skilled professionals in this field will help bridge the technological gaps in the BFSI industry, a sector that never goes out of business.
10. UI/UX Product Design Specialist
Consumers are always on the lookout for online products that are convenient and easy-to-use with user-friendly interfaces.
Product Design Specialists can leverage their skills to create innovative solutions for common everyday problems, and this career choice will never become obsolete as long as professionals upgrade their skill sets regularly.
11. Business Intelligence Specialist
Responsible for developing a comprehensive understanding of business processes, production systems and databases, Business Intelligence (BI) specialists form one of the cruxes of any business and the requirement for these professionals is perpetual.
With their core skills coupled with a practical understanding of technology, BI specialists have excellent prospects to thrive in the post-pandemic corporate environment.
The COVID-19 pandemic has irreversibly changed the world as we knew it. While the global health crisis has inflicted untold disruption, it has also created a plethora of opportunities to transform the way businesses function.
In light of this, there are numerous tech-based career options for emerging professionals to choose from, making the tech sector the driving force behind human progress yet again.
Sonya Hooja is COO and co-founder of Imarticus Learning, an ed-tech firm that offers training in financial services and analytics.