Private institutes in India, while expensive, are becoming a viable alternative to studying abroad.
Priyadarshini Maji reports.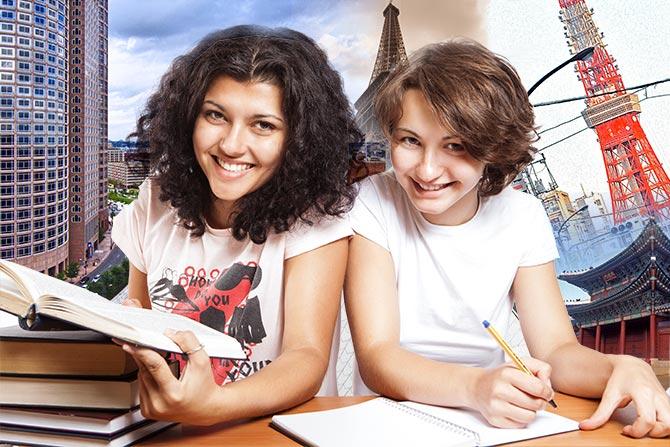 Private universities are fast emerging as a good option for students who don't wish to go the mainstream way to educate themselves.
These institutes offer a wide range of courses and have also emerged as an alternative to going abroad for graduate and post-graduate education.
And while these courses are comparatively expensive, they are often better designed and boast of a high-quality faculty.
Says Arjun Wadhwa, vice president, Career Launcher Educate, which prepares students for higher education courses: "Students opt for flagship courses as they provide a diverse set of subjects and perspectives, unlike traditional courses."
According to the National Sample Survey Office (NSSO), the average annual expenditure for general education rose by 175 per cent between 2008 and 2014.
The average spending for higher education at a private institution was reported to be nearly three times that in government institutions. Higher and professional education courses cost nearly 17 times as much.
The annual fees of private universities range from Rs 5,00,000 to Rs 9,00,000, whereas government institutes charge Rs 40,000 to Rs 2,00,000 for higher education courses.
Recently, former Reserve Bank of India governor, Raghuram Rajan, along with other corporate leaders, announced the launch of a new private university, Krea, which will focus on liberal arts and science courses.
There are many flagship courses that are extremely popular. For example Young India Fellowship (YIF), a post-graduate diploma in leadership and liberal arts, offered by Ashoka University in Sonepat has seen much traction in recent times. It also has liberal arts courses that are much sought after.
The YIF programme is conducted in partnership with renowned institutions such as the University of Pennsylvania, University of Michigan, King's College London, Carleton College, University of California Berkeley, Trinity College Dublin, Yale University and Wellesley College.
Students from all fields can opt for this course. Says Radhika Jaiswal, who holds a PG Diploma YIF from Ashoka University: "I chose to go there because I was aware of the kind of research and faculty that it offers, which is not easily available elsewhere. The other option would have been to go abroad, but that would have been very expensive."
Ashoka charges Rs 6,60,000 as tuition fees and Rs 1,75,000 as hostel fees, a total of Rs 8,35,000 annually, for its YIF programme.
The law programme by Jindal School of Liberal Arts and Humanities in Haryana is another popular course. "Our liberal arts programme is an innovative course being offered by only a handful of universities in India.
"We aim to continue this trend of offering innovative, exciting, and worthwhile programmes," says Sean P Bala, director of admissions and outreach at OP Jindal Global University.
The tuition fees for their LLM programme is Rs 4,00,000, while for the masters in Business Law they charge Rs 3,00,000. The fees for accommodation and food is a separate Rs 2,25,000 a year for all courses.
When students opt for these flagship courses, they get to choose from a wide variety of minor options, such as data science, development studies, economics, and education studies.
Azim Premji University in Bengaluru offers all these courses. The Foundation for Liberal and Management Education (FLAME) University in Pune, a dedicated liberal education institute, also offers a variety of courses such as public policy, entrepreneurship, film, television, music and dance.
Azim Premji University charges Rs 2,00,000 to Rs 3,00,000 a year for its flagship courses whereas FLAME charges around Rs 600,000 a year.
Another university that has gained prominence for its liberal arts and science programme is Shiv Nadar University in Greater Noida. Its new master's programme in water science is one-of-its-kind.
The fees ranges from Rs 4,00,000 to Rs 7,00,000 for its humanities and science undergraduate programmes, including hostel charges.
For engineering and management programmes, it ranges from Rs 4,70,000 to Rs 8,50,000 for a four-year programme, including hostel charges.
Funding options: Some private universities like Shiv Nadar and Ashoka offer up to 100 per cent scholarship to students on merit basis, but most others don't.
Says Rupamanjari Ghosh, vice chancellor of Shiv Nadar University: "Our focus is on attracting quality students to the campus, and to ensure that no deserving student is left out for lack of ability to fund their education."
Many students, however, have to turn to education loans to fund the high costs. Besides banks, students can now choose from NBFCs. Students even take personal loans from banks and fintech players to fund their education. NBFCs like Avanse, Credila and Incred focus exclusively on education loans.
Nowadays P2P lending platforms like Faircent, I-lend, i2iFunding, LenDenClub and Lendbox also fund education-related expenses of students.
Before opting for a loan, look out for the availability of scholarships at the institute.
"Find out about scholarships before opting for an education loan. This will help reduce the loan amount," says Amit Gainda, chief executive officer, Avanse Financial services. Also look for banks or education loan providers associated with the chosen institute, as applying to them speeds up the processing of the loan. Next, find out the average pay offered to students during campus placement.
"Doing so will give you a reasonable estimate of your future income, allowing you to plan your EMI and loan tenure accordingly," says Gaurav Aggarwal, associate director, unsecured loans, Paisabazaar.
The interest rate charged by banks ranges from 8.5 per cent to 15 per cent for studies in India.
Certain banks also charge a processing fees and pre-payment charges, which range between 1 to 2 per cent of the loan amount. The repayment period generally starts after one year or after the moratorium period ends. The tenure for education loans from banks generally ranges from 7 to 15 years.
Dedicated education loan providers like Credila by HDFC, InCred and Avanse provide education loans to students for higher studies both in India and abroad.
Their upper limit for the loan amount is generally higher than that of banks. InCred offers loans starting from Rs 100,000 and goes all the way up to Rs 10 million.
Avanse and Credila have no upper limit to the loan amount. Interest rates offered by these NBFCs are slightly higher than those of banks