'Ice climbing on frozen waterfalls is an extreme sport and no one had ever heard of it in Spiti.'
'And here were these three young mountaineers attempting it for the first time ever.'
Ice climbing, especially in Spiti, has become the holy grail of mountaineering in India, reports Avantika Bhuyan.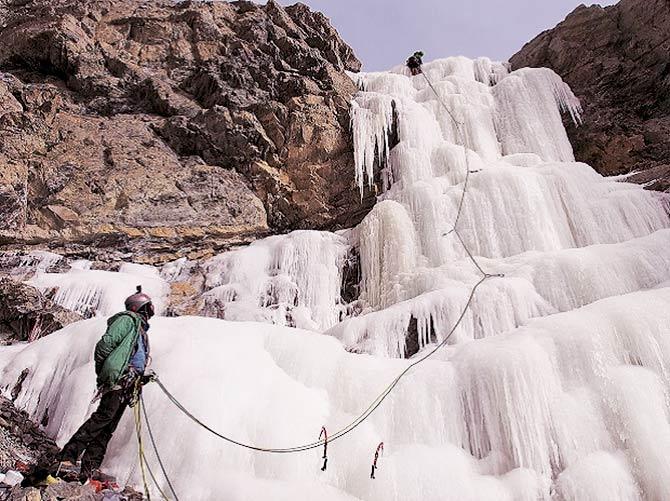 IMAGE:Ice climbing is a niche sport in the Spiti Valley, Himachal Pradesh.
Photograph: Kind courtesy Nishit Shah
So what is ice climbing?
The simplest definition, probably, is that this is a mountaineering activity involving the climbing of icefalls, frozen waterfalls and cliffs covered with ice.
"There are two kinds. First is climbing over frozen glaciers, which is done by most mountaineers. That happens over frozen snow. The other kind is when water freezes. So that could be over frozen waterfalls, and more. This is more challenging as this kind of ice is much harder and steeper," says mountaineer Karn Kowshik, pictured, top right.
The ideal months to embark on one such ascent are between January and March. And hence, it's important that you spend this summer preparing for it -- by training hard and getting your gear together.
"Spiti is a high-altitude plateau. Driving in is a bit difficult. After Shimla, roads become narrow, with space enough for only one car. And they are often accompanied by a 500-feet drop. So it can be quite scary getting into Spiti," says Kowshik.
It's of utmost importance to hire an experienced driver from Shimla, who can negotiate the snow on the roads, or have a four-wheel drive.
"Since this is a specialised kind of climbing, you need special equipment such as crampons attached to boots, specific ice axes, a base layer and down jacket, and more," says Kowshik. "This is a capital-intensive sport."
Almost none of this equipment is available in India, and needs to be imported. One way could be to train with a guide and get him to lend the gear to you.
"Most climbers buy various components of the gear over the course of several years," he says.
Most hotels are closed in the region during the peak of winter, but some homestays keep their doors open for climbers and stray tourists.
"Sakya Abode is a good option for accommodation," says photographer Himanshu Khagta.
Getting trained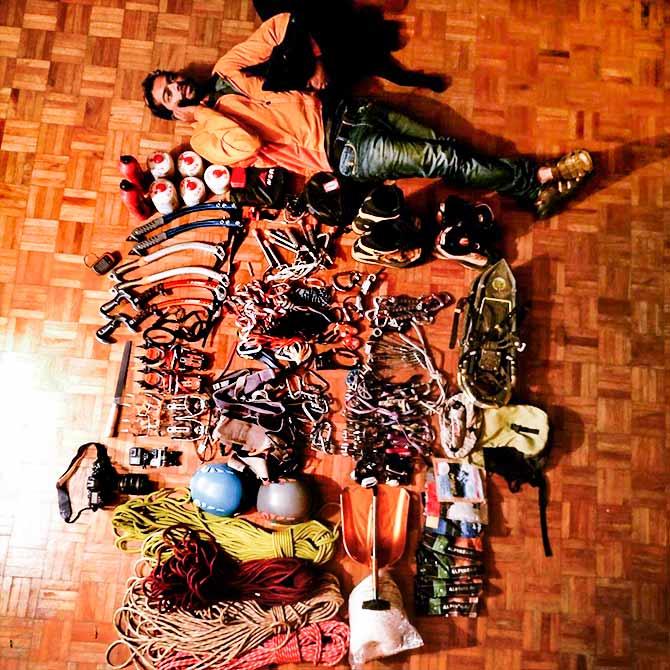 IMAGE: The climbing gear.
Photograph: Kind courtesy Karn Kowshik/Instagram
Ice climbing is not for the average tourist or the rookie climber. It is a highly specialised subset of mountaineering and one needs to approach it accordingly.
"A friend, who owns homestays in Spiti, tells hilarious stories of tourists, who manage to make it to the region in winter," says Khagta. "They run out to take a selfie against the snow and ice and run in within two minutes to get back to the warmth of the indoors. The things we do for social media! Ice climbing is definitely not for people like them."
The first step in training is building mental toughness.
According to Kowshik, this is the most extreme form of climbing.
"Ice is a very fluid medium. Frozen water is always breaking and falling on you while climbing. It takes a certain kind of individual to want to go through this challenge," he says.
Every year, the ice routes come down and are made again.
"You go to climb in the morning, it feels one way. And when you climb in the evening, the route feels another way," he says.
So, one needs to keep one's mind open and be prepared for all eventualities.
One needs to be at one's peak of physical fitness.
"Do a lot of rock climbing. Cardiovascular training is very important," says Kowshik.
But once you scale that daunting waterfall, the feeling of jubilation is unparalleled. 'With icicles on your rope (in extreme climbs) and a constant fight with an alien environment, there's an even greater high. Climbers talk of a state of inner peace and almost meditative ecstasy,' mentioned an article in The Guardian about this extreme sport.
The experience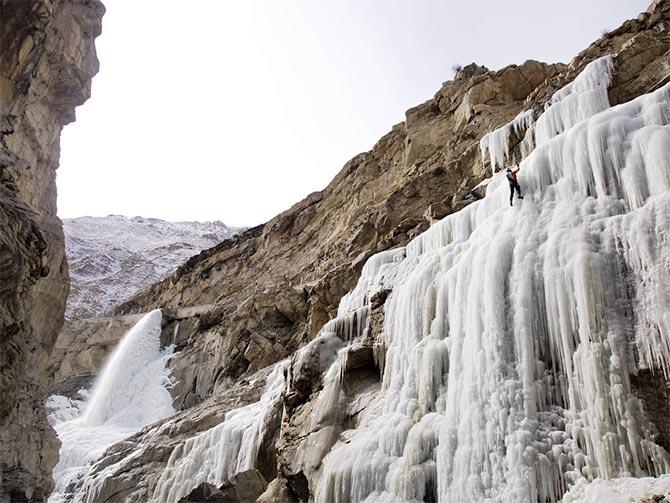 IMAGE: Karn Kowshik climbs the frozen Spiti Valley in winter.
Photograph: Kind courtesy Nishit Shah
February, 2014. Photographer Himanshu Khagta had been living in Spiti for the past six months for his project, Life in Spiti.
The temperatures had dipped to -20 degrees Celsius and the spartan landscape was sheathed in snow and ice.
"There had been no electricity for the past one-and-a-half months. There was no phone connection either. All routes to Spiti were closed," he says.
And that's why the sudden appearance of his mountaineer friend Bharat Bhushan and his colleagues Karn Kowshik and Prerna Dangi at the doorstep took him by surprise.
The trio had braved the snow and the rough weather to go ice climbing in Spiti.
"Ice climbing on frozen waterfalls is an extreme sport and no one had ever heard of it in Spiti. And here were these three young mountaineers attempting it for the first time ever," he says.
Ever since spectacular images of their pioneering ascent became popular on social media, several other climbers have attempted to take on the treacherous ice in Kaza.
In January 2016, two mountaineers, Pranav Rawat and Abhijeet Singh, became part of the first Indian documentary on climbing the 260-ft-high, frozen Shela waterfall.
"Bhushan has also been training people in Spiti for the past three years," says Khagta.
This year, Bhushan, who is an instructor with NOLS, and Kowshik, who heads the Wolf Pack Collective of mountain guides, opened up two new ice routes in Spiti.
"Named 'Baby Steps', we graded it 'Himalayan Water Ice 4'," says Kowshik, who, as we speak, is getting set to attempt the yet-unscaled, 6,396 m peak, Latu Dhura, in the Kumaon Himalayas.
Ice climbing, especially in Spiti, has now become the holy grail of mountaineering in India -- the ultimate challenge to test one's skills.
You can take it up too, provided you spend this summer training for it.