The spiritual leader was addressing the National Teachers' Congress.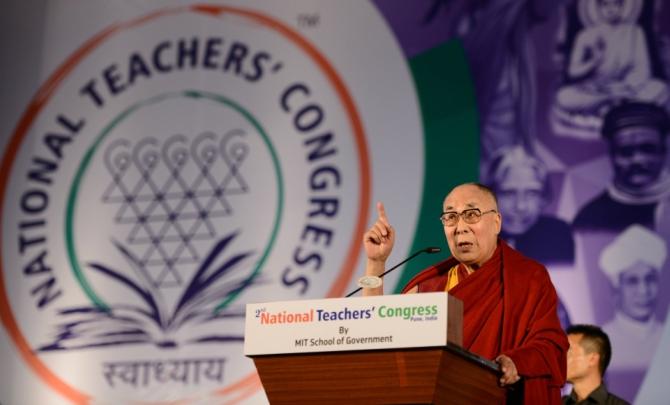 Photograph: Courtesy National Teachers' Congress
The National Teachers' Congress (NTC), which was attended by thousands of teachers from India and global universities, heard from the Dalai Lama.
The Tibetan spiritual leader was the guest of honor at the second edition of the NTC, which concludes today.
Addressing an audience of teachers from 22 states and global universities, the Dalai Lama said, '21st century should be the century of dialogue and human beings must have to think about humanity at global level.
'For building a better world, one needs to think about oneness of human beings. It's only dialogue which creates new ideas and peace in the world.
'Education should include a mix of positive emotions and the way to tackle emotions. India is the only country in the world which can combine modern education, technology, ancient education and emotions.
'There are many differences in all religions, but all religions spread the same message that is message of Love, Tolerance and Affection.
'Today, education has to speak about inner value, truth, honesty and self confidence rather than money and fame.'
The three-day conference in Pune was aimed to connect teachers from both urban and rural areas with policy makers to revolutionise the education system.