Bachan Singh Thakur lists options that allow you a chance to secure a reputed engineering seat with no additional preparation hassles.
Recommended for you: How to get into IITs, NITs this year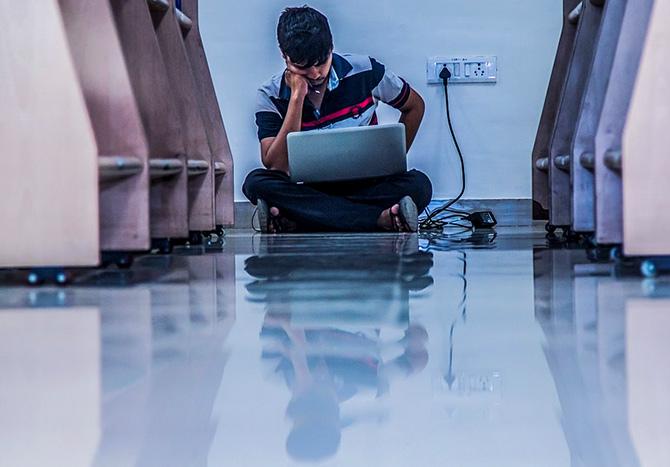 Photograph: Pixabay.com
While it is a dream to get into the IITs, NITs or IIITs, the chances of it getting fulfilled is subject to fighting 12 lakh other fellow aspirants for 36,208 odd seats in these institutes.
The other line to cross for admissions in these institutes in addition to JEE Main performance is the eligibility clause of 75 per cent aggregate marks (65 per cent for reserved categories) or being in the top 20 percentile in your respective class 12th board.
What if you miss just by a few points or do not figure out in the top 20 percentile?
What if you do not meet the top 20 percentile or 75 per cent aggregate marks criteria in class 12th?
So it is a very good idea to keep options other than JEE Main so that you could still pursue your engineering dream and kick off your career.
What are the options apart from JEE Main?
The IITs, NITs or the IIITs are not the end of the road. Plenty of good deemed to be or private universities also offer engineering programmes and are equally good.
Apart from JEE Main, you can register for some of the top and good engineering entrance exams like BITSAT, VITEEE, SRMJEEE, MU OET, COMEDK UGET and Uni-GUAGE. These exams too are worthy enough to make a career as an engineer.
Just check the eligibility criteria of all these exams and register for these exams too to have a plan B in place, in case you do not qualify in JEE Main or if you do not get a desired branch of engineering or a desired NIT, IIIT.
State BTech admission options available through JEE Main
Apart from these national level exams, you could also look closer to home.
Some states conduct their own entrance tests while states like Haryana, Madhya Pradesh, Uttarakhand, Odisha, Punjab, Chandigarh and Delhi take admissions through JEE Main. Admissions to some of the good government/private institutes in different states are through these exams.
States that offer BTech or BE admissions through JEE Main use the All India ranks to allot seats and simply conduct the counselling based on a specified eligibility criteria as announced the state authorities.
So, if you have applied for JEE Main and failed to avail admissions in say the IITs or NITs, you should apply to these state admissions if you meet the eligibility criteria.
While some states do not allow students from other states, there are many that do.
Generally 15 per cent of the seats are reserved for other state students in states like Punjab, Delhi, MP, Uttarakhand, Chandigarh, etc. The reservation of seats for the home state candidates and other states/all India candidates differs from state to state. You need to know and meet the eligibility criteria of the state or UT you are applying for.
States offering partial admissions through JEE Main
Maharashtra: It offers 15 per cent of the total seats at private/self-financed engineering institutes through JEE Main.
West Bengal: The state offers 10 per cent of the total seats at private engineering institutes through JEE Main.
Himachal Pradesh: Himachal Pradesh offers the first 50 per cent of the total seats across all institutes based on JEE Main merit/rank.
Rajasthan: The state offers 15 per cent of the total seats at private-unaided engineering institutes and 15% of the total seats across self-financed courses offered by government-aided institutions to candidates from other states based on JEE Main score or class 12th marks.
BTech admissions based on JEE Main
Apart from state and UTs, there are institutes that offer admissions to candidates in BTech programmes based on their JEE Main score. These institutes are:
Jamia Millia Islamia
SASTRAUniversity
NirmaUniversity
ThaparUniversity
Hartcourt Butler
Sikkim Manipal Institute of Technology
Having a plan B is pretty crucial as it is not advisable to put all eggs in one basket.
The above mentioned options are all good and allow a chance to fulfil your dream to become an engineer. So, check some of the options given here and apply with no additional preparation hassles.