Anant National University in Ahmedabad aims to design a new future for India.
Anjuli Bhargava reports.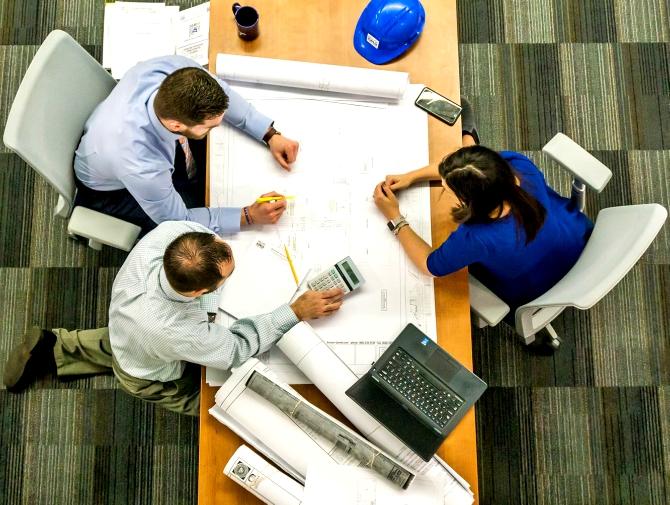 Photograph: Pixabay.com
Recently, ANU in Ahmedabad had a special guest: Rodolphe el-Khoury, dean of the School of Architecture, University of Miami.
Rudy -- as he is better known -- took a workshop titled 'Design for Internet of Things' at the Anant Fellowship, delivered a talk to undergraduate students at the university, and then went on to give a similar talk to the larger Ahmedabad student body on the same topic.
Staring next July, senior faculty members of the Technical University (TU), Delft (Netherlands) -- a globally acclaimed school for design and architecture -- are likely to spend a semester at the college.
Two experts in their respective fields -- Anuradha Mathur (landscape architecture) and Sarah Rottenberg (integrated product design) -- of the University of Pennsylvania (UPenn) have been roped in to come and teach at ANU in 2018 for a while.
In addition, Rahul Mehrotra, a globally renowned architect who works on urban design and teaches at Harvard, will be at the university.
In fact, the list of faculty that is proposed to visit, teach, and spend time with students at ANU reads like the Who's Who in the field of design and architecture.
Why is faculty from all over the world flocking to ANU's Sanskardham campus in Ahmedabad?
ANU, which enjoys the status of a state private university like Ashoka or Jindal, with about a 100-acre campus, is being reshaped and redesigned to become India's answer to Stanford's D-school -- the highest quality design university in India.
ANU already has colleges with courses in architecture, planning, and design.
Pramath Sinha, founding dean of the Indian School of Business and founder and trustee of Ashoka, who is currently provost (equivalent of vice-chancellor) of the university -- and is actively looking for someone to take charge -- has built up a high-powered governing body with years of experience in both academics and business, including Ajay Piramal as chairman, and AM Naik, Indira Parekh, Adil Zainulbhai, and Abhishek Lodha as members.
Pushkar Sohoni, 40, who holds a doctoral degree in the History of Art from UPenn, joined ANU in October as associate dean for academic affairs.
As the governing body members started thinking about this opportunity, they realised that -- just as with the ISB, Hyderabad, and Ashoka, Sonepat, in their initial stages -- there is very little high-quality capacity in the field of design and architecture in India as of now.
Barring the National Institutes of Design, Bengaluru's Srishti and a few other art and design schools, and the School of Planning and Architecture and CEPT in architecture, there are hardly any quality institutes.
"For a country of our size, we need a 100 such institutions," says Sinha, stressing that the same realisation had hit them with liberal arts in the context of Ashoka.
Sinha argues that design is "central to everything we do", and that the university will create a cohort of students who will look at solving all problems through a design lens.
"In some ways, design thinking is the new liberal arts and it will plug the gap that an education in pure liberal arts may leave," he says.
Moreover, it's no secret that there's a sharp gap between education and employability in India.
Sohoni says that one of their goals at ANU is to bridge that deficit by educating students in ways that promote critical thinking and expose them to a wider world.
"Design thinking is our goal, and they will be trained with the right combination of design, engineering, and business elements, after a foundation year of a liberal arts education," he adds.
The curriculum on design and architecture is being redesigned.
This was preceded by the launch of a one-year fellowship (Anant Fellowship). The thinking behind the fellowship will resonate with anyone today.
As societies grow -- more than ever before -- they need to minimise the negative impact of this growth.
New buildings and construction need to be "socially, environmentally, ethically and economically" sustainable.
Development needs green and geared for all (equitable).
The highlight of the one-year fellowship is a live action project where students work in teams to solve a real life challenge in close association with local administrative bodies and community stakeholders -- be it in the area of smart and sustainable cities, transport planning, heritage and conservation or human-centric design.
A new future is being designed for India in more ways than one, and ANU has figured that students are the best place to start.