Education consultant NNS Chandra shares advice on entrance examinations, admission procedures at international universities.
Illustration by Uttam Ghosh/Rediff.com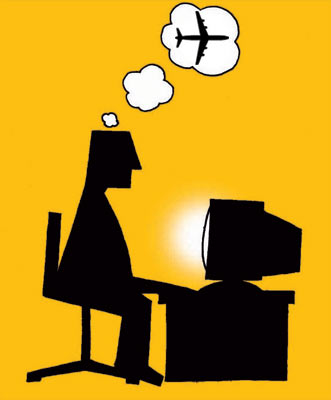 In an online chat with readers every Friday, overseas education consultant NNS Chandra shares crucial advice on how to pick the right course and university.
For those who missed the chat on July 7, here's the transcript:
---
Rajagopal: Hello sir. I am Jayashree from Chennai. My son has finished his B.E (aeronautical) this year.
We suggested to him to do his MBA (aviation). Will that be okay for him?
If so, where can he continue his studies. Please advice.
NNS Chandra: Hi Jayasree. Advance studies in Aviation (graduate level) is an interesting choice. Lots of possibilities.
I would encourage him to look at West Coast and Mid West universities.
Purdue and Michigan can give lots of choices. University of California gives a variety of courses and research facilities.
---
Babu: Hello sir, my son has completed his B.Com a month back. He is interested in capital markets, mainly equity research.
Which are the courses that can help him in his career? Please do tell which institutions are best for that course?
NNS Chandra: Hi Babu. Explore more in the area of professional certification because an introductory program offers a comprehensive survey of capital markets.
Money and banking, the role of central banks and the evolving regulatory landscape are reviewed.
The program also provides a thorough grounding in the full range of capital market instruments.
For a finance career aspirant, the training path should lead him/her to become intelligent, independent and successful in their finance and investment career.
---
SS Sanjay Sinha: What are the prospects of the B.Tech courses offered by some universities (Amity, VIT, etc.) partly taught in India and partly abroad?
How much value do these degrees have in India and abroad for placement?
NNS Chandra: Hi Sanjay. Every year more than 3,000 undergraduate NYU students choose to study away from their home campus.
Was listening to these study away alums reflect on their experiences with NYU's global network. Positive and exciting reviews.
I am positive about the VIT and Amity programs you are referring to. It will be an amazing academic experience. ROI need to be determined.
---
Kaushal Kumar: My son has done B.Tech (computer science) and is now working in an Indian company in the software field.
He has an offer for admission in University College Dublin, Ireland for M.Sc. in social data analytics (full-time one year).
Please advise about its acceptability and employment potential in India or abroad.
NNS Chandra: Social data analysis usually comprises two key steps: 1) Gathering data generated from social networking sites.
2) Analysis of that data, in many cases requiring real-time (or near real-time) data analysis, measurements, etc.
The opportunities around the analysis of social media in order to understand and surface insights, which is embedded within the data, are great. Great choice of grad program. Congrats.
---
Have questions for NNS Chandra? Post them here!