The placement process at B-schools comes as close to psychological cannibalism as one is likely to witness.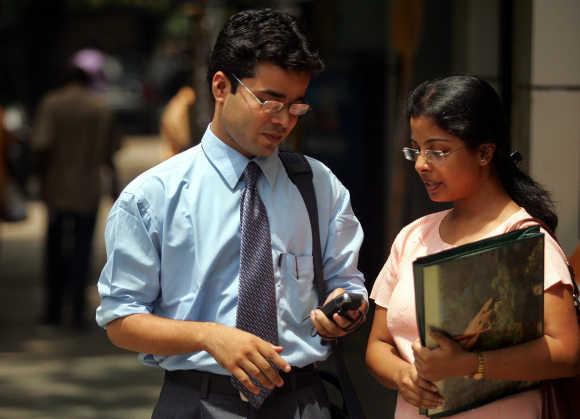 Reading about the placement week at b-schools in the media, one gets the distinct impression that our budding managers routinely strike the zenith of financial glory, and are a hair's breadth away from entering the storied club of the rich and famous. If only!
The placement process at b-schools comes as close to psychological cannibalism as one is likely to witness.
At no other point during one's stay on campus is one made to feel so worthless, so desperate, so utterly out of depth as during the placement week.
And God help you if you happen to be one of those poor sods who don't get placed.
Say goodbye to friends, colleagues and self-esteem -- and pack your bags to slither away silently into the night.
My dramatic, but largely authentic lament originates in my flatmate Ravi's recounting of his experience with the placement process at his b-school.
He completed his MBA in 2010 with a major in finance.
The school is one of the many successful MBA institutes in Mumbai whose unique ecosystem ensures that otherwise average centres of learning are forced to buck up to meet the ever-burgeoning demand for managers in India's financial capital.
For Ravi, the placement season, which ran from late December to February, entailed endless misery.
In spite of being a good student and a consistent performer, he was unable to "convert" -- euphemism for clearing the group discussion/personal interview rounds -- any of the finance profiles he applied to.
So whether it was banks, NBFCs or insurance firms, Ravi sat through as many as 15 interviews and ended up being rejected by all of them.
This has nothing to do with Ravi's skill set or mind.
Several bright people undergo, without success, the unending rigmarole of that dreaded B-school beast called the placement interview.
There is no telling why one candidate is chosen over the other.
Since everything is squeezed into a week, for those unable to find something in the first few days, there is such a rush to attend interviews and land any job that candidates have no time to brush up on the companies they are about to face, let alone know about the profiles and salary details.
By the end of February, Ravi had had his fill of rejections and was seriously considering alternative career options.
Might he try consultancy, he wondered. Where was the harm?
Finance was not happening, and whatever companies would come later, they would not be worth the paper their names were printed on.
One such company was Jay Financials (name changed), an equity brokerage firm.
They were a new player and had little to show by way of credentials.
Ravi was forced by the placement committee to attend their pre-placement talk and then appear for the process.
The CEO, a lanky, poorly-dressed guy, asked Ravi a series of questions.
Ravi tried his best at "tanking" the interview, b-school jargon for deliberately spoiling one's chances.
No such luck.
The company still made him an offer.

Jay Financials were getting a top-tier B-school grad for Rs 6 lakh. What did they have to lose?
More absurdly, Ravi seriously considered taking up the offer for want of a better one.
Thankfully, another company, a consultancy, provided him a shot at redemption.
Housed in an old-style British bungalow in Parel, the company interviewed Ravi, along with seven of his batchmates.
During the interview, they told Ravi that if they took him they would offer him Rs 9 lakh with a performance bonus of Rs 1 lakh.
The bonus was Rs 1 lakh less than what they were offering others, since Ravi had no work experience prior to his MBA.
Ravi, still smarting under the offer from Jay Financials, was glad to be offered anything better than Rs 6 lakh.
On their way back to the college from Parel, the placement committee member who accompanied Ravi received a call on his mobile.
The consultancy had zeroed in on Ravi and decided to offer him Rs 9 lakh plus Rs 2 lakh as performance bonus, just as they had promised others.
Ravi was ecstatic. The stress and pain of the past few weeks dissipated.
He had seen "friends" turn indifferent and then nasty as they got placed and partied while he slogged through interview after interview.
His roomie at the B-school, also unfortunate at placements, was offered a role by Jay Financials.
In the absence of a better offer, he took it up.
Within a year he was given a dramatic increase of 60 per cent.
And within weeks of that, he applied to and was selected by a Japan-headquartered financial major.
Now he heads the commodities derivatives desk at their Mumbai office.
So, all's not lost.
Ravi himself, unsure of anything non-financial at one time, has taken well to consulting.
The Mumbai team is around 20 people, and along with teams in Gurgaon and Chennai, runs a business that is scaling up fast.
One lesson: Don't let the success of the placement week get to your head. It might not last. Conversely, don't let its failure browbeat you. That too is temporary.
Lead image used for representational purposes only. Image: Jayanta Shaw/Reuters