International education consultant NNS Chandra shares advice on how to pick the right international education.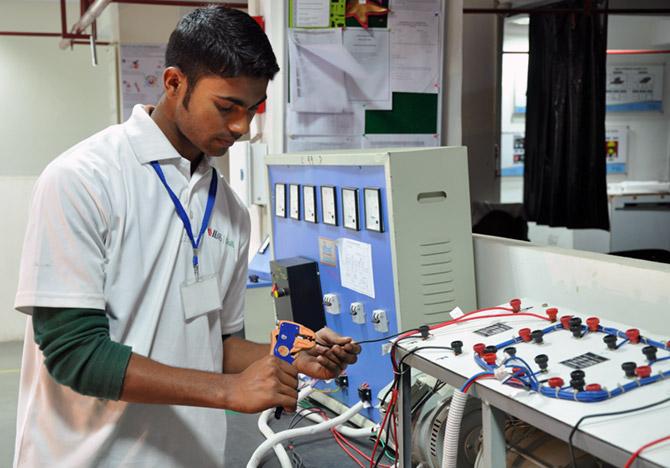 In an online chat with readers every Friday, overseas education consultant NNS Chandra offers advice on how to pick the right course and career abroad.
For those who missed the chat on November 4, here's the unedited transcript:
---
SURABHI: Dear NSS, my daughter is in her final year of engineering (Industrial Engineering) in Bangalore and wishes to go to the US for doing her MS.
She has taken her GRE twice and her first score is better than her second. First time she scored 302 and second time it dropped to 296 (she was not well at that time).
Does she still have chances for admission into a good university?
NNS Chandra: Hi Surabhi, Please do not get disappointed with the score. Ask her to focus on SOP and her engineering grades. And can be still competatitive in many schools.
---
Amit Garg: Hi..sir..my son is 10th standard PCM scoring good marks above 95 per cent
I want his to study in good university abroad...his interest is artificial intelligence. Please suggest can we do 11th also from aboard like Singapore or Ny
NNS Chandra; Hello Amit, Appreciate your interest in studying abroad. And your sons interest in AI is fascinating. Keep that interest alive. Please ask him to email me.
---
monika shrivastava: Hi I want to do further studies in Canada. I am open for any short term course. My age is 40. Plz suggest the courses and the process to do the same.
NNS Chandra: Hi Monika, very nice to know you interest. What are your educational qualifications and experiences so far?
---
Vijay Pandey: Dear NSS Sir My Son is at present pursuing Bachelor in Mass Communication from Central University, Ranchi, and Jharkhand. Please suggest best option available for Masters in Mass Communication and Media Technology. Thanks & Regards.
NNS Chandra: Hello Vijay, I would recommend him to take a look at S I New House School of public communication at Syracuse University.
I studied MCM here. Please ask him to email me. Based on his future goals I could be able to guide his college selection.
---
Ashish Kumar: Dear Sir, Good Morning I am an author of computer science book (from class 1-10 CBSE (Hot selling books in India), my qualification is BCA MCA (IGNOU) and MBA (UPTU). Plz suggest me for PhD degree. Which country is better for me? Kindly give me any ideas to settle abroad. Thanks. Ashish
NNS Chandra: Congrats Ashish. Great to here about your success. In which area are you considering to pursue your doctoral studies?
What is your research back ground? Academic work over and above text books? Publications?
With info given here I would recommend doing PhD in North America. Second part of your question, on settling abroad, I do have very limited information.
---
DIVYESH ROHIT: Hello Sir, I have completed my MTech, I would like to know which country is good for pursuing PhD with more funding opportunities.
NNS Chandra Divyeash: My experience, if you got a good research going on with a good idea, institute and professors/guide, American universities give top dollars.
---
Mukesh Arora: Hi sir, I am saksham arora. Want to pursue my engineering from USA or from Singapore. Please advice which country will be best for computer engineering. Thanks
NNS Chandra: My experience and in my opinion, for wider choice of academic opportunities are in USA, Arora.
---
Venkkatesh Vaduvur Rajagopalan: I'm venkky and saw your post asking one student to write AMC 8 this Nov 15.
I'm interested to write the same. I checked the website but it states that it's for island Canada. I'm in chennai, India.
How can I register and write that exam last date for registration is 1st November.
NNS Chandra: Appreciate your interest in AMC, Venkatesh. You should be able to still write it. E-mail them, call ASAP
---
Shreyas: Sir, I read on Internet that you are the country manager and responsible for conducting AMC exams. I want to write that. How can I register?
NNS Chandra Thanks for your inquiry on AMC. American Math Contest 8 is for 7th and 8th graders
Which grade are you in Shreya? if you go online you should get lots of data on this important test.
---
Have questions for NNS Chandra? Post them here!
Lead image used for representational purposes only. Image: Kind courtesy NSDC