Educational institutions in Canada offer courses ranging from eight months duration to two years, says Sushil Sukhwani.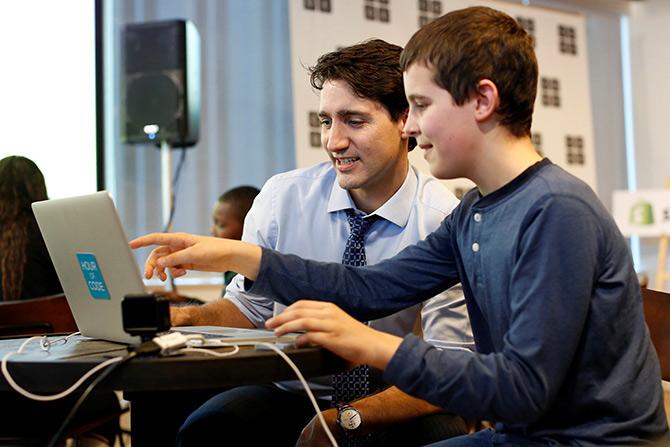 Gone are the days when the US and UK were top choices to pursue higher education.
Today, Indian students are spoilt for choice when it comes to considering prospective study destinations.
From the pool of student-friendly destinations, Canada is increasingly seeing a surge in the number of international students enrolling themselves into universities.
The reason for this can be attributed to the fact that the specialised course structure in Canadian universities provides knowledge that is of practical relevance.
Besides, students are able to find jobs within Canada during the three year work permit available for them.
If you're considering to travel to Canada, here are some things to bear in mind.
How to prepare
Aspirants looking to study in Canada should begin planning their application one year prior to the commencement of the course.
Universities and colleges in Canada majorly have a fall intake in the month of September followed by winter intake in January. A limited number of universities/colleges also intake students in May.
Type of education
The education process in Canada is well integrated, with all the levels of study well linked to each other.
Universities/Colleges in Canada offer certificate programs that are one year in duration.
On the basis of either one or two years of study, diploma programs are also offered.
International students can also acquire a three year, advanced diploma leading to a bachelor's degree.
This Bachelor's degree is awarded by educational institutions after completing four years of study.
Another prominent certificate offered in Canada is that of Post Graduate Certificate -- a specialised course of 8 to 12 months.
This course is highly sought after by students because it incorporates in itself cooperative work programme that gives the students field experience as part of the curriculum.
Educational institutions in Canada also offer master's and doctorate programmes.
Although, every imaginable course has made its mark in the Canadian education system, some of the prominent ones include business management, early childhood education, engineering, information technology and project management to name a few.
Eligibility criteria
The eligibility criteria that a student needs to fulfill depends upon the program and university under consideration.
The generic requirements for an Advanced Diploma and Bachelor's Degree include adequate academic grades along with an English Language Test through either an IELTS, TOEFL or PTE.
A postgraduate certificate/diploma and master's degree requires from the students exemplary grades in their bachelor's programme along with an IELTS/TOEFL/PTE score.
The conventional list of documents required by the universities includes, academic transcript, IELTS score, a copy of your passport, letter of recommendation, resume and statement of purpose.
Students looking to undertake an MBA program have the option of giving the GMAT exam.
Visa procedure
Upon meeting the requirements of the Canadian Immigration Act and Regulations, the student will be able to attain a study visa.
The visa process usually takes 4-6 weeks to process, thus the student should meticulously plan out the process.
The applicant must not only have appropriate IELTS score but also have procured a Guaranteed Investment Certificate (GIC) of C$10000 which covers the first year's living expenses.
One is also required to showcase payment of the first year's tuition fees. Only in a rare case will there be a need for a visa interview.
Fee structure
Courses in Canada are highly economical in nature and they enable the students to become forerunners in their field of persuasion.
Most certificate and diploma programmes cost approximately C$ 13,000- C$16,000 (approx Rs 6,82,000 to Rs 8,40,000) whilst Bachelor Programs approximately cost C$13000- C$18000. Master's Programs in Canada can range between C$17,000- C$25,000.
Accommodation
International students receive assistance from the university while on the hunt for accommodation.
Accommodation can either be on-campus through dormitories or off-campus where you can rent an apartment on a twin-sharing basis.
Although off-campus accommodations are cheaper, students are often recommended to stay within the campus or a hostel in the initial years.
This is to encourage social interaction and safety. This also ensures there are no hassles of payment of utility bills or undertaking daily chores.
Tips for students
Meticulously plan the application process in order to adhere to the given timeline.
Begin applying six to eight months before the intake along with the complete set of documents.
In order to make the application stand out one needs to have appreciable academic scores along with eminent IELTS score.
Canada has made its mark in a magnanimous number of industries some of which include biotechnology, engineering, telecommunications, transportation and many more. Some of the renowned companies that have set base in Canada include, Adobe, Bata, BlackBerry, Cisco, Corel, IMAX and many more.
*Image published for representational purposes only.
Sushil Sukhwani is director, Edwise Overseas Educational Consultants.
TELL US: Have you studied in Canada? Please share your tips and learnings in the messageboard below.