Before you apply for a job online, how often do you bother to check your social media profiles?
Read on to find out why this is important!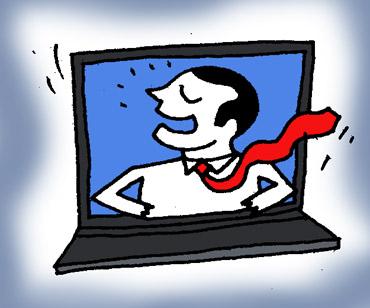 Gone are the days when the only way recruiters could screen you when you applied for a job was through your resume.
In the age of omnipresent digitalisation, recruiters can, and do check the profiles of candidates before they make a hiring decision.
Unlike your CV, here you cannot control every bit of information and choose exactly how you want to present yourself.
Unfortunately, a lot of people fail to realise just how public their digital selves are.
In a bid to get to know as much as they can about you and to determine whether you are exactly what they are looking for, browsing through your activity online gives them a much clearer picture than a CV does.
Read on for our advice on what you should do to get your online act in order before looking for a job.
Google yourself (if you haven't already!)
Searching for yourself on Google is more than just an act of vanity.
It puts you a step ahead of your recruiter because that is exactly what they are going to do too.
The kinds of results that pop up after a Google search are going to make or mar your first online impression.
So make sure you create a LinkedIn profile or create a page about you on your blog to direct them to the kind of online version of yourself that you would like to flaunt.
Match your LinkedIn profile to your resume
Your LinkedIn profile is nothing but an online version of your resume.
Ensure that it gets updated with every update in your resume.
A mismatch between the two might give the recruiter the idea that you may be lying on one of them (or both of them!)
Censor yourself
While Google and LinkedIn are still professional portals, social networks like Facebook and Twitter are more private spaces.
Nevertheless, they are still subject to scrutiny, majorly to check if the potential employee would be a good fit for the organisation's culture.
You need to realise that everything you post online will be public and so there is a need for censorship.
Ask yourself if you would be okay with that very thing ending up in a major newspaper with your name and picture next to it.
No? Well, then it's probably not a very good idea to post it online.
Opt for privacy
Facebook has certain handy tools such as privacy settings which allow you to pick who can view the things you post.
You could make your profile private as well as use the privacy settings next to individual posts and determine who would you want your audience to be -- 'friends only', 'friends of friends' or 'public'.
Use good grammar
As silly as this may sound, careless grammatical mistakes can be a very strong reason why you may not get hired.
Hiring managers equate use of sloppy sentence structures online with having poor communication skills, which in today's day and age is a taboo.
If you are looking for a job in any field that involves writing, then God bless you.
"A friend of mine didn't get selected at an interview because, well she typed 'lyk dis'. Ever since I've heard about it, the kind of English I use online would make Shakespeare proud", says Devanshi Jangla, a media student.
Untag from what's unbecoming
They say a picture is worth a thousand words.
Well, the same goes for your online photos. So, the pictures from that crazy party last weekend are best left off social networks during a job-search period.
If a friend uploads them, untag yourself from the pictures so that they do not appear on your profile.
Don't rant about past employers
Yes, we know social networks are modern day tools of freedom of expression but rants about past employers will raise red flags for the recruiters.
You did it once and you may do it again.
FYI, nobody wants their company to be bad-mouthed online.
Create positive content
Instead of looking at your social media profiles as a threat to your job, look at them as another channel to present yourself.
Creating positive online content or sharing what is bringing you happiness will always gives you brownie points.
After all, who doesn't like a positive, happy person around office?
That being said, it's also unnecessary to censor so much that you aren't yourself.
You can still speak about what's interesting, exciting and funny to you, but a little caveat -- if you are really keen on landing that job, then feel free to express yourself online, but do so eloquently and with an eye for potentially risky content.
Illustration: Dominic Xavier/Rediff.com
Courtesy:YouthIncMag.com