Ramesh Batlish, head of FIITJEE Noida shares crucial advice for engineering aspirants who want to make it to the leading IITs.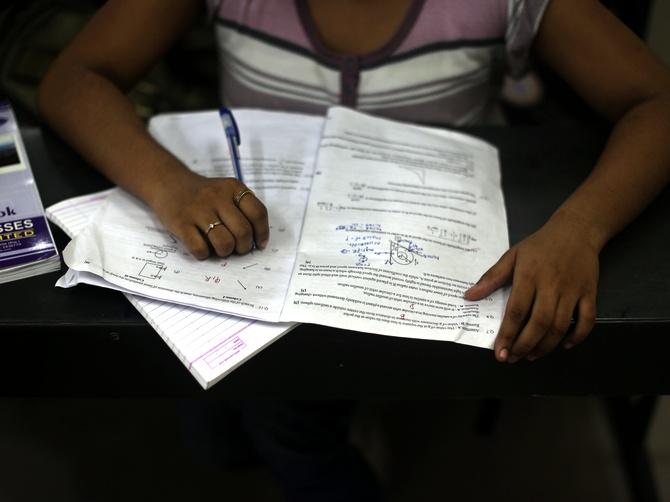 The Joint Entrance Examination (Advanced) (formerly known as the IIT-JEE) is one of the toughest engineering entrance examination of the Indian Institutes of Technology in India.
It is also one of the toughest engineering entrance exams in the world.
Students from all over the country spend hours preparing for this exam.
Time management and strategy are two important aspects which need to be followed with precision in order to succeed.
The JEE main offline exam will be conducted on Sunday, April 3, 2016 and the online exam will be conducted on April 9 and 10, 2016.
The pattern of JEE main is discussed below:
Pattern of JEE (Main)
BE/BTech (Paper 1)
Entrance examination constitutes of a three-hour examination and objective questions from subjects like Physics, Chemistry and Mathematics are displayed.
Every question is scheduled to include four options.
There will be negative marking in the exam.
BArch/BPlanning (Paper 2)
The entrance examination will have three parts: Mathematics, Aptitude test and Drawing test.
While Mathematics and Aptitude test will include objective questions, the drawing test will offer questions to check the drawing aptitude of a student.
With less than a month remaining for the JEE (Main) some preparation guidelines to achieve this objective are mentioned below:
Plan your time accordingly while solving JEE (Main) papers. In Maths use short methods for calculations, skip irrelevant steps to save time.
One should be clear about the concepts and formulae.
Solve various problems with precision and guidance of your teachers.
Try to improve your speed and accuracy in order to succeed.
Practise regularly and avoid using calculators for JEE (Main) preparations. Your mental strength and memory will witness a rapid upsurge in this scenario.
Try to solve the easier questions first before moving onwards to the tougher section. Give it your best shot and attempt all the questions.
A positive outlook and dedicated preparation will help.
Students who are following the Computer Based Testing (CBT) procedure for attempting JEE Main through Computer Based Testing (CBT) remember to follow a sequence needs to be followed while completing the questions.
Practice as many Mock Test papers for the exam.
While solving questions, try to click on the right options pertaining to different subjects such as Physics, Chemistry and Mathematics have been dealt with.
Try to cover various topics before submitting your papers.
Once you have cleared the Mains, the next step is to prepare for the JEE Advanced.
Subject-wise tips to crack the JEE Advanced
Mathematics
Topics such as Vectors and 3-D than Probability or Indefinite integration as vectors and 3-D offers require a lot of attention.
Other topics which require practice are complex numbers, vectors, 3-D and Definite integral.
In Differential calculus, one should specialise in solving roots of equations, with the utilisation of Rolle's and Lagrange's theorems.
In algebra, one must excel in Permutation-Combination and Probability.
Also practice Simplify Integral calculus using some basic varieties of integrable functions. Try to keep the properties in mind while using them to complete solutions on time.
Excelling in Coordinate geometry depends on proper knowledge of parametric forms of various conic sections.
One should be highly capable of converting the tougher parts to these basic forms; which will help in simplification.
Practice Mathematics as much as you can while taking cue from previous years' JEE papers.
Chemistry
Improve your focus with respect to topics such as conceptual clarity, application skills and awareness to the prescribed syllabus.
Stress more on topics such as Mole concept, Chemical Equilibrium and Electrochemistry.
Practice Organic chemistry more while improving your hold on topics like Stereochemistry, GOC (General Organic Chemistry) and Functional Group Analysis.
Pay extra attention to topics like Chemical Bonding and Coordination Chemistry as they are highly conceptual.
Physics
A vast part of JEE (Advanced ) consists of questions related to physics and is also important in terms of marks. So, a lot of practice is required for this topic.
Other scoring topics consist of Optics, Electricity and Magnetism, etc.
Some subjects which require extra attention constitute Kinematics and Particle dynamics. These are important parts of Mechanics and are regularly witnessed in JEE papers.
According to the general trends, Mechanics and Electricity and Magnetism are the most important topics in terms of the number of questions asked in the JEE of previous years.
Some Physics topics which were a part of previous year's papers are mentioned here:
Mechanics and Electricity and Magnetism (Equal importance)
Modern Physics
Optics
Heat, Thermodynamics and Waves and Sound
Measurement and errors
How to crack the JEE (Advanced) 2016
Practice a lot to improve your skills.
Practice previous years' IIT-JEE papers and pay special emphasis on various concepts.
Give a fillip to your reasoning and analytical ability.
Take short breaks during practice sessions. Further, eat and exercise properly to maintain the much required strength and concentration.
Proper sleep is necessary for rejuvenating your spirits. Don't lose out on sleep as it can harm your health.
Maintain your confidence levels and you will do well in the exam.
Tips for the D-Day
Be careful enough to reach the test centre at least 30 minutes before the exam.
Please ensure to keep the Admit Card with you during the exam.
Attempt those questions first which don't carry negative marking. Try to avoid those questions which you aren't sure about.
Provide one hour for each subject so that all topics are covered.
Do the easier questions first and leave the tougher ones for later on.
Keep your calm intact and your preparation will help you to ace the JEE.
All the best!!
Lead image used for representational purposes only. Image: Ahmad Masood/Reuters