If you have pursued your bachelor's degree from elsewhere, studying a master's programme in public universities in Germany is easier as 80% of the universities are free, says Sushil Sukhwani.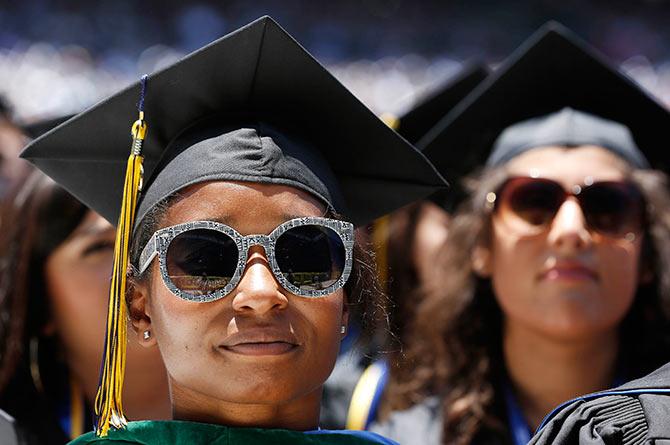 A hub of cutting edge technology and research, Germany is a land of opportunities.
Situated in the heart of Europe, it is a highly sought after study destination that hosts few of the top ranked institutions globally.
Over 25,000 students choose to study in Germany last year, out of which Indian students formed a significant component.
Traditionally, German universities date back to the 14th century, but they now offer a range of courses that are entirely or partly taught in English.
Type of curriculum
Curriculum at German institutions are well-structured and based on intensive guidance.
Students are expected to work in small groups and make the most out of the university experience.
With over 650 international degree programmes, a major chunk of them are offered in English.
The education structure in Germany comprises of 13 years of higher secondary school, after which students can progress to a Bachelor's programme for three years. Certain students also complete 12 years of education and undertake a foundation programme for a year, before progressing to a bachelor's programme.
While most Master level programmes last for 2 years, PhD programmes take 4 years.
Universities in Germany are broadly categorised a university and university of applied sciences.
University has a subcategory of technical universities that are research-oriented and look to provide theoretical knowledge regarding a specific subject.
Students who are keen to undertake research activities often choose to study from the said institution.
University of applied science tend to have an industry-oriented curriculum and are renowned for programmes in engineering, business, natural sciences.
Intake
International students looking to study in Germany should initiate their application process a year in advance.
There are primarily two major intakes in summer and winter in the month of March and October respectively.
Application deadlines for summer intakes are in March followed by winter intakes in July.
Eligibility criteria
Students looking to pursue an undergraduate course require 13 years of education. They can do so by completing a 12+1 programme from the university or pursue a one year foundation course.
Some also choose to undertake 10 years of education, followed by 3 years of diploma. Students are required to give the IELTS or TOEFL, along with a German Language B2 Level.
Master's programmes on the other hand, require students to have 15 or 16 years of education. However this differs depending upon the programme under consideration.
Entry requirements include IELTS or TOEFL or GRE, German Language A1 Level. Certain MBA programmes require GMAT and work experience.
Visa
International students looking to study a full time university programme require a German student visa.
While applying for the same, students have to furnish documents like visa application form, passport and birth certificate.
Along with this, students are required to exhibit financials approximately worth €10,200 per year.
The entire process takes 25 days on an average, so students should apply immediately upon receiving acceptance.
Fee
As an undergraduate studying in private institutions in Germany, students can expect to approximately pay €20,000 a year.
Public universities are essentially free for undergraduate studies, but charge a fee per semester of enrollment.
If students have pursued their bachelor's from Germany, they are required to pay a minimal charge per semester to study a master's programme.
If you have pursued your bachelor's degree from elsewhere, studying a master's programme in public universities is easier as 80% of the universities are free. Private universities may cost €30,000 a year.
Apart from academic costs, living expenses can indicatively cost €350-€400 per month.
Accommodation
Dormitories are available through student services outside the university.
Student halls of residence, rented flats are also means of accommodation. These may approximately cost €234 and €280 per month respectively.
Popular courses
Some of the most sought after streams include business, engineering, natural sciences, computer science, biotechnology, pharmacy and mathematics. Courses in the field of architecture and urban planning are prominent as well.
Popular universities
TU9 is an association of nine eminent technical universities in Germany that look to promote education of engineers.
Apart from this, BSE Training Institute-Frankfurt Business School, CBS Cologne Business School, European University-Germany, ISL Sprachsule, Munich Business School, Schiller International University, Sprachen Berlin are renowned.
Scope of career
Students can work part time for 20 hours per week and expect to earn €500 to €600 per month.
Certain courses include internships which present an excellent opportunity to students to augment their skills. Upon completion of graduation or Master's, students get 18 months of job search visa.
If students find relevant jobs they can stay for 5 years on a work visa. Following which, they can express interest in permanent residency through the advent of the Blue Card Bill.
Tips for students
Interacting with the locals will ensure students a gratifying university experience.
Germans have a high regard for punctuality, thus being on time will make an impression. Even if the programme is in English, knowing German will help during course interactions.
Candidates can also avail special student discounts while travelling and at college to make studying in Germany an economical affair.
---
Sushil Sukhwani is director, Edwise Overseas Educational Consultants. He can be reached at edwiseint@rediffmail.com.
---