These handy tips will have you sorted in no time at all!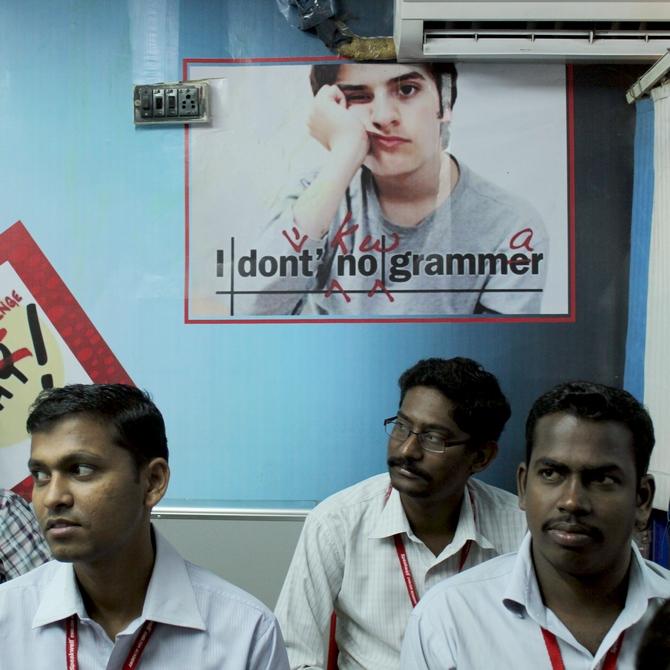 Speaking English doesn't come naturally to many of us.
We struggle to find words, struggle to translate from our mother tongue, falter in our pronunciation, construct awkward sentences and use slang.
We frequently end up making fools of ourselves without realising it.
So how does one speak the language correctly? Is it even possible?
Rare is the breed that speaks English flawlessly. As non-native speakers of English, even the most qualified among us uses Indianisms without realising we are doing so.
Here are some handy tips to get you started:
1. If newspapers don't interest you, pick up a good book.
And, by that, we don't mean a Chetan Bhagat novel.
Bhagat's books are easy, fun reads and may be a good place to get you started on books but don't let them become the be all and end all of your reading.
Look beyond the popular bestselling authors.
If you are not confident of walking into Classics territory, explore Western popular fiction. Consider the Harry Potter series for example. And then move beyond that too.
Expand your horizons; don't stop.
2. Pay attention to the subtitles during a movie
These days, several English language movies and television shows run with subtitles.
It isn't unusual for cinema houses to run English language movies with subtitles on the big screen either.
For many of us who do not understand an accent or a specific word, this is a blessing.
Make the most of it.
The next time you're watching television, turn on the Internet on your smartphone and, instead of checking Facebook, look up meanings of words you've not understood.
Television watching, though, comes with a caveat: watch out for slang.
3. Avoid slang
Contrary to what you may believe, slang does not make a good impression, especially if you are just picking up the language.
So avoid saying things like ''Sup?' or 'Bro' which you think sounds cool.
It doesn't.
4. Learn to pick up phrases and idioms and use them correctly.
Be sensitive to what is being written or spoken when reading a book or watching television.
Make sure you use phrases and idioms in the right context.
5. Pronounce correctly
For several reasons (television being one of them), we mispronounce words without realising we are doing so.
Word endings are a frequent casualty, as we opt for 'goin' instead of 'going' or 'runnin' instead of 'running'.
The 'w' and 'v' sounds are often interchanged like 'voven' instead of 'woven'.
Learn which consonants are silent (like the b in plumber or the g in sign).
Several websites have an audio pronunciation file that plays out the word as it is spoken in UK English as well as US English. Listen to both and know the difference.
6. Opt for audio recordings
Yet another way to get your pronunciation right is to purchase audio recordings of English lessons.
English is the most widely spoken language in the world so there are several lessons available online for free as podcasts.
Start with the basics and work your way to more complex words.
(Here's a list of 10 commonly mispronounced words)
7. Read out loud every day
The muscles of your mouth need to be trained to speak a new language.
If you think of it, it's like preparing any other muscle of your body for a marathon.
You stretch, you train and only then do you run a marathon.
When you read out loud, you train the muscles of your mouth to get used to a new language.
Use this time to also record your voice and understand the mistakes you make in pronunciation.
8. Label things around you
This is an old trick to get kids to learn better -- labelling things around the house.
If you find it difficult to understand the difference between a column and a beam, or a teaspoon and a tablespoon, label them.
Similarly, to know the difference between words like horizontal and vertical, write them out in a manner that conveys their meaning.
For example:
V
E
R
T
I
C
A
L and HORIZONTAL
9. Avoid cliches
Cliches are words and phrases overused to the point that they are no longer interesting.
The problem with cliches is they have become such an integral part of our everyday speech we don't even realise we're guilty of using them.
Some examples of a cliche include:
at the end of the day
the fact of the matter
avoid something like the plague
in the current climate
mass exodus
few and far between
When you use a cliche, you tend to put off your listener. So be careful when you speak.
10. Find friends who speak English
It's easy to get intimidated by people around you who speak English fluently.
Instead of shying away from them or being in awe of them, try and spend more time with them and learn the language better.
The more you hear the language, the more proficient you will become in speaking it.
You learn a language better by assimilation than in a classroom with text books.
PS: Yes, we've left out grammar, but that begs another article altogether.
ALSO READ Top 18 English mistakes Indians make