Indian IT major HCL will provide training for three months to 100 students each in its Lucknow and Madurai campuses. Ayan Pramanik reports.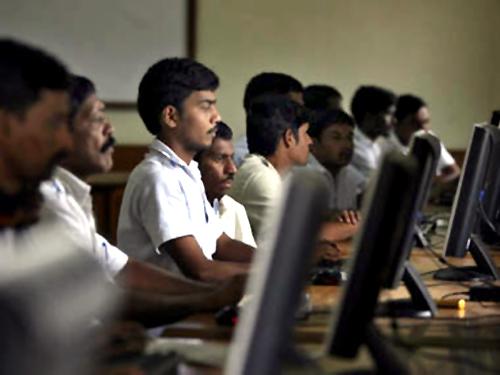 HCL Technologies will train 200 high-school students for a year beginning April and absorb them in entry-level software jobs.
HCL will, through this programme, provide a combination of academic courses for nine months and on-the-job training for three months to 100 students each in its Lucknow and Madurai training campuses. The students will learn application development, software testing, application support, and infrastructure management services.
After completing the course, the students will be awarded a certificate in information technology by SSN College of Engineering. They will also be taken on in various projects of HCL Technologies at a starting salary of Rs 1.8 lakh a year.
"This programme will allow young software engineering aspirants to acquire a certified diploma before being deployed on projects. These students can also pursue BSc courses from the Shiv Nadar University or a university of their choice during weekends," said Srimathi Shivashankar, vice-president, HCL Technologies.
The programme aims to provide opportunities to bright students who do not have access to the right jobs. This will also help the company to create a dedicated workforce. "We are looking at on-boarding young minds," said Shivashankar.
Industry experts said the practice among infotech companies so far had been to recruit students during the final semester of engineering courses. "If HCL is catching them after the school, it may well begin a cultural shift," said Pareekh Jain of HfS Research India.
The Indian infotech industry has witnessed a significant shift from traditional services to digital technologies. Fresh engineering graduates are often found to be inadequately trained to work on emerging technologies. "Early courses by an industry player can solve the problem of inadequately trained freshers in a lot of infotech services firms," said Jain.
Rituparna Chakraborty, co-founder of staffing agency TeamLease, said on-the-job training for software engineers were often valued better than a purely academic exposure. "It is kind of a cosy internship model and catches talent young. The reality is the more time they (engineering students) spend on the job more value they get."
While HCL Technology is a reputed name and can offer the right infrastructure for training, Chakraborty said, the government's involvement in such initiatives through public-private partnership would only add credibility.
Lead image used for representational purposes only. Image: Reuters