Experts say Indian students will have to accept that international space for them is shrinking.
Illustration by Uttam Ghosh/Rediff.com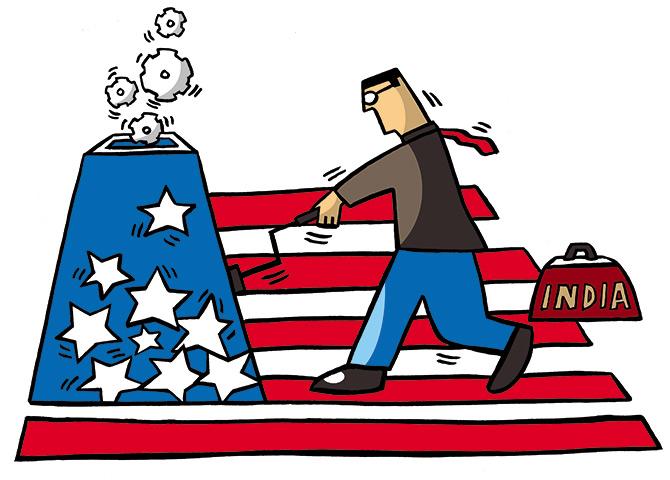 Arundhati Bhardwaj, a final-year student at Delhi University, and her parents didn't know quite what to do after newly elected US President Donald Trump announced his intention of tightening the visa norms and reducing immigration to half.
They'd been saving for three years to send Arundhati to the US, for quality education and eventually settling her there.
Education is the common route many Indians use to settle in foreign countries. Arundhati was no exception. In fact, she represents the 100,000 prospective Indian students who get admitted to various institutes in America every year. Their student visa allows them to stay there for one more year after their course, to find suitable employment.
Trump's administration is planning to cut short this post-study period, making it difficult for foreign students to find a high-paying job. Arundhati has now begun exploring options with the top-notch institutes in India -- where her options are limited and the competition is tough.
"Many Indians also seek admission in the US university for a better lifestyle. Since finding a job would become difficult for them, many might choose to pursue higher education in India," says Ankur Srivastava of RBS Bank, who'd spent considerable time in America before relocating to India.
Experts say Indians seek admissions in US institutes for a variety of reasons. Foremost is the flexibility to choose subjects, undertake research, networking and exposure to multicultural diversity. Those who fail to secure admission there try for colleges in the UK/Europe, Australia and New Zealand. It is estimated that around 100,000 Indians study in countries other than the US.
Changing world
Sunil Kumar Sinha, principal economist with India Ratings & Research, says Indian students will have to face the reality that the international space for them is shrinking with growing anti-globalisation sentiment and slowing of the global economy.
"Brexit (the British vote to leave the European Union) is one example. Indian students need to realise that this migration will not continue for for ever," he adds.
The UK had already curtailed the duration for the foreign students and the EU is expected to walk the same path. Clamour grows within Australia to reduce the flow of immigrants; demand for Indian professionals has been on a continuous decline in Singapore and the Gulf countries. This trend doesn't bode well for the Indian economy, which received $68.9 billion in remittances during 2015, according to a World Bank (WB) report. This exceeded what China got the same year.
The WB used migrant stocks, host country incomes and origin country incomes to calculate the figures. The amount of remittance received also hint at a correlation between Indian students and the country they chose. Of the $68.9 bn, around $35 bn had come from 10 countries -- America, Britian, Australia, Canada, New Zealand, the United Arab Emirates, Germany, Ukraine, Russia and France. These 10 also have the biggest numbers of Indian students.
A reduction in immigration would, then, add more pressure on the Indian economy, witnessing jobless growth for some years.
Sinha said it was early to predict whether the Trump administration would succeed in implementing an immigration ban. However, it is time our students begin considering Indian universities.
But, the students argue, even private institutes in India are no match for those in other countries.
Where to?
Of late, though, some private Indian universities -- Ashoka, Azim Premji -- have emerged as new centres of excellence. Yet, they are only a handful.
Top-notch ones like the Indian Institutes of Management (IIMs) and Indian Institutes of Technology (IITs) have their own limitations. These government-aided establishments may neither accept international students or hire international faculty, due to limited resources and age-old government policies.
The inadequate infrastructure and student-teacher ratio further brings the IITs and IIMs down in international rankings. As for the newly opened IIMs and IITs, they lack both infrastructure and faculty.
Indian students are also faced with the opposition to foreign universities setting up campuses in India. Quite unlike the UAE, where US universities are freely doing so. This leaves Indian students to attend often mediocre private institutes, which have increased their share to 29 per cent in 2015 from three per cent in 2009 because of the demand and supply gap.
"The education sector has tremendous potential to grow, with the huge demand-supply gap. Presently, there is an additional requirement of 200,000 schools, 35,000 colleges, 700 universities, and 40 million seats in vocational training centres," says a report by India Ratings.
The market size of the Indian education sector is expected to reach Rs 7.8 lakh crore this year, from Rs 6.4 lakh crore in 2016.
Experts say the government should bring the requisite reforms in higher education, rather than focusing only on increasing the number of institutes.