"If you want to pursue an MBA in the US/UK, particularly at top schools, you should gather 2-3 years of work experience as a minimum standard.
"Particularly since you already did your BBA, such work experience would significantly help your application.
Sri Akella, director of Dream Seekers Academy shared advice on how to pick the right international course and career.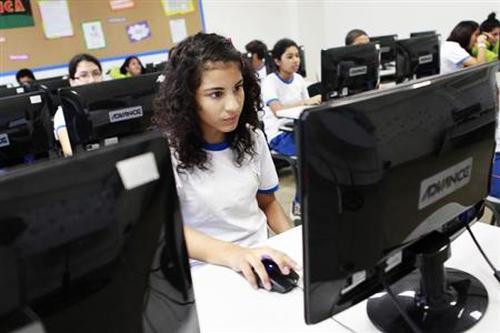 In an online chat with readers on December 9, Sri Akella, director of Dream Seekers Academy discussed opportunities to pursue an international career.
For those who missed the live chat, here's the unedited transcript:
---
Anil Kumar: My son is studying in 8th std. I want to know that which stream is more potential for getting good job.Now most of students are selecting Eng. Stream , then supply is much more than demand. Then what would be most demanded
Sri Akella: Please read my most recent article on Rediff which suggests that we need to focus on what our kids are interested in and then make career choices on that basis. We should not start by identifying which stream makes the most money because if your son hates engineering then it is useless. It's important that you push your son to fully pursue his interests
---
Sapna Karmokar: Hello, I am a media graduate (BMM) from Mumbai university.
I am planning to do Masters degree on media. Please suggest best university/ country to pursue the course, also in terms of less finance and placement after completion of course.How is Vancouver Film School in Canada? Thanks.
Sri Akella: Hi Sapna, it's hard to say which is the best because media is a huge field! I would do some research into the areas that you are interested in and narrow schools on the basis of the factors you noted: education, cost, location, etc.
---
maulik joshi: What are the options to study abroad after SSC. My daughter will appear for SSC this year. Exams in March 2016. She wants to persue education in Aernautical Science or Computer science. Please suggest
Sri Akella: She needs to complete 12th standard.
---
Dinesh Gangrade: Hi, I am Dinesh and my son Himesh wants to study abroad.
He appeared for SAT on 7th November, 2015 and got a total score of 1690. Is there any possibility to get a good college with scholarship? Please guide.Regards
Sri Akella: Hi Dinesh: Himesh needs to improve his score quite dramatically to qualify for a merit scholarship at good universities in the US. There may be a possibility at certain other schools.
---
Firozabad Glass Shell Ind: Hello, my daughter is in 10th standard. She would like to study economics from LSE or any other such reputed university.
Can you suggest me some education counsellor who can guide us. I would like to know how to prepare for this
Sri Akella: Getting into a school like LSE requires constructing an all-around attractive profile that isn't limited to academics.
I encourage you to review my recent article on Rediff in which I discuss the keys to admission to top schools such as LSE and my learnings in coaching students into the top universities.
Unfortunately, I can't refer specific names here.
---
ratu raghu: I have done my MBA finance from Mumbai. Are there any courses for me to do abroad and get a job there? If yes what exams should I give?
Sri Akella: If you want to pursue a career in finance and have already completed your MBA - course options are limited.
You could technically do a masters in a certain area of finance in which you are interested. I would research universities that are well connected with the employers that you are interested in.
---
Anil Durge: Hi I am doing my second year engineering and wants to pursue my MBA from Switzerland. I heard its very good place to study.can you guide me on admission procedure and total expenses for the course.
Sri Akella: Hi Anil you need to do some research into the different schools that interest you. Once you do - you can visit their websites for cost and procedure related information.
---
deepak: Hello, my name is Deepak my son is in commerce stream, studying in 12th. Want to become CA & enrolled for CPT.I do not think he will able to make it.Can u give any other option speifically studying abroad.
Sri Akella: He needs to sit down and analyze what his interests are. Options need to come from the students based on what they want to pursue.
---
Sunil Sharma: My son is appearing in 12th exam, after this I wish him to study in Australia or Canada for management courses. how much this will cost and what are the proces
Sri Akella: Depends on the school you're interested in. Once you've narrowed the choice of schools - each of their websites will give you information on the process and cost for that particular institution.
---
vasudha roy: I am a CSE engineer, did MTech and having 4 years of teaching experience. Now I wanted to PhD from reputed universities of Canada.suggest me about scholarship also.
Sri Akella: McGill, UToronto, UWaterloo are three schools that come to mind. There may be several others.
As far as scholarships - each school is different. Please visit the school's financial aid page.
---
Hiten Shah: Sir, my daughter is in 7th std in a ICSE school...would it be beneficial if I switch her to IGCSE board from next year? I want her to send abroad for studies after 12th..plz suggest
Sri Akella: It may be best depending on the quality of the school you are switching her to.
If the quality of the new school is much better than her current school, the switch may be worth it. The main benefit is that the school prepares students with the idea of sending them abroad in mind.
---
Ramanaji Dadi: Hi, I am Bachelor Degree software professional with 12 years of industrial experience.
I want to pursue PG(MBA) from reputed university in US. Can I go directly and join with any entrance exams like GATE,TOEFL IBT, TOEIC, IELTS. Can you please suggest.
Sri Akella: You need to take the TOEFL and GMAT. Prepare vigorously to maximize your score and chances at a top school admission.
---
MD DAWOOD: School of film media and TV Australia DO IT LOOKS GOOD HOW TO PREPARE FOR ILETS ANY ADVISE
Sri Akella: Find the best local Prep centre and enroll in a course.
---
arthi: hi I need to know about MBA studies at cal Lutheran college , California and its scope after the completion of course
Sri Akella: The school website is the best resource on this particular topic.
---
Nidhi Agarwal: I am a dental student and want to pursue my post graduate studies abroad. Can u guide me on the best possible options ?
Sri Akella: There are great dental schools in the US from the UCs to UPenn. It depends on where you want to be and what you'd like to specialize in
---
Hiya: Sir, what is better according to you, to study abroad once our HSC is completed or to study in abroad after graduation?
Sri Akella: Students seeking undergraduate admission in the US/UK should typically apply during their 12th standard year.
---
Vinit Araj: Hello sir, I am planning to do MS-computer science from Freiburg university, is it a good career choice
Sri Akella: It's a good career choice if you love it and you're good at it.
---
Suneel Bonjani: Hello sir, I am a parent of two kids one is in 4th standard and the other is studying in 6th std, my question to you is whats the difference in these international schools as compared to convent schools?
Sri Akella: I've worked with many students that switch to international schools for 9th and beyond. There is a risk however, that students may have trouble adjusting to a new school and new curriculum at the 9th grade level which is when grades start to count for college admissions.
---
ria dsouza: Hi, sir I am planning to put my son in an international school, he is currently studying in 5th standard but I am worried that changing of school might affect his studies..what should I do please advice
Sri Akella: From a college admissions standpoint - 9th grade onward matters most.
---
Vinay Shukla: Does studying in an international school, increase the chances of getting into good universities in abroad?
Sri Akella: Not necessarily, but I would say that many (I don't have exact percentages) of the top schools accept students from international schools because of the universalized curriculum.
There are generally less questions about the academic integrity of the student when they come from a reputed international school.
---
mayank: Considering doing my post grad in media studies abroad. Financially and career wise, is US, UK or Australia better?
Sri Akella: This is impossible to answer without knowing exactly what speciality in media we are talking about.
Any one of the three can be amazing places to pursue your career -- you just need to spend time defining exactly what you want to do and where you want to be to pursue those goals. Strong research into the different, relevant sectors will give you the knowledge you need to make an informed choice.
---
dananjaypuri: When it comes to racial discrimination, which countries offer good education but less discrimination? I want to specialise in thermodynamics
Sri Akella: Most good schools have little problem with this. I would just try to focus on trying to find and get into the best university that suits your interests
---
vila sales: hi my name is Jayesh. My child wants to career in tourism in abroad..can you help me some suggestion?
Sri Akella: Depends on where he wants to study and pursue his career. I would do some research into the best tourism schools in the regions that he is interested in living and pursuing his career.
---
MD DAWOOD: hi I would like to pursue master in media and communication in Australia Canada united states what is the best university with scholarship i can get do i can get permit to work
Sri Akella: Plenty of universities offer different scholarships for students. I strongly suggest doing some research into the different universities. If you have financial need - you may qualify. If you have great academic merit - you may qualify. It depends on what schools are willing to give you.
---
Nagishetty Balaramayya: My friend's son is doing BE Computer Science in Final year. He want to do MS abroad, where and how he can get admissions for MS, how to select good colleges.
Sri Akella: Hi Nagishetty, thanks for your question. He needs to look into the different programs that interest him and find out what would be best fit on the basis of: academics, geography, finances and other factors. I encourage a very analytical approach to choosing schools.
---
provu: I want to study abroad, can i earn some money there?
Sri Akella: Typically you have options to work on campus for the school/university if you are on a student visa.
---
babi das: Hi, I want my child to do her graduation and post graduation from US/ Oxford/ cambridge but after 16 years. please give and idea as to how much do I have to save for her starting today.
Sri Akella: You can see the websites of the schools to get an understanding of tuition rates. These will likely go up by the time that your child is ready to apply. Top schools are very expensive.
---
Avinash Poojari: Hello Sir, my name is avinash poojari, I wish to pursue masters degree in automotive engineering from UK.
I have already got offers from Leeds and Loughborough university. But as the investment for UK's Masters degree is too high so I wanted to know if there are any scholarships schemes available?
And please guide what should I do?
Sri Akella: You should contact the schools separately to ask about scholarship opportunities and the options to work on campus to help yourself pay for school.
---
adil: How helping is doing an IB in India if I want to send my son abroad for undergraduate? My sister lives in Baltimore. What are the good options there?
Sri Akella: IB is an internationally recognized curriculum. Naturally, the schools prepare students for study abroad. There are several good options in the Baltimore area including Johns Hopkins University.
---
bhanu: My speaking English is ok-ok. I want to study in US. Will it cause problem?
Sri Akella: You probably need to take the TOEFL and improve your English to get into a good University.
---
K Verma: [SKB] Does studying in an international school, increase the chances of getting into good universities in abroad?
Sri Akella: Tough question. In general - the reason why people go to international schools is to study from an internationally recognized curriculum such as IB.
International schools are in the business of getting students to go abroad - so if that is your goal from the very outset - I would recommend looking into it.
---
SRINIWAS T: My daughter is in 9th ICSE, she wants to become medical doctor. Pl guide.T. Srinivas
Sri Akella: Hi Sriniwas Have her pursue her passion for medicine not just in classrooms but in hospitals, clinics, etc.
---
Wherever she can go and whatever she can do in pursuit of that interest in medicine will naturally build her profile. Don't do forced internships or volunteer work for the sake of her resume.
Encourage her to pursue activities outside school to demonstrate her interest in medicine.
---
Meghan Yeragi: Hi, my name is meghan, i want to pursue my career in Journalism and i want to do it from US can you help me with some good universities and the fee structure?
Sri Akella: Hi Meghan Thanks for your question. There are several fantastic schools for journalism in the US! Northwestern, Berkeley, Columbia, USC, UT-Austin - are just some of the names of great schools in this field. As far as fee structure - that varies by University. The school websites are the best resources for your financial planning.
---
rajat: Sir, my son is currently studying in his final year BCom, and he wants to pusue his career in Finance and he wants to do it from spain, can you please suggest me some universities for MBA in Finance.
Sri Akella: Hi Rajat, so, he wants to work in Spain or pursue his education in Spain?
If he only wants to work in Spain - I strongly suggest a European business school. If he is eligible for top schools - I recommend LBS, INSEAD, HBS, SBS, Wharton and the like. These schools are tricky to get into.
---
hardik: Sir I am from Mumbai and I am planning to do my GMAT, sir from where can I get paper patterns for the same?
Sri Akella: Several online resources are available - this is easy to google.
---
jitesh: Sir which is the best university for MS in abroad?
Sri Akella: Hi Jitesh, tough to say which is the best. The first name that comes to mind for me is LBS but that's for business alone and I'm biased because I'm an alum! But seriously, it completely depends on what you're interested in.
---
Mahima Das: Hi Sri, I have done my BBA and want to pursue Post Graduation Diploma in business from Australia, can you please help me with the admission procedure and the application process?
Sri Akella: Hi Mahima if you want to pursue an MBA in the US/UK, particularly at top schools, you should gather 2-3 years of work experience as a minimum standard.
Particularly since you already did your BBA, such work experience would significantly help your application.
---
Lead image used for representational purposes only. Image: Enrique Castro-Mendivil/Reuters