On World Writers Day, March 3, Sudha Murty, one of India's most popular authors and the chairperson of Infosys Foundation, shares her writing tips with Savera R Someshwar/Rediff.com.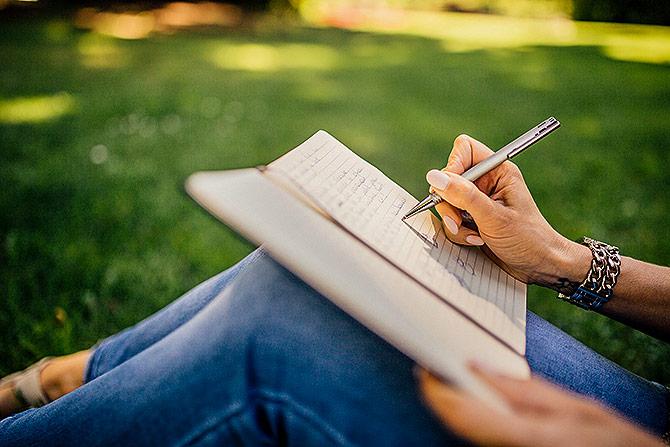 Her publishers, Penguin India, call her India's best selling female author.
Though she writes in English and Kannada, the language she was initially educated in, her books have been translated into all major Indian languages.
She has been honoured, among other things, with the Padma Shri and the R K Narayan award for literature.
Here are her tips for writers.
Read! Read! Read!
If some one wants to be a writer, says Sudha Murty, one of India's most prolific writers, "they should read a lot. It is a necessary condition."
Murty herself makes it a point to read 100-200 pages everyday; and she reads everything from newspapers to literary tomes.
It was a habit that was inculcated in her as a child. "Well, I came from a small village where there was no electricity," she says. "We started our work by sunrise and slept by sunset. The only entertainment for us was reading."
But the reading, she says, was not limited to "the Mahabharata and the Bhagvata. There was a small library in the village and I finished all the books."
Read in the language you are comfortable in
Murty started reading in Kannada. "I did my SSC in the Kannada medium and transferred to English in college. My initially, my reading was only in Kannada, my mother tongue, and I am very proud about this. I read the greatest (Kannada classics) when I was very, very young."
Later, she started reading in English.
"I prefer UK writers to American writers. It's a very subjective opinion, but I find their way of expression is better than that of American writers. (Click here to find out what Sudha Murty is reading these days)
"I really enjoy English writers a lot. I like Jerome K Jerome; he has a very unusual style of writing.
"Of course I read all of Shakespeare and a lot of history books of England."
What other authors can teach you
"The authors showed me how to hold a reader intact.
"For every book that I cannot put down," says Murty "I always see what is it makes me keep on reading.
"Is it the language?
"Is it structure?
"Is it great vocabulary?
"Is it the technique of writing?
"Or is it the mere story?"
Murty makes it a point to analyse each story.
"I learn from different authors how to take the path forward. Every writer has their own technique and I learn that from them.
"Learning technique is on-going process. It is not something that comes suddenly."
Get into the skin of the character
"You must be sensitive. If you are not sensitive," says Murty, "it does not matter what you read." It will not help, she says.
"If somebody is crying, what led to the tears? What is going on in his mind?"
Understanding people, she says, comes with its own advantages.
"The advantage is that, when you get into the character, you become that character. Then, you can write beautifully about that character."
"You also know how to get out of the character. You cannot live in the same character forever. It is not practical and it is not correct because you have to create something else.
"It is like a movie or a drama. Get into your character, do your job and get out. In any deep rooted novel, it will take some time for this to happen."
Observe!
"Your imagination and your observation" are important tools for a writer, says Murty.
"A writer must be like a sponge. I absorb everything from different parts of life."
Murty believes her role as the chairperson of the Infosys Foundation has made her a better writer.
"Because of my work, I can write better. Because of my work, I am sensitive to people's difficulties, their reactions."
Find your routine
The Infosys Foundation, and its demands on her time, says Murty, is her priority. "I write because it gives me joy."
In order to find time to write, she gets up at 4 am and writes till 7 am. Then, she leaves for work. "I love to go for a walk in the morning. While walking, I think of what I am writing about."
A novel takes her about three years, she says. "The characters have to mature in my mind. You have to weave one thread of imagination with one thread of reality such that the reader will never know which thread is reality and which thread is imagination."
The writing process
"I don't write in bits and pieces," says Murty. "Until it is completely right in my mind, I do not sit at my desk.
"Writing is a lonely job and demands a high level of concentration. I don't even feel like eating when I write; I will not be able to hear even when I am writing.
"The process differs from writer to writer.
"When it comes to stories, I think about it whether it is right or wrong. It takes time for me to create fiction.
"When it comes to non-fiction it takes less time, because I am not a narrator there; I am the creator.
"When I write for children, I have to become 8-10 years old.
"When a book is over, I feel complete inside; there is a great tranquillity in my mind, a sense of satisfaction.

"When I write in English, I sit at the computer because there is a spellchecker, delete, copy and paste… all those options. But when I write in Kannada, I use a paper and pen and write in shorthand because my thoughts flow that quickly. Then, I rewrite it myself.
"Whenever I share my emotional knowledge, I have to write in Kannada.
Writing for children
Writing for children requires a different thought process, says Murty.
"To some extent, I try to be their age because, through their eyes, the world is so different. (Do read: We are not an equal society)
"We don't appreciate anything. They are so happy when they get a new balloon."
"I want to tell my story possible through their eyes."
She also believes that stories for children should not be preachy.
"If a story has too many morals, they don't like it. They feel like they are being forced to attend a moral science class at home too."
"The lesson you are trying to share with them should be hidden in the story."
Murty gives the example of a funny story she wrote about a story about a girl who could never remember her chores (Five Spoon of Salt from Grandma's Bag Of Stories). She wanted to take her mother's famous sambhar for the school picnic.
The mother, who had to step out, left the sambhar boiling and asked her daughter to add a spoon of salt later.
For once, the girl remembered.
But, thinking she would forget, four other family members had also added salt to the sambhar.
"You can imagine," laughs Murty heartily as she confessed this is a story from her own life, "how that sambhar must have tasted. And the children, even as they laugh when they read this story, realise the importance of responsibility."
Lead image used for representational purposes only. Image: Kind courtesy StockSnap/Pixabay