Internet of Things (IoT), machine learning (ML) and artificial intelligence (AI) will dominate the jobs market in the next four years.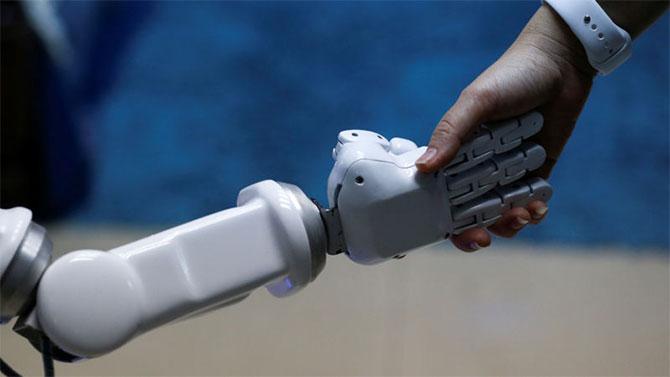 An IT or computer engineering student who starts college this year will graduate into a radically different job market in four years.
Up to 20 per cent jobs that they will be applying for do not exist and 65 per cent of the existing roles would have changed radically by 2022, says a report titled 'Future of Jobs in India: A 2022 Perspective' conducted by (a leading consulting firm) EY (Ernst and Young), and commissioned by industry bodies FICCI and Nasscom.
Internet of Things (IoT), machine learning (ML) and artificial intelligence (AI) ranked as the top technological trends that would drive business for IT organisations in advanced markets, according to 97 per cent of the survey respondents.
This was closely followed by big data and cloud and robotics/automation at 90 per cent underlining the fact that the sector is being driven by the three As -- automation, analytics and AI.
"AI and machine learning will be integrated into the enterprise-software systems that form the heart of most organisational IT infrastructures. We can only guess at the level of automation that will result, but the impact on business -- and society -- will be significant," said Neeraj Athalye, SAP Leonardo India head.
The report recommends the government to bring about large reforms in general, technical and vocational education systems and create a fund to promote joint technology or business model proposals between industry and academia.
Deloitte's 50 fastest growing technology companies in 2017 have seen massive growth from analytics and robotic sectors.
"Whilst the overall technology sectors are witnessing global changes and disruptions, both on the technology developments and also regulatory impacts we continue to be positive about capabilities and eminence of technology businesses in India," said Rajiv Sundar, partner and program director-Technology Fast50 India 2017, Deloitte India.
"The growing opportunities in the digital technology arena including government initiatives like Digital India will add jobs in digital technologies, AI, user interface and robotics.
"In fact, AI alone will create 2.3 million jobs globally by 2020," said Alka Dhingra, general manager, IT staffing, TeamLease Services.
Some that are expected to hire are mobile manufacturing, fintech and start-ups.
Lead image used for representational purposes only. Image: Athit Perawongmetha/Reuters