'About 8,000 to 10,000 students clear the CA finals across India, but only 10 to 15 per cent of them are able to find a job on merit.'
'A fresh IIM graduate earns about Rs 20 lakhs per annum, but a CA professional struggles to get an internship or a full time job without reference or recommendation.'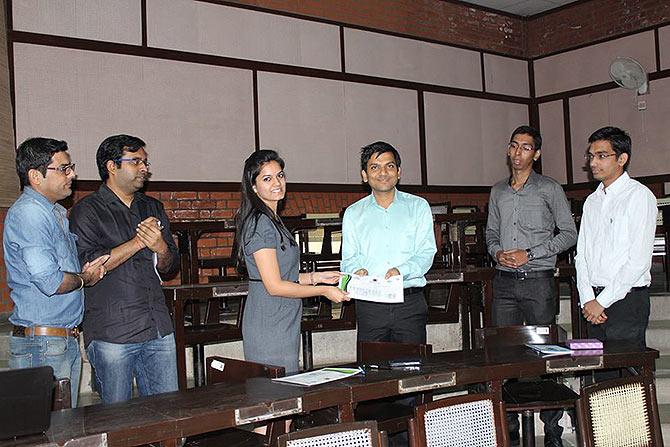 Anurag Singhal, founder of cajobportal, a job site that caters exclusively to CAs and commerce graduates, tells us how he aims to skill and enable satisfactory employment to aspiring professionals.
In August 2013, Anurag Singhal -- fourth from left, above, receives a prize for 'Czars of online bazaar' -- a Kolkata-based chartered accountant started the blog cajobportal.com to help fellow professionals receive updates about job openings for CA roles.
Soon, he started receiving requests from friends and strangers to help him connect with prospective recruiters.
Singhal realised that there was a growing need for a portal that catered exclusively to CA professionals and commerce graduates in the country.
Having completed his executive MBA from the Indian Institute of Management-Ahmedabad, he is committed to finding employment opportunities and in future, also start training and certification programmes for commerce graduates to make them job-ready.
The 30 year old, whose team of 5 includes his wife Sonia Singhal and sister Nitika Agarwal (based in Mumbai) -- both CA professionals -- talks about the challenges, the lessons he has learned, his future plan and gives tips for young professionals.
Inspiration
After completing my CA from the Institute of Chartered Accountants of India in 2007 with an all India rank of 22 in the CA final and an all India rank of 25 in CA Inter, I worked with Deloitte, ITC and Tata Steel. During this time, I realised that getting a job was not easy for CA professionals.
Every year, about 8,000 to 10,000 students clear the CA finals across India, but only 10 to 15 per cent are able to find a job on merit, immediately after they clear the exams.
There is no proper system of recruitment -- there are no agencies that understand the needs and cater exclusively to finance professionals.
Most CAs are unable to find placement on their own, and seek help from friends, family and request recommendation from experienced professionals to even find an articleship (internship ahead of completing the final exam).
After months of trying, even if they manage to get a part time or full time job, the remuneration is way below industry standards.
I did a lot of research and realised that there is a market for mentoring, training and enabling employment to finance professionals.
All this inspired me to start the blog cajobportal.com exclusively for CAs and finance graduates in August 2013.
Through the blog, I would compile and post job requirements from various sites and help connect interested candidates from across the country. I was not making any money and it was something I did just to help my peers.
In April 2014, I joined the IIM-A to pursue an executive post graduate programme.
In August 2014, I was encouraged by the IIM faculty and senior CA professionals to convert my blog into a full fledged career site.
Naukri.com co-founder and former COO V N Saroja, also an IIM-A alumnus, agreed to be a board member, which really inspired me to get going.
The revenue model
We have different verticals -- CA internships, full-time jobs and commerce graduates.
Nearly 20,000 plus registered users have sent in their details and can access the posts and job requirements online.
We are currently having a CTC order booking of Rs 5 crore plus from companies across the globe.
We do not charge the candidates -- we refer them to the companies we are tied up with and if they get selected, we charge a commission from the employer based on the annual remuneration.
In the last four months, we have successfully closed several positions for companies including Tata Consulting Services, Hindustan Lever, Airtel and the Tolaram Group in Nigeria.
Right now, we are getting more offers from start-ups, more from the FMCG sector that have received first and second round of funding and are ready to hire.
Our subscribers are primarily from the north, east and western states of the country.
Success story
Whenever I talk to a company head or recruitment expert, they tell me how they fail to get the right candidate because there is no established network for CA professionals.
Companies like Bajaj, TCS and HUL are stunned when they see the profiles we send them.
'We have been trying for months. How did you manage to send us these profiles within days?' they tell me.
Unlike conventional recruiters who are interested in just three questions -- current salary, expected salary and notice period, our team of CAs invest time in proof reading and understanding the candidates who approach us.
We scan and categorise CVs based on skills and interests and try and send only those profiles that meet the requirement.
On receiving mandates, we have a process to capture 'lead' and 'lag' indicators about the candidate performance potential -- essentially, the merits and drawbacks.
Since we are a team of CAs, we understand each and every line in the job description and the candidate's profile, which adds value when we communicate with the job seeker and employer.
For example, if the mandate is on a position centred around IFRS (the International Financial Report Standards), our team members can quiz the candidate on his/her skill sets and ask about say, hedge accounting or derivatives instead of just asking what their current CTC is.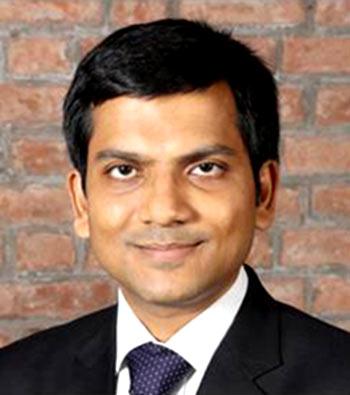 On an average, out of 6 profiles of candidates we send, four of them get shortlisted and one or two are selected. So our conversion rates have been good.
The challenges
A good majority of CA professionals are frustrated because of the secondary treatment meted out to them.
A fresh IIM graduate earns about Rs 20 lakhs per annum, but a CA professional struggles to get an internship or a full time job without reference or recommendation.
To top that, most CA and CS (Company Secretary) professionals are overworked and underpaid.
A fresher would get an offer of Rs 3 lakhs to Rs 4 lakhs against Rs 5 lakhs to Rs 6 lakhs while an experienced professional cannot bargain for more than Rs 8 lakhs per annum, which is way below his/her calibre. We want to change that and get them the best deal they can.
For a placement start-up like ours which has no funding, the greatest challenge is when recruiters don't acknowledge your efforts.
Sometimes, we are told that the company has already received the profile of the candidate we referred -- either through some other job site or through referral.
There is no way one can find out.
Even today, several recruiters find the traditional method of recruiting through referrals convenient because the hiring cost is low, there is no commission involved.
They do not value the quality and efficiency of candidates we bring to the table.
Future plans
We would like to start e-learning certification programmes for job ready skills like accounting, taxation, financial management, costing, essential communication skills to name a few.
We intend to tie up with financial organisations or institutes to enable these courses and prescribe a standard curriculum that will add value to their CA, CS or commerce degree when they are applying for a job.
We are also planning two more verticals -- jobs for retired personnel and work from home options for female CA professionals and housewives with finance background.
A lot of professionals who are working abroad -- in Africa, Indonesia and Dubai -- now want to return to India to their families. I am trying to help them as well.
Some more interviews are scheduled and as soon as we receive our first round of funding, I will hire an expert to develop the Web site interface professionally and make it more user-friendly.
We also need to invest in marketing and promotional activities.
We want to reach out to more candidates and recruiters from across the country.
Tips for professionals
Explore all options available and make an informed choice about your career.
Even if you're a commerce graduate, don't be just another accountant and be happy about it. Take risks and new responsibilities beyond your current expertise and comfort zone. Try out options like investment banking, risk analysis etc.
When you appear for an interview, be confident about your skills and bargain for a realistic career offer.
Build your profile and update your skills to meet the latest demands of the industry.
Networking is very important for your career -- connect with your peers, seniors and fellow professionals. If possible, find a mentor who can guide you.
An MBA degree from the right institute will help you advance further in your career.
Tips for entrepreneurs
Being an entrepreneur is tough. Be prepared mentally and financially.
If you do not have the support of your family, your struggle will double.
Chalk out a funding plan (consultant roles, part time projects, freelancing options) that will help you survive until your start-up starts making profits.
Have a robust topline -- try and get experienced members on your advisory board.
Believe in your start-up.