Create a LinkedIn account. Tailor your resume. Having strong references will definitely work for you.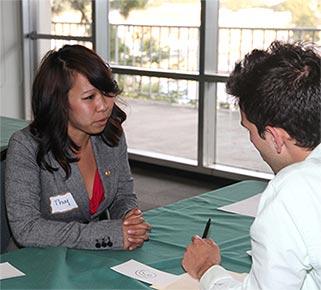 The Fall is considered the busiest hiring season of them all.
After summer holidays, all companies come back with full power and with the mission to end the year achieving their yearly goals. And to make it happen, they are very likely to realise that they need extra power in the form of new staff, creating several job opportunities.
So, if you are looking for a job, it has come the time that you can miss.
It is time to get ready so you can get prepare to find the job of your dreams.
#1. Tailor your resume
With an increased number of options showing up for a shorter period, it is easy to feel overwhelmed and decide to send the very same resume to everyone.
However, it is the worst course of action that you could take, and you should know it.
If you really want to get a job, you need to tailor your resume to that job in particular.
Otherwise, you are saying to them that their company is just like the others and that you are so desperate that you could take any position available.
As you can see, you are sending the wrong message.
Plus, there is no way that you can tell me that you are suitable for all those positions available.
They are also looking for a perfect match, and you can hardly be the one to every single company in the market. So take your time and check to which jobs you really should apply and prepare your resume to each one of them.
#2. Create an online resume
Everybody will send a resume, but you can do better than that: you can also add the URL to your online resume.
It just takes a couple of hours to get it done, and it will make a big difference to you, as the format can be more flexible, giving you space to show your creativity.
And you don't have to spend tonnes of money on it. You can use Wix to create your own page for free, and it also has templates for online CVs, so you don't even need to worry about the design.
Just create a killer content, so you can wow your future employer.
#3. Brush up your LinkedIn
A LinkedIn profile has become mandatory for many professionals looking for a job -- and a valuable optional resource for the others.
Even if you aren't applying for jobs directly there, it is possible that the human resources officer will have a look at your social media account to get a few more information about you.
It is crucial that you brush up your LinkedIn so it can look at its best.
Your summary should tell them how passionate you are about your work, and all skills, work experiences, references you have to add to your CV
#4. Publish some articles or posts
Another way to stand out from the crowd is by publishing some articles or posts online.
They have to be published in reliable websites or blogs, and they have to be about a topic related to your industry. And they need to be well-written and researched, of course.
If your articles comply with these three requirements, it will add value to your job application, as you will be seen as someone who has something important to say about your industry – even as an expert, depending on how well you work on it.
#5. Add great references
References are something that you really need to have if you want to make a difference -- and they can be quite mandatory depending on the industry.
So stop for a while to think whom you can ask for a reference and do it -- this is not a moment to be shy.
It can be a former employer, a professor, a guru in your industry. Anyone that can say that how good you are and with a strong reputation is a good option for you. And all that you need to do is to get their contact details and add them to your resume.
#6. Prepare the perfect cover letter
The perfect cover letter is something that you will have to learn how to write if you want to get the job of your dreams.
It is there that you can shine and let your future employer know how much you love what you do, and how much you want that job -- and good will be for them to contract you.
So make sure that you show your passion on your cover letter with no fear. However, if you are unsure about how to do it, then just look for a resume service to help you on writing it.
There are several companies and professionals specialised in this type of support, and you can't go wrong with any of them.
#7. Deliver your CV the right way
However, above all, the last step is as important as the first one. You should always make sure that you deliver your CV the right way.
It sounds obvious, but many candidates fail on it and miss the job opportunities of their lives for it. They send the resume to the wrong e-mail address or leave it in person when it should be uploaded online.
So make sure that you read the instructions carefully so that your resume will get on the hands of the right person through the correct channel.
As you can imagine, if you make a mistake here, you will be sending a message that you aren't able to accomplish even a simple task like this -- imagine when the company gives you a real challenge.
#8. Wrapping it up
Yes, it is time to get a job! The busy hiring season is here, so let's get to work and prepare a tailored resume for every job you want to apply followed by a perfect cover letter.
Show them that you are up-to-date to what is trending on the web by creating an online website, posting articles, and brushing up your LinkedIn profile.
Add some references to it, and make sure that you deliver your CV as it should be.
This way you will be increasing your chances to grab the attention of the company of your dreams and be hired over the next months. Best of luck!
Image used for representational purposes only. Image: bpsusf/Flickr/Creative Commons