Don't take work-related calls propped up in your bed!
Punctuality, commitment and a strong work ethic continue to remain important for success, regardless of your physical place of work, suggests Shital Kakkar Mehta.
As companies grapple with ways to navigate the current COVID-19 crisis, one of the biggest game-changers has been the number of professionals who are working from home.
In the past few days, corporations in India have been experimenting with different formats -- some companies have quickly moved to work from home while others are recommending certain days of the week only.
Whatever the format, working from home can pose several challenges as it requires working without supervision and the presence of your colleagues.
Also, it requires oodles of self-discipline and can be a tough juggling act between your personal and professional life.
Focus on the following points to enhance your productivity as you continue to continue to convey a strong executive presence to stakeholders across the globe.
1. Infrastructure investments
While work spaces get automatically defined at the office, it takes planning to demarcate them at home.
Invest in high-speed WiFi, sound-cancelling headphones and a high-definition camera for video-conferencing.
While it's tempting, don't take work-related calls propped up in your bed!
A well-supported body in an ergonomically-designed chair suffers less stress, ensuring a better functioning mind.
2. Response time
Stick with your work-schedules and deadlines.
Remain accessible to your clients and teams, ensuring the response time for phone calls/ e-mails/ text messages remains the same, regardless of where you are working from.
3. Inculcate self-discipline
Seamless transition from office to home-office will ensure both productivity and profit.
Define your work hours -- your inability to do so will have you exhausted as your work over the weekends, stay up late or wake up early to meet deadlines, blurring professional and personal boundaries.
4. Convey professionalism using technology
As face-to-face meetings get compromised, your verbal and vocal presence has to be stronger to create impact.
Speak with energy and enthusiasm when communicating with all stakeholders.
Punctuality, commitment and a strong work ethic continue to remain important for success, regardless of your physical place of work.
5. Network using technology
Office-goers enjoy hidden benefits like coffee with colleagues, water-cooler gossip sessions and client meetings.
On the other hand, telecommuters get isolated from all these interactions.
Fill this void by scheduling e-meetings with colleagues, investors and clients (current and potential).
Go through your LinkedIn contacts, make a list of contacts you have lost touch with and send them an e-mail requesting for a brief chat.
Use your spare time to update you online presence and connect with new business contacts/ potential customers.
6. Update knowledge resources
Stay calm and stay away from social media; resist the urge to share hourly updates on the corona virus.
Instead use your time to read relevant newspapers, watch business channels, listen to podcasts or watch TEDx talks on your favourite topics.
Invest in your personal brand by enrolling in online courses.
7. Stay fit, stay motivated
As cubicles don't come fitted with stocked refrigerators, your meal timings get automatically defined.
On the other hand, home tempts you with an extra cookie/ leftover pizza slice.
Also, psychologists have proven that shabby dressing and poor grooming hampers productivity -- wear business casual attire.
To make a better connect, schedule video-conferencing/ Skype calls over teleconferencing. Stay safe!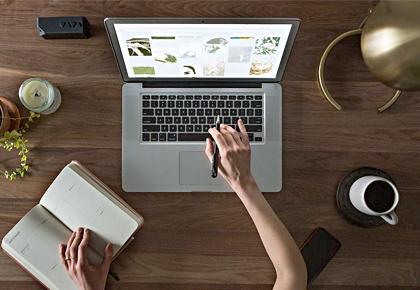 ---
Shital Kakkar Mehra is executive presence coach and trains professionals in business etiquette and communication skills. Author of the books Business Etiquette and Business Netiquette, she is also co-founder of the non-government organisation Katalyst. She can be contacted on ga@rediff.co.in.
---