It is important to know your rights as a female employee.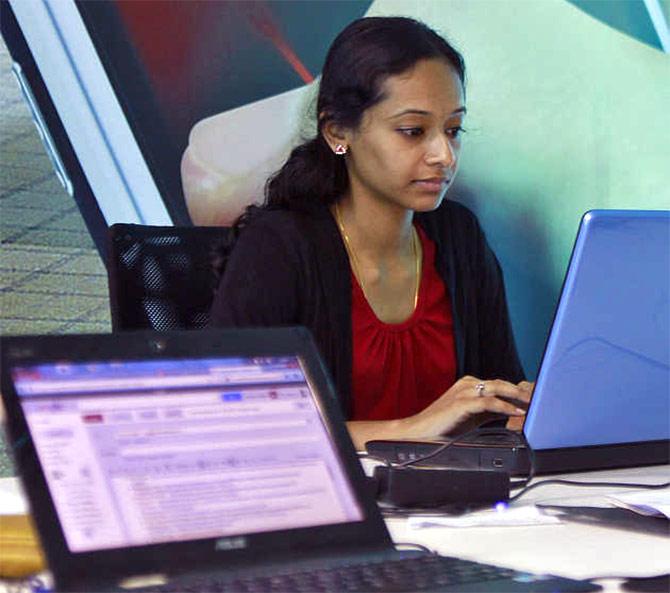 Work from home', 'off-site consultant', 'flexi working mode' -- new age role definitions crossing the boundaries of workspace and giving employees a more flexible environment to work in.
The concept of flexible work hours, part time work, and work from home seem to be the latest trend in the workspace evolution.
Entities such as SHEROES, FlexiCareers India dedicatedly strive to bring more and more qualified women in the flexi workspace environment.
To be able to have a flexible work set-up despite personal commitments towards family and kids will also increase the number of women in the Indian workforce.
This post is for all those women who are deciding to either work from home, or have a flexible work schedule, for organisations who engage people in work from home arrangements, and also for full-time employees who for some reason are working from home for a prolonged period of time.
This post is part of the never-ending effort that ensures women are aware of their rights with respect to workspace and do not become an ignorant victim of sexual harassment despite having laws that exist for their personal and professional well-being.
First thing that you as a woman need to know is that no matter where you go -- be it shopping mall, cinema hall, restaurant, office/home, college/school, hotels -- you are covered under the protection of Sexual Harassment Act of 2013.
This law and its guidelines require any workspace to have policies and mechanisms in place to ensure the safety of women employees, clients, customers, visitors from any form of sexual harassment in the premises. For those who are yet to discover the basics of this law may read this SHEbook that simplifies them for your benefit.
Know your rights as a part-time/full-time employee, in connection with sexual harassment and gender diversity.
1. Remember that you are part of a company
It does not matter whether you work from home/office or a cafe. Your employer is required to inform you about their policy and compliance on Sexual Harassment Laws.
As per the guidelines, this should be included in your employment agreement/contract and acknowledged by you.
Every time you join a company, check this first. These laws exist for your safety.
If the company you are part of has not implemented all the guidelines provided by the law, they are non-compliant. While non-compliance is merely a legal issue, the deeper issues reflect in an organisation's attitude towards providing a safe and healthy working environment for their women employees.
Sexual harassment is not something which is limited to physical availability of two individuals. It may happen over the phone, e-mails, messages, and any other form of virtual interaction. It may also happen in the official workspace, office parties, official events, outstation get together, or any place where you were present due to a work-related requirement.
In addition to this, I recommend that you ask for their code of conduct and obtain a confirmation that it is applicable to you.
There should be a mechanism created by your organisation to inform you of updates (as and when they are applicable) and enable you to participate in trainings, surveys, or any other exercises on an ongoing basis.

2. Know your rights under the sexual harassment law
This law is introduced for your safety and well-being at workspace.
While majority of us do not want to bother ourselves with knowledge of law as it is generally seen as a lawyers job; knowing your rights beforehand will save you a lot of trouble for preventive as well as responsive measures.
For example, you must know the duties of your employer under this law and the role and responsibilities of the Internal Complaints Committee (ICC) members. You must also be aware of certain procedural elements which can affect the validity of your complaint.
You should know that you can file a complaint within 90 days of the occurrence of an incident. You can file a complaint even after you have left the company as long as it is done within 90 days.
It is also important for you to know that the ICC and the management are legally bound to ensure confidentiality on your matter and all processes concerned with it.
You have the right to professional counselling during and after the incident and its investigation.
You are entitled to know the details of the proceedings and investigation under the complaint made by you. The ICC has 90 days to complete the inquiry and submit the report to the management within 10 days of its completion.
Similarly, there are a lot of other important facets to this law and as long as you are associated with an organisation, even working from home, you MUST know about them.
If you as a woman want to not only simply know about these laws but would want to get involved in creating awareness and working with organisations to implement the sexual harassment laws, join in. National University of Juridical Sciences, Kolkata, a premier law school in India, has launched a three-month executive online certificate course on Workplace Diversity and Sexual Harassment
Prevention to equip you with the knowledge and skills required to become an expert on these issues. If after reading this write up you realise that your organisation is not compliant with this law, guide them to portals like CloudTrain to make the compliance process easy for them.
These are your rights, and if you do not bother to know about them then no one is going to come and do it for you.
Take charge and use these laws wisely. Educate yourself and then the world around you so no one ends up missing them -- not even YOU.

3. You are entitled to a sensitisation session
Your organisation needs to conduct sensitisation sessions to educate all the employees about the existence of this law, organisations policy towards sexual harassment and members of the ICC with their respective details.
These sensitisation sessions are part of the legal guidelines and should cover full time, part time, contractual, third party vendors. These sessions can be done in offline or online mode.
Ensure you read applicable policies carefully and attend any such trainings. Make sure you clarify any doubts in connection exclusive with the law, policy of the company, or the trainings.

4. Find out the ICC of the company you are working for
Usually, this information will be made available as part of the notices required to be displayed in the premises of different work areas. However, for you as a flexi-worker, this information should either be shared over email or visibly accessible on the company's official website.
Having this information about the ICC (Information Control Corporation) provides you with direct access to the dedicated individuals looking into preventing, barring, and redressing issues of sexual harassment at workspace.

5. Understand the scope and definition of sexual harassment defined by this law
As I said earlier, do not for once mistake that because you will not be dealing with colleagues in the physical space of office, you need not worry about getting sexually harassed. For this you must know what acts may constitute as sexual harassment under this law:
Unwelcome physical contact and advances.
Showing pornography, making sexually colored remarks.
Any unwelcome physical verbal or non-verbal conduct of sexual nature.
Creating a hostile work environment.
Asking for sexual favours.
Be aware of these incidents and experiences and bring it to the notice of the ICC members at the very first instance.
Take note that incidents and complaints of sexual harassment are to be dealt by only ICC and HR does not have any role to play in this.
If your organisation does not have an ICC, you have the right to demand them to constitute one.

6. Organise legal training sessions
If you are part of the ICC, make sure to organise training sessions/capacity building programmes to educate yourself and the rest of the ICC members on the legal, procedural, and behavioural elements of this law.
These elements are critical in order for you to conduct your responsibilities in the most optimum manner.
With ICC having the powers same as a Civil Court, this law puts very high level of authority and decision-making powers in the hands of ICC members.
This is the main reason why training for ICC members is one of the mandatory guideline of this law.
Many organisations are currently struggling with the training of ICC members due to the lack of qualified people to deliver these trainings.
As it requires a person to have an in-depth understanding of organisational dynamics and legal/procedural knowledge of this law, it is difficult to find a cost-effective solution for both sensitisation and training activities.
It is rare that a single individual will be able to provide training on not only legal, behavioral or procedural aspects, but all three as a composite training programme. However difficult it may be to organise these sessions, take them up as a priority.
Even within the organisation, have a general sense of understanding whether ICC training is being taken up with diligence. The quality of ICC training and external member will define the activities and their impact on the status of the organisation.
This is applicable not only on the implementation of the guidelines prescribed under this law, but also going a step further and making this an effective initiative to establish the foundations of a safe workplace.
How to extending your role and taking responsibility in the implementation of this law
Here are some actions you can keep taking periodically:
Keep an eye on the surroundings in the organisations that you are part of, and the workplaces you visit as part of your personal or professional engagements. Look for visible notices, especially information about the ICC members and existence of policy on sexual harassment activities. Politely ask for it if you do not see any notices.
Attend all the seminars, talks, training sessions organised on these topics. Your involvement and contribution is critical to bring about discussions on some very important elements of male-female interactions in workspace.
If your organisation has not implemented the guidelines mentioned under the Sexual Harassment at Workplace Act of 2013, educate them. You may share the SHEbook with them and guide them on the elements and importance of this law.
For any questions, clarifications with respect to this law, your rights under this law and how you can play an active role in this, you may write to me directly or connect with me on Twitter (external link).
Lead image used for representational purposes only. Image: Sivaram V/Reuters
Click here for our complete Women's Day coverage