Find out what are the other things you are good at that will pay the bills.
Be curious about the opportunities out there and take initiative, advises Tamannah Mishra.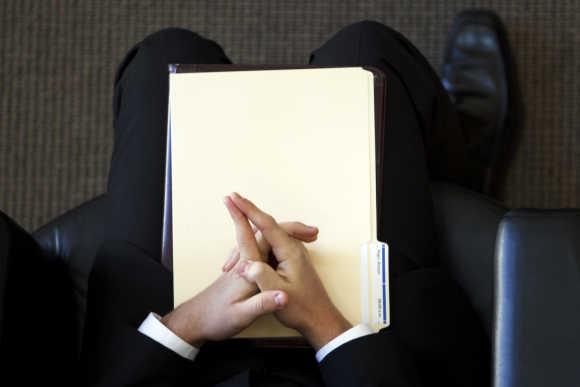 IMAGE: Be realistic, practical about your passion and expectations from the job.
Photograph:

Patrick T Fallon/Reuters
A decade ago, I, a fresh 23-year-old engineering graduate, stepped into the big bad world of "doing the things you don't have an option not to", the only thing I knew with absolute certainty was that I needed to love what I did.
I don't mean the all consuming, waking-up-in-a-new-city, thrilling, crazy love.
I mean the easy, everyday love without which, I wasn't sure it was even possible to get in to office each morning.
I mean the kind of relationship that lets you breathe, lets you explore, but most importantly, the one where trade-offs and slow days seem more like law of nature, not a claustrophobic attack on your sensibilities.
Yes, I am pretty much all heart when it comes to work. You probably aren't. But if you spend hours thinking or talking about how much you hate your job (or your boss, which happens more frequently in my experience), maybe, just maybe you haven't opened yourself up to a whole other side of employment.
One that can actually make you happy, puts in a spring in your step, the one in which in you willingly shut down Facebook at work and get on with the job at hand.
Almost all of us have personal commitments, EMIs and lifestyle aspirations.
So "finding a job you love" sometimes comes across as an empty advice.
I disagree because there is a way to live well and enjoy your work.
As (American author) Mark Manson puts it succinctly in this piece about trade-offs, the most important question is what pain do you want. As soon as you have this clarity, most of life's decisions become easier.
So, how can you find the job you love?
1. When it is not working out, spend your energy on finding out what will
I don't believe in giving in to your passion and not make enough money to pay your bills. But don't fall in the weekly cycle of hating your job on weekdays and complaining incessantly about it over weekend indulgences.
Focus on what is not working, whether you can resolve it and if not, what is it that you want out of your job and where you will find it.
What is that one thing you know with clarity that will make you go to work each morning without feeling sorry for yourself?
Find out and act on it.
2. Be curious beyond degrees
Just because you got yourself a degree does not mean you now have a lifetime contract to do it.
Most of the wordsmiths around us, from the funniest stand-up comics to lyricists beyond compare were engineers in another lifetime.
These creative people could have spent a lifetime behind a desk, but instead they pursued their interest and came out strong.
If your heart lies in writing code, there is nothing quite like it.
But if it doesn't, you don't have a lifetime contract with your employer.
Find out what are the other things you are good at that will pay the bills, be curious about the opportunities out there, and take initiative.
It is a talent-first economy and if your real talents lie outside your immediate, most comfortable zone, send that job application already!
3. Never sell yourself short
If you are looking to switch industries or find a job that satisfies your creative itch with no relevant experience but a lot of enthusiasm, recruitment consultancies may not be your best bet.
What has worked for me, in multiple markets and industries, is a brave, heartfelt email to management that spells out just how my experience is relevant and why they need someone like me.
Don't sell yourself short because you are the only one who knows with absolute certainty and clarity why you are fit for the job you are applying to. And the effort is well worth it.
4. Most of all, be pragmatic
After switching industries and employment modes twice, I can tell you that in the end most jobs are just jobs on most days.
It is impractical to expect that switching industries will mean endless creative satisfaction, 100 per cent travel without any of the exhaustion or no boring days.
Before you take the plunge, it is important to know that some things don't change and some challenges are actually bigger than boredom.
Neither is it practical advice to gloat about pursuing your passion, if it is not, at the very least, paying the bills in the face of monetary commitments.
Most importantly, it is important to know with complete clarity that whatever talent or passion you are taking the risk or making the switch for actually exists, and that you will have the discipline to get better because good, professional set-ups will demand delivery and excellence eventually.
Enthusiasm and passion can only take you so far.
Are you ready to take the plunge into the wonderful world of loving what you do? Because the world will be ready as soon as you are.