If there are less people in the interview room than expected and your time is cut short, be warned that you are not getting the job.
Illustration by Uttam Ghosh/Rediff.com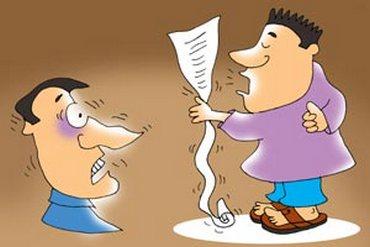 The Indian job market has seen several ups and downs over the past couple of years owing to changing dynamics and recruitment practices across multifarious industries.
According to a report published by Singapore-based recruitment firm Michael Page, over 80 per cent of employers surveyed agree that hiring activity in the country will shift between steady and strong over the next couple of months in 2017.
While the employment scenario certainly looks promising, it is important to consider the candidate's potential as well.
Although many individuals have begun to invest time in building their skills and have scored some interviews with recruiters, there are certain things that can still make them lose a prospective job, despite being qualified for it.
If you have bagged a job interview, these signs will help determine if the recruiter will hire you or not:

1. Short interviews
Job interviews serve as a make a break situation for candidates as it gives them a chance to showcase their best traits to the recruiter in person.
However, if the interview time for a person is cut short from what was originally set, chances are that the recruiter may not be willing to hire him/her following the interview.
2. Not getting to meet all concerned people
Some candidates are informed beforehand about the people who might sit down to interview them on the scheduled date. Thus, if the aspirant meets just one person, they may be out of the running from potential applicants.
3. Inadequate preparation
Before sitting for an interview, it is important for candidates to do their homework about the company and the supervisors with whom they will be working with in case they get selected.
Doing so, significantly improves the applicant's chances as it shows they have made an effort.
However, if they show up without proper preparation and give off-handed answers to the recruiter's questions, they may get rejected.
4. Being late for one's interview
Recruiters begin to judge the potential of a candidate even before they walk in for the interview.
Being on or before time shows that the candidate is serious about the job.
A candidate who arrives late for a scheduled interview may be judged for their tardiness, and will not gain any brownie points with the interviewer.
It should be noted that first impressions matter; so, unless there has been an emergency, candidates should make it a priority to be on time for their scheduled interview.

5. Getting interviewed by a distracted interviewer
If the interviewer is attentive and asks questions to determine the candidate's worth, it suggests that they are interested in what the candidate has to say.
On the other hand, if an interviewer seems distracted and constantly check their phone or watch, it can be said that they aren't viewing you as the right candidate for the job.
6. Lack of any possible discussion for the job in future
In case recruiters or HR managers seem to hesitate when asked about giving the candidate some kind of indication about their selection, it can mean that the latter may well be out of the running.

7. Being told that one is overqualified for the job
If all else fails, some recruiters tend to use the tactic of informing the candidate that they are overqualified for the job in an attempt to soften the blow of rejection.
However, rather than taking it to heart, it is advisable to not lose hope, and keep looking for the right opportunity.
8. Receiving career advice from recruiters
If a recruiter seems more than eager to provide career guidance to a candidate when they mention other employers, there is a good chance that the former has no plans of recruiting the latter in her/his company.
9. Recruiter extending good wishes for future job search
This is a surest indication that a recruiter is no longer interested in hiring the prospective individual in their company.
If the interviewer thanks the candidate for coming and wishes them luck for their future endeavors, it should be taken as a clear hint that the job aspirant won't be hired.
10. Constantly pestering the recruiter
Recruiters are extremely busy individuals, and have to sift through hundreds of applications before they select those who seem promising.
Therefore, it is advisable to be patient and not constantly call or fire back to back e-mails to the recruiter. The selected candidates are always contacted on time.
As another wave of fresh graduates hit the job market, it is advisable to keep the aforementioned factors in mind, and hope for the best.