If you are willing to learn, sky is the limit.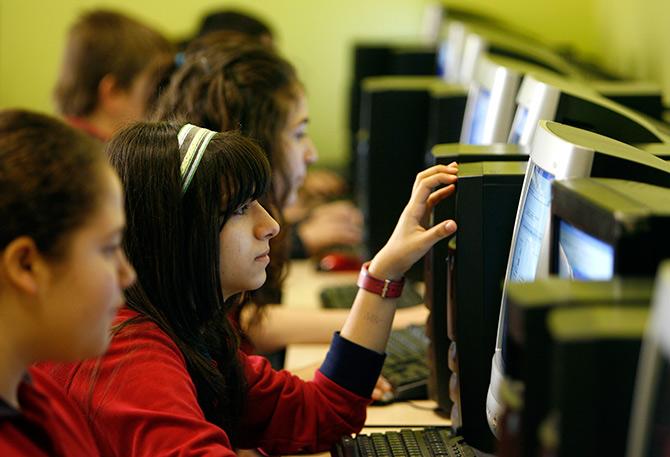 IMAGE: The Internet offers plenty of career opportunities. Photograph:

Osman Orsal/Reuters
Doing business today has become a lot more challenging than it was in the 20th century.
The competition has risen to new levels, causing a lot of uncertainty among business owners.
In order to fight this situation and keep business risk minimal, companies have shifted their focus towards curtailing fixed costs. One way of doing this is hiring freelancers in place of full-time employees.
This practice saves a lot of time and cost that would have been spent on the initial training of newly hired employees.
At the same time, it provides freelancers with opportunities. So if you're looking for a secondary source of income, freelancing can be the best option.
Here are top skills that you can learn and make extra cash in your free time.
1. Content writing
For every word written online or offline, there's someone sitting in front of his computer and bleeding his heart out.
With hundreds of thousands of websites, numerous newspapers, blogs, and magazines out there, imagine the kind of opportunities you have as a content writer.
Just polish your writing skills, improve your grammar and learn how to write content that sells.
An average freelance writer in India earns around Rs 1.8 lakh annually, but this figure can go 10 to 15 times higher for those who know their way around with words.
2. Graphic designing
Just like content writing, graphic designing is another freelance skill in demand.
Many digital marketing companies, blogs, newspapers and magazines are on the constant lookout for talented graphic designers who can design beautiful graphics in minimum time.
All you need to do is learn Photoshop and other relevant software to cash in the opportunities available in this field.
3. Blogging
Either you can start a blog or associate with someone else as a blogger and make money.
There are different niches like technology, internet marketing, fashion, travel, entertainment and personal finance that you can learn about and explore as per your interests.
As far as earnings are concerned, the sky is the limit.
You can make more than millions per year, and I know many bloggers who make this much money every month.
4. Social media marketing
Over the past decade, sites like Twitter, LinkedIn, Facebook, Pinterest, Instagram and Reddit have emerged as major social media platforms.
Businesses want to interact with potential customers at these social media sites, and for this they need experts. That's where a social media marketer can leverage his skills, help brands increase user engagement and make some money in return.
You don't need any technical expertise for this role as long as you're able to interact with the audience.
5. Web development
With so many websites up and running, businesses need someone to handle the backend process and ensure the website doesn't go down or load slowly. That's where a web developer comes into the picture.
Web development will help you make a significant amount of money by working few hours daily.
6. Voiceover
Got a voice that can catch people's attention? From radio advertisements to corporate videos, there's a huge demand for VO artists.
Not to mention the pay is very handsome. So, if you think you've good communication skills and a beautiful voice, try the VO field. It's full of opportunities for youngsters.
7. Search engine optimisation
In order to survive and make money online, websites need traffic, and search engines along with social media sites, are major sources of that traffic.
They hire freelance SEO experts from time to time to rank on the first page of search engines.
Lack of money won't haunt you ever if you can master this skill and get good exposure.
8. Translation
If you can read, write and speak more than one language, translation field has immense opportunities in store for you.
A good understanding of regional languages and foreign languages can help you make decent money by taking freelance translation assignments.
9. Executive search specialist
You can help companies find suitable candidates for specific roles and make money out of it.
Since you do all the grubwork and keep the corporate HRs at peace, they don't mind paying you handsome incentives in return.
This field is full of opportunities, so the sky is the limit as far as earnings are concerned.
10. App development
Just like website development, app development is also a sought-after skill that can make you tons of money every month.
Some of the skills required to be an app developer are mobile UI designing, backend computing, programming, among others.
With a constant rise in the number of people browsing the internet from their smartphones, the future of app developers looks pretty bright.
If not a full time career, learning some of these skills will help you create additional sources of income along with a regular job.