More than 70 per cent of Indian youth aged between 15 and 29 can't!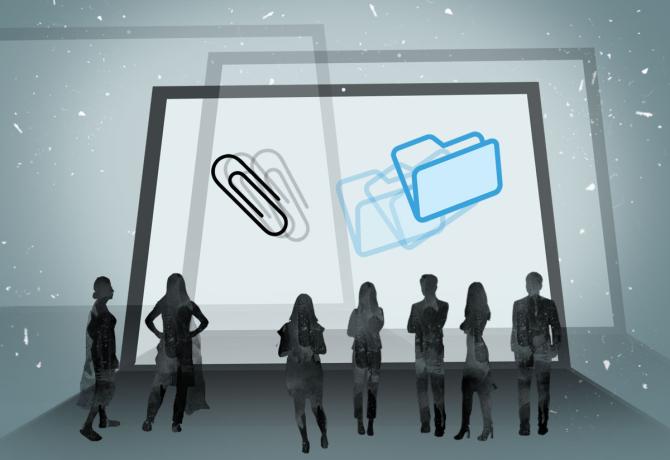 More than 70 per cent of Indian youth aged between 15 and 29 cannot send e-mails with files attached. Nearly 60 per cent cannot copy and move a file or folder.
Over 80 per cent cannot transfer files between a computer and other devices.
And only 8.6 per cent can create electronic presentations with presentation software (including text, images, sound, video or charts).
These numbers can be found in the Multiple Indicator Survey for 2020-2021, published by the National Sample Survey Office (NSSO) last month.
The survey defined nine parameters for assessing the information and communication technology (ICT) skills of Indians between the age of 15 and 29.
These parameters included such skills as installing and updating software, connecting and installing devices, and using basic arithmetic formulae in a spreadsheet, among others.
The data shows that the Indian youth fares poorly in most of the listed basic ICT skills.
The highest number for an individual parameter -- persons able to copy or move a file or folder -- was 41.7 per cent.
While the ICT numbers paint a troubling picture on their own, they assume an added urgency when read in conjunction with a recently published report by the World Economic Forum (WEF), which suggests that in the next five years, the churn in Indian labour markets will be led by technology-driven sectors.
Job fields such as artificial intelligence and machine learning (38 per cent), data analysts and scientists (33 per cent), and data entry clerks (32 per cent) will lead this labour churn.
'Labour-market churn' refers to the expected job movement, including new roles being created and existing roles destroyed, as a proportion of current employment.
This excludes situations where a new employee replaces someone in the same role.
The report by the international advocacy group brings the perspective of close to 800 companies in 27 industry clusters and 45 economies from all world regions.
With generative artificial intelligence emerging as the next frontier to be conquered in tech and IT skills, companies in India have already begun hiring for new roles such as prompt engineers, AI trainer, AI auditor, ethics coach, etc. which, according to experts, will likely open the tech and IT sector for the layman.
Debashis Guha, director for Masters of AI in Business and chair of the Centre for Research on Technology in Business at the Mumbai-based S P Jain School of Global Management, had earlier told Business Standard that job roles involving generative AIs will not require candidates to be trained in "hardcore computer engineering skills.
"Instead, candidates from the humanities stream, with English or history as their majors, will be better able to use these natural language tools."
However, with such a large portion of Indian youth lacking basic ICT skills, what does this imply for those who want to capitalise on this upcoming labour churn, or are relatively new to the IT sector?
Rituparna Chakraborty, co-founder and executive director, TeamLease Services Ltd, says the challenge needs to be unpacked in two parts.
"One is the influence of technology in our daily lives, and how we have become entangled or used to technology in one form or the other.
"The other is the conscious acquisition of skill sets that will help you get employed in tech and allied sectors.
"Our younger generations are more prepared for the first aspect than the latter."
Revathi Anand, a psychology teacher at a South Delhi school and researcher in behavioural psychology among children and young adults, confirms: "The use of personal tech has become second nature to those born between the late 2000s and early 2010s.
"Opening apps on a smartphone or sharing files by Bluetooth is like holding a writing instrument or flipping through a book.
"Technology has given rise to a new set of sensory-motor language, which the child learns early in life when surrounded by personal technology."
This easy absorption of tech skills as a sensory-motor language during the very developmental years of a child is very different from acquiring professional skills, Anand stresses.
Anandorup Ghose, partner, Deloitte India, also does not believe there's a "necessary correlation between comfort with personal technology and the ability to work on/develop technology platforms."
However, experts like Ghose and Chakraborty agree that there remains a massive demand-and-supply gap for computer skills.
Ghose points out multiple studies, which show that only about 40 to 45 per cent of Indian graduates are readily employable.
"Many technology companies have, therefore, not only created large training infrastructures after the employee comes on board but have also worked with engineering schools to develop the curriculum and pedagogy to enable greater job readiness," he adds.
On the government end, too, despite the robust skill development ecosystem in place, challenges persist.
"One of the biggest challenges of the Skill India Mission is that while the government is organised in verticals, the issues around employment and skills are horizontal, and cut across different ministries," says Chakraborty.
"While there are different initiatives, they are not talking to each other so as to fructify a common national goal.
"While I commend some of the work that the ministries of skill and human resource development have done so far, they haven't yet been able to bring together the entire ecosystem as one."
Some, like Akshay Garkel, partner and cyber practice leader at Grant Thornton Bharat, are quite positive about India's future in IT skill development.
"Mobile and Internet penetration in the hinterland has been a harbinger of change by democratising access to information," he says.
"It is easier to make available educational content in a style suited for consumers from every background.
"How rapidly India can fill the demand-supply gap will need deliberation, but the country is certain to get there sooner [than later] given the pace of digitalisation and adoption of technology in every walk of life."
However, others remain sceptical, given the schism between tech skills and tech ease, which the NSSO survey brings out.
A senior faculty member at a leading tech institute, who does not wish to be named, says the problem is surprisingly visible and widespread even among students admitted to their institute.
"We cannot ignore these numbers. Besides the wide gap in tech-skilling in tier 2 and tier 3 cities, which the survey reveals, it also shows that we are turning a blind eye to a sizeable portion of the country's graduates who, because they are not trained in core computer sciences and technology disciplines, also end up lacking basic ICT skills," she says, adding, "This must be addressed at the level of personal technology usage, at home and in primary education."
Feature Presentation: Ashish Narsale/Rediff.com