IIM-Trichy has seen a dip in the number of offers per recruiter.
IIM-Udaipur is yet to place 20 of its 144 students.
Vinay Umarji and Virendra Singh Rawat report.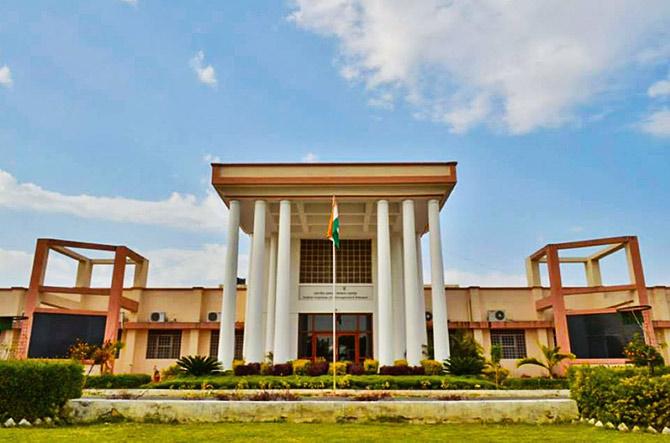 IMAGE: While more firms have visited IIM-Udaipur for placements this year, 20 students are yet to be placed.
Photograph: Kind courtesy IIM-Udaipur
Newer Indian Institutes of Management (IIMs) are experiencing a cold placement season this year. These IIMs had started placements earlier but several recruiters are withdrawing offers.
Economic factors such as demonetisation, rising automation and US visa issues are among the reasons recruiters across sectors such as information technology, fast-moving consumer goods and banking, financial services and insurance have gone slow on recruitments, say newer IIMs.
IIM-Udaipur, for instance, has a batch of 144 students participating in final placements, which began on November 30, 2016. But it is yet to place 20 students.
IIM-Trichy has seen a dip in the number of offers per recruiter for several reasons.
The institute began its placement process in the last week of December, but a cyclone in Chennai had played spoilsport.
Several companies had to cancel campus interviews and these have not been rescheduled.
"Several macroeconomic factors are coming to play in the final placements, including demonetisation, automation and H-1B visa issues," Abhishek Totawar, chairperson-placements and external relations at IIM-Trichy, said.
"The whole placement process has slowed a bit. We haven't been able to reach the numbers we had planned."
In certain cases, he said, regular recruiters who had recruited three to four students last year have reduced their intake to one or two.
"Some dip in the number of offers per recruiter has happened."
IIM-Udaipur had placed 110 students last year. About 45 firms have visited the institute this year, against 39 last year.
Sources at its placement cell said they have also cancellations from recruiters.
"There have been last-minute cancellations because of uncertainty in the economy. We haven't calculated the per recruiter number of offers compared to last year."
Most recruiters have been silent as to why they cancelled their visits.
FEELING THE PINCH
Newer IIMS see fall in offers per recruiter.
Recruiters cite sluggish economy, internal restructuring as some reasons.
IIMs also see last-minute cancellation in recruiter participation.
Having begun early, some newer IIMs yet to place all students.
Older IIMs like Lucknow wrap up process within 3 days.
"A regular recruiter from the FMCG sector has sent us a mail stating they would not be able to recruit from our campus this year," said a placement coordinator on condition of anonymity.
"They stated 'internal restructuring' as a reason for this. Otherwise, most of the recruiters have simply stated that they have lesser requirement."
The older IIMs, it might seem, would experience a relatively smoother placement season.
While most older IIMs have not started their process, IIM-Lucknow wrapped up placements within the first three days.
The 435 students in its 31st batch were placed in 170 domestic and international recruiters, including McKinsey & Company and Boston Consulting.
First-time recruiters included Clinton Health Access Initiative, EMAAR and Societe Generale. Some top recruiters across segments included Accenture, Aditya Birla Group, Amazon, Avendus, Goldman Sachs, Hindustan Unilever, McKinsey & Company, TAS and BCG.
The top segments based on roles offered were sales and marketing (26 per cent), finance (23 per cent), consulting (22 per cent), e-commerce (8 per cent), systems/IT (12 per cent) and general management (9 per cent).