Amish Tripathi launched his latest book amidst a lot of sound and music... and hundreds of fans! Abhishek Mande Bhot is convinced he has not seen such a huge book launch in Mumbai ever.
The Crossword bookstore in south Mumbai's Kemps Corner is a favourite venue for several book launches.
But the launch of Amish Tripathi's book, Scion of Ikshvaku, was nothing like anyone had seen before.
Hundreds of fans had queued up outside the store and every single square foot of the very expensive real estate was packed with people wanting catch a glimpse of the bestselling author.
Even the senior editor Anil Dharker, who was Amish's special invitee, was for the longest time standing on the fringes. (That's him, the silver-haired gentleman at the centre of the picture below, reading a book.)
---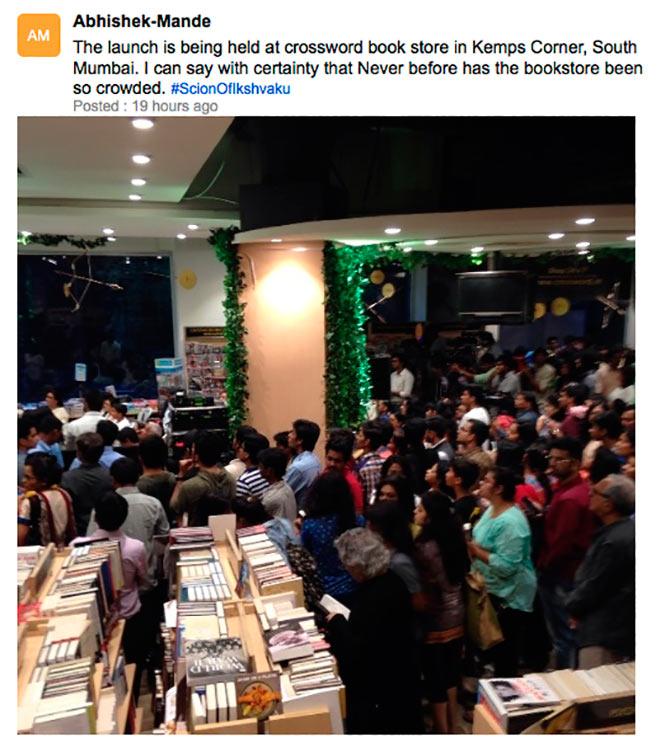 ---
Dharker eventually did make his way to the stage and pronounced:
"Amish Tripathi isn't an author, he is a phenomenon... he has made religion sexy."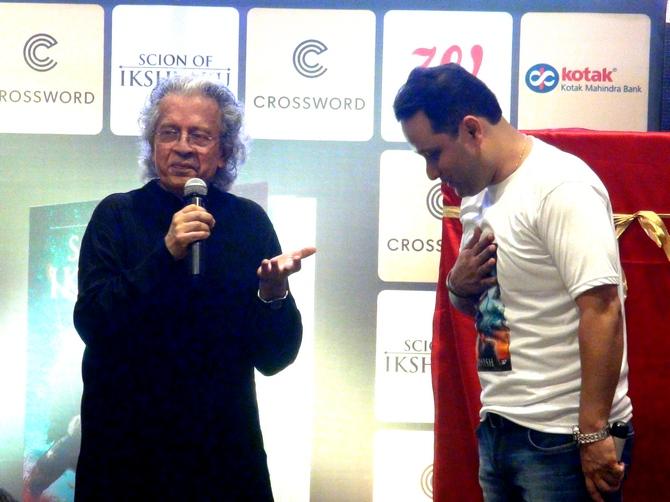 You didn't need a senior editor to tell you that; all you needed to do was to look around. Fans waiting patiently for over an hour inside the store; even more fans queuing up outside participating in a contest in the hope of sharing the stage with Amish... if that is not a phenomenon, what is it?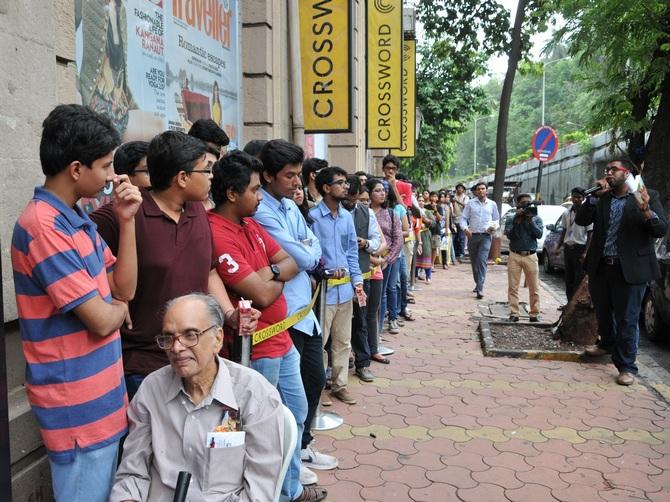 A PR executive for Amish recently explained to a friend, an editor at a major newspaper, that his books have the anticipation of a new iPhone launch.
The friend laughed at this PR pitch but I wished he was there to witness the launch.
It was literally something I had never seen before.
---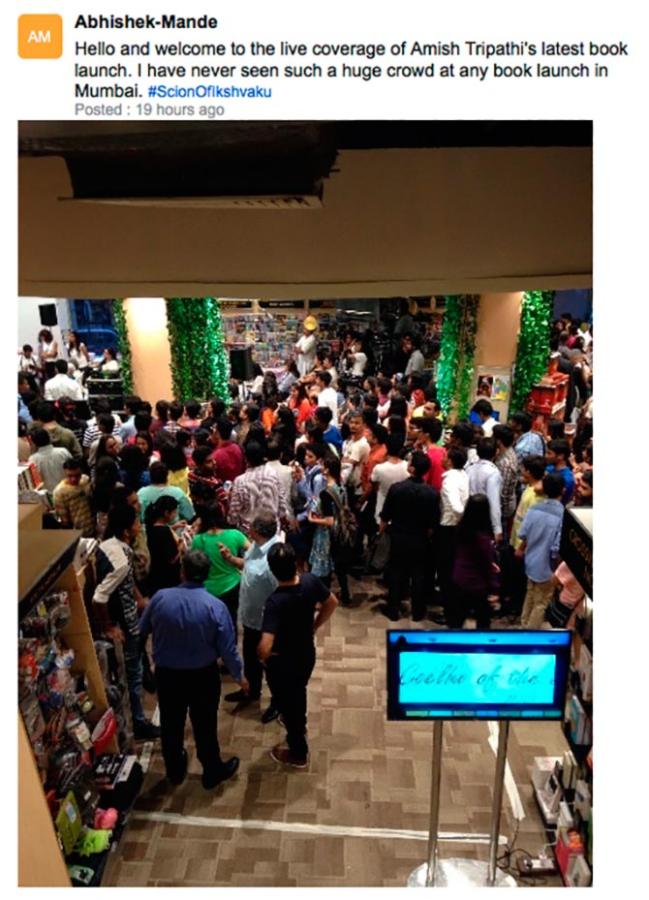 ---
There were bows and arrows hanging from the ceiling (the book is a retelling of Lord Ram's life), an ATM-like selfie counter with cardboard cut-outs of weapons, a team of camera-persons recording the event that was being streamed live on YouTube, fans screaming, drums beating... I imagine this is the stuff of Chetan Bhagat's wet dreams.
The only thing missing was a drone camera. Perhaps for the next book launch?
This could well have been a rock concert if people had begun tearing off their shirts!
The launch itself lasted for about an hour with the audience dying for the Q&A session to begin.
Amidst the crowd was another bestselling author, Ravi Subramanian, who cheekily took a swipe at Chetan Bhagat and put Amish on the spot:
---
---
Amish, of course, assured he had no such aspirations.
And we believed him. Come on! Does this look like the face of a politician?
---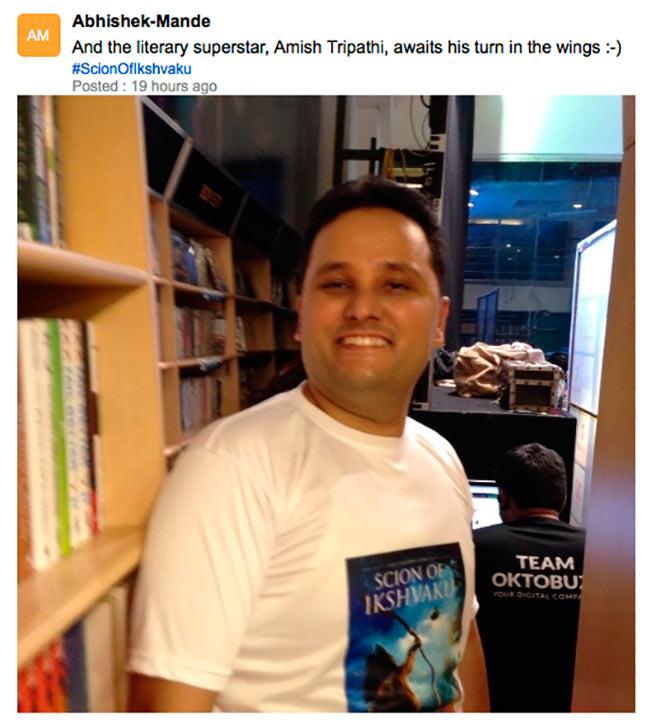 ---
We did learn a few things about Amish Tripathi.
Anil Dharker told the audience that Amish loves eating cream biscuits while writing his books. And we had no trouble believing him! :-)
Amish reads some four-five books every month! (Kids, take note!).
His entire family is invested in his books and everyone seems to have something to say about how it should shape up :-)
---

---
So much so that his little nephew sent him an algorithm on how to write books!
---

***
Then there were these readers who began reading mythology thanks to Amish.
And this is what they had to say when we asked them why they thought mythology was important:
Srishti Rajput, student, 23: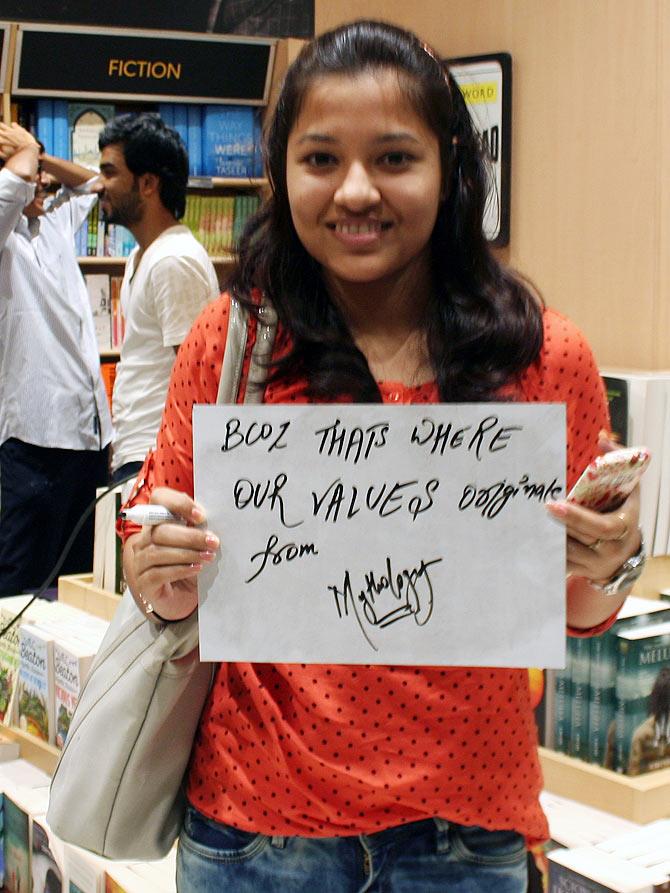 Swati Khanna, student, 22: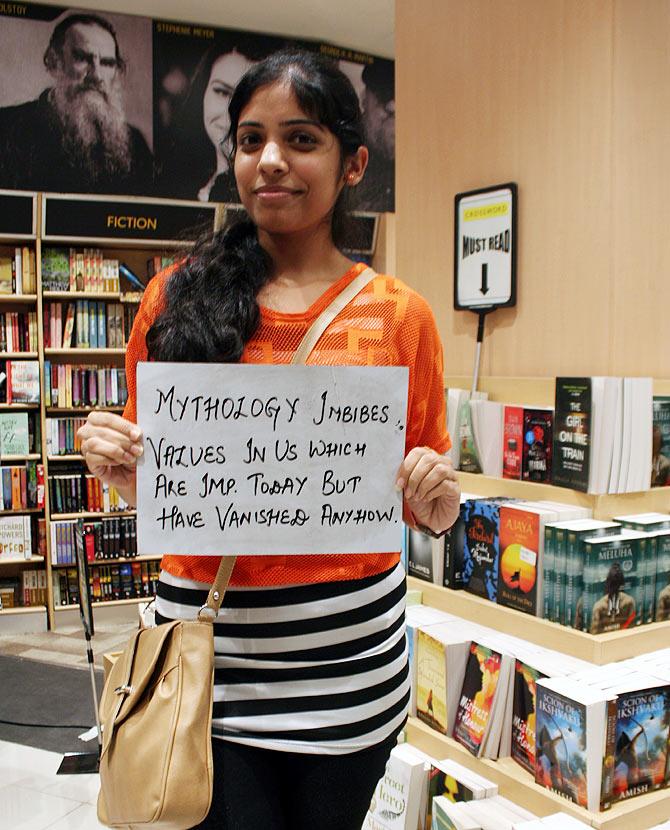 In the first of his Ram Chandra series, Amish hopes to discuss the idea of Ram Rajya or the ideal society. And so it may have seemed apt for the folks organising the launch to work the crowd by getting them to chant, 'Jai Shri Ram!'
It made me uncomfortable, though.
Because the last time I had heard of so many people calling out Jai Shri Ram so loudly, a 400-year-old mosque came down.
> More from our Books section here
Photographs: Afsar Dayatar/Rediff.com and Westland Books
Video: Afsar Dayatar/Rediff.com