Do you have financial planning queries?
Please ask your questions here and rediffGURU Abhishek Dev, founder and CEO, Epsilon Money Mart (external link), will answer them.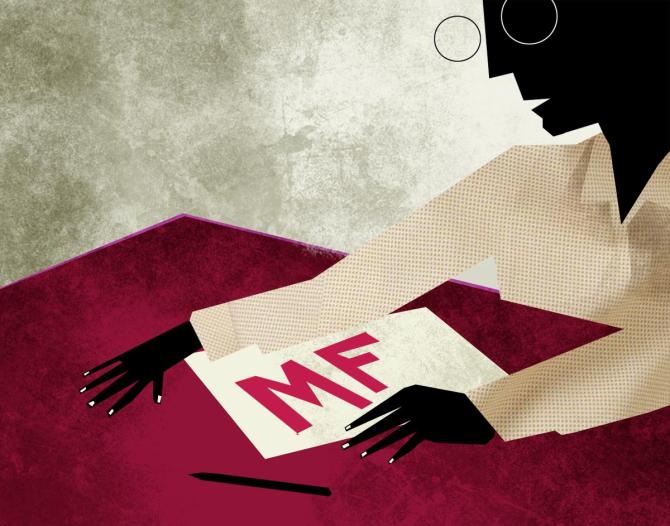 Ratan: Sir, I have SIP of SBI Equity Hybrid Fund Regular Growth of Rs 3,000 per month and 24 month is completed in August 2023.
I am 60 yrs old. I want to continue SIP upto 5 yrs.
This is suitable for me or can switch to any other?
Please advice me. My income is Rs 40,000 pm.
Thank you for your question. The fund isn't great but isn't too bad either.
It has 25 per cent in debt/alternatives, making it a good bet for reducing volatility.
There's no reason to redeem the proceedings as there will be hindrance both to compounding and tax implications.
Performance wise, you can start a fresh SIP in other, better performing hybrid funds like ICICI Pru Equity & Debt fund or HDFC Balanced Advantage Fund.
Vivek: I am 42 yr with capital of Rs 30 lakh to earn monthly income of Rs 40k after 5 years; how much I should invest?
Assuming your current investments grow at 12 per cent CAGR for the next five years, your total corpus will be Rs 54.5 lakh approximately.
Now we are assuming Rs 40,000 monthly requirement is already inflation adjusted, otherwise the requirement will come close to Rs 54,000 in the 6th year (inflation @ 6 per cent).
We suggest you do a monthly SIP of Rs 25,000 for the next 5 years.
Your corpus will then come close to Rs 75 lakh, assuming it will grow at 12 per cent.
You should be able to take out the required monthly instalment for close to 24 years, assuming your investments continue to grow at 9 per cent yearly with inflation at 5 per cent.
Rajiva: I am 57 years old now and I have started investing in SIPs
Nippon India Small Cap Fund Direct Growth Rs 3,000
Quant Small Cap Fund Direct Growth Rs 1,000
ICICI Prudential Small Cap Fund Direct Growth Rs 1,000
Canara Robeco Small Cap Fund Direct Growth Rs 1,000
Quant Manufacturing Fund Direct Growth Rs 1,000
Bandhan Nifty IT Index Fund Direct Growth Rs 1,000
My aim is to build a corpus of Rs 50 lakh in 10 years.
Please advise if the investments done by me is in correct funds and also tell me how much more amount to invest in SIP to get the desired corpus.
If you think any changes to be made in my portfolio, please suggest.
Thanking you in anticipation.
We really don't know your risk appetite but, considering your age, we believe you should be tweaking your overall portfolio and shift more towards hybrid and large cap funds.
Currently, you're only into small caps and sectoral funds which might not be suitable for you.
You currently invest Rs 8,000 per month and are looking to have a corpus of Rs 50 lakh in 10 years.
Assuming 12 per cent returns, you can accumulate a corpus of 18 lakh approximately.
Ideally, you should be investing Rs 20-25,000 per month to build such a corpus.
Kalim: Hello Money Guru. Myself Kalim Ansari.
Presently i am investing in following Mutual Funds from last three years:
1. HDFC Flexi Cap Fund Direct Plan Growth Option: Rs 2,500/Month
2. HDFC S&P BSE Sensex - DP Growth: Rs 2,500/Month
3. SBI Small Cap Fund Direct Growth: Rs 5,000/Month
4. HDFC MidCap Opportunity Fund Growth: Rs 5,000/Month
Kindly suggest me that:
1. Should I keep above funds for next 10 years or more?
2. I want to invest Rs 10,000/month more.
Kindly suggest the fund for 10 years or more.
Warm regards
You are doing well with your investments and we believe you can continue with them.
For further investments, you can add a midcap fund for Rs 5,000: Kotak/Mirae/Nippon/SBI are good if you are willing to take risk.
Rest Rs 5,000 can be divided between existing holdings -- Flexicap and Sensex fund Rs. 2,500 each.
Sachin: Hello Guru, can you give the mutual fund which can give 12 to 14% return in next 1 year?
I have some short term goal to travel abroad/tour and want to utilise my saving to capitalise this, around 10 lakhs.
For short-term like 1 year, it is advisable to be in pure debt.
You might be tempted to reach out for more and invest in equities but think about what you will do if you invest in equities for one year and there is big market correction.
You will mess up your travel plans then.
You can ask rediffGURU Abhishek Dev your personal finance questions HERE.
---
Disclaimer: This advisory is meant for information purposes only. This advisory and the information in it does not constitute distribution, an endorsement, an investment advice, an offer to buy or sell or the solicitation of an offer to buy or sell any securities/schemes or any other financial products/investment products mentioned in this QnA or an attempt to influence the opinion or behaviour of the investors/recipients.
Any use of the information/any investment and investment related decisions of the investors/recipients are at their sole discretion and risk. Any advice herein is made on a general basis and does not take into account the specific investment objectives of the specific person or group of persons. Opinions expressed herein are subject to change without notice.